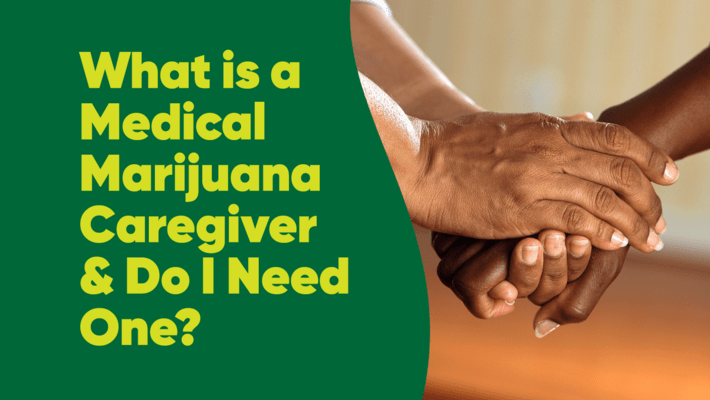 What is a Medical Marijuana Caregiver and Do I Need One?
You may have noticed that, in many states, medical cannabis can be picked up at dispensaries by medical marijuana patients or a medical marijuana caregiver. But what is an MMJ caregiver, and how do you know if you should have one?
What is a Medical Marijuana Caregiver?
Defining the exact responsibilities and terms of an MMJ caregiver is slightly difficult since every state has different medical marijuana laws and, therefore, different MMJ caregiver regulations. That being said, the purpose of a medical marijuana caregiver is the same across the nation. An MMJ caregiver is someone who can legally pick up medical marijuana from a dispensary on behalf of the patient they care for and can help administer cannabis to that person.
What is a Medical Marijuana Caregiver Responsible For?

Simply put, a medical marijuana caregiver is responsible for the health of their patient as it pertains to the use of cannabis. Most commonly, MMJ caregivers place orders and travel to a medical dispensary to pick up cannabis for their patients to use and also help administer the medicine. However, depending on which state a caregiver resides in and what type of medical marijuana caregiver license they possess, caregivers may have several responsibilities they are legally allowed to carry out. For example, in Colorado, there are four types of caregivers:
Cultivating: these caregivers may grow marijuana on behalf of their patients
Transporting: these caregivers may transport marijuana for homebound or minor patients
Patients of a Minor Patient: these are caregivers to patients under the age of 18 and must be a parent to the patient
Advising: these caregivers advise patients on the medicinal uses of marijuana
Of course, in states where home growing is not legal, a caregiver cannot legally grow cannabis on behalf of their patient. Caregivers need to be aware of what they are responsible for and what licenses they need to practice their role as caregivers. It is also important that caregivers understand the basics of cannabis, including dosages, types of strains, benefits and side effects, drug-drug interactions (especially concerning any additional medications the patient is taking), consumption methods, how to administer, etc.
Why Might Someone Need a Medical Marijuana Caregiver?

If patients who are prescribed medical cannabis are in a situation that makes it so that they can no longer travel to get their prescription, they are often allowed a medical marijuana caregiver to help them pick up their cannabis from a dispensary. Of course, there are also other reasons why a patient may be allowed a medical marijuana caregiver. If a patient is under 18, they will require a caregiver to collect and oversee the use of cannabis. If a patient lives in a state where home growing is legal and cannot tend to the plants themselves, they may be allowed a caregiver to cultivate marijuana for medicinal use. Additionally, if someone needs to have cannabis administered to them or needs assistance determining what cannabis is required for treatment, they may be allowed a caregiver to advise in medical cannabis use.
Oftentimes, however, an individual who is prescribed cannabis will already have a designated caregiver for assistance in other capacities. That induvial may likely become a medical cannabis caregiver since they are already a caregiver for a patient. If a patient needs a caregiver for medical reasons outside of cannabis, there is a good chance they qualify to have an MMJ caregiver.
How to Get A Medical Marijuana Caregiver License
First and foremost, the cannabis patient whom you are to be a caregiver for must be registered with your state's medical marijuana program. If your patient does not yet have a medical marijuana card, they can easily register via programs like Leafwell, a cannabis telehealth platform that connects patients with licensed physicians and helps them follow application processes to apply through their state.
Once your patient is officially registered with the state's medical cannabis program, to get an MMJ caregiver license, you must qualify in the state in which you are a legal resident. Regardless of the state you're in, a caregiver must:
Be at least 18 years old (21 in some states)
Be a resident of the state in which you are a caregiver
Have a valid state-issued identification card.
Complete a criminal background check and not have any drug-related offenses within a certain period.
Register and receive an official medical marijuana caregiver license.

There are also other requirements, depending on the state. In Colorado, a caregiver must specifically not be the patient's physician, have their primary caregiver, and cannot be licensed as a medical marijuana business. Some states and types of licenses may require a certification course or even a specific relationship to the patient.
If you meet all of your state's cannabis caregiver qualifications, you must then apply through your state's medical cannabis program to be a cannabis caregiver on behalf of your patient. As mentioned before, the exact application processes differ from state to state. Once a caregiver, you will need to be aware of your state's registration and renewal policies to ensure your caregiver license doesn't lapse.
Are you or do you have a medical marijuana caregiver? What state are you in? Was it easy to attain a license or learn how to find an MMJ caregiver? Please let us know your experiences in the comments below.