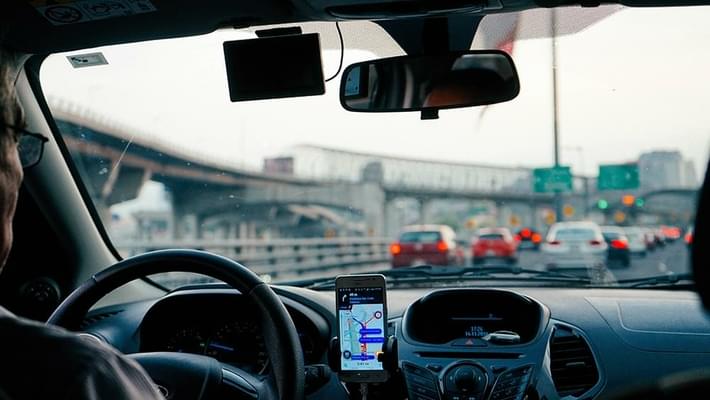 Legal Cannabis Delivery: Everything You Should Know
Sometimes, getting up off the couch and making your way to the nearest dispensary is just a little too much work. And with the Coronavirus pandemic still raging across the country, staying at home is more popular - and integral - than ever before. For those shut-in hours, cannabis delivery is a lifesaver. Thankfully, for millions of Americans across the legal landscape, getting a bag of perfectly packaged cannabis brought to your doorstep is as simple as clicking a few buttons online or placing a phone call. And as the walls of prohibition continue to fall, delivery drivers from California to Massachusetts are helping to lead the green rush and get pot in the hands of the people.
Is marijuana delivery legal in your state? How does weed delivery work? Do you have to call? Can you purchase cannabis online? No matter your questions, we've got you covered on the ins and outs of weed delivery.
States With Adult-Use Cannabis Delivery
California

The centerpiece of the global cannabis industry is also a hub for legal weed delivery. Thanks to the Golden State's 2016 recreational cannabis legalization law, licensed delivery services can operate across the state, even in cities that specifically ban retail dispensaries. In most cases, you'll need a photo of your ID and an active phone line, but whether you're in LA, San Francisco, or Humboldt County, legal weed delivery is usually just a text or online order away. And with Silicon Valley fully invested into legal weed, tech companies have long answered questions like "is there weed delivery near me?" and "can you buy weed online?" with countless apps and ordering portals.
Colorado
Colorado was one of the first states in the nation to legalize weed, and next year, the Mile High marijuana hotspot will finally welcome adult-use cannabis delivery. Colorado kicked off medical marijuana delivery earlier this year in direct response to COVID-19, but a law passed last year will keep recreational sales cooped up inside dispensaries until 2021.
Michigan

A new state in the adult-use marketplace, Michigan is already ahead of the game when it comes to cannabis delivery. Licensed dispensaries are allowed to deliver up to 2.5 ounces of bud per order, just as long as the customer has a valid identification and address. Even though the program is new, select Michigan dispensaries already allow customers to order weed onlineand have it delivered without ever picking up a phone.
Nevada
From Las Vegas to Reno, Nevada is a state full of fun on-demand. Whether you live in-state or you're staying off the strip for a blackjack-heavy vacation, any adult 21 or older can have legal weed delivered to your home. But while licensed delivery services can travel with weed across the state, they are only allowed to make deliveries to residential addresses, leaving hotel guests and late-night casino lurkers out of luck.
Oregon
Another early adopter of full-scale legalization, Oregon beat states like Colorado and Washington to the punch as the first legal weed market to offer delivery. Oregon's mobile marijuana market has thrived since the delivery provision was put in place in 2016, even with tight rules that restrict deliveries to residential addresses between the hours of 8 am and 9 pm.
States With Medical Cannabis Delivery

It may seem like medical marijuana programs are a step or two behind their adult-use counterparts, but when it comes to patient access, many medical-only states are outpacing recreational states, especially when it comes to using an MMJ delivery service. Despite their restrictive rules regarding products and qualifying conditions, Arkansas, Connecticut, Florida, Maryland, Minnesota, Montana, New Mexico, New York, North Dakota, Ohio, Rhode Island, and Utah all allow permitted patients to have their legal medicine delivered directly to their doorstep by a licensed dispensary.
In legal states that either have not yet set up their voter/legislature-approved recreational industries or haven't started issuing delivery licenses to adult-use businesses, medical delivery is an exclusive service. Despite a thriving new adult-use market, Illinois and Massachusetts pot smokers can only have their bud delivered at home if they have a valid medical card. Meanwhile, in Maine and Vermont, it is fully legal for adults to grow or carry cannabis, but dispensaries and delivery services are still operating as medical-only establishments.
Most recently, Louisiana, Delaware, and Washington D.C. have enacted emergency medical marijuana delivery rules in direct response to the COVID-19 crisis. Instead of forcing potentially immunocompromised medical marijuana patients into closed-door dispensaries, new delivery rules allow LA, DE, and DC weed delivery from dispensaries to front doors, giving patients access to legal pot without ever having to leave home.
Have you had marijuana delivered straight to your door? What was your experience like? Tell us in the comments below!