Top 5 Cannabis Innovations of 2020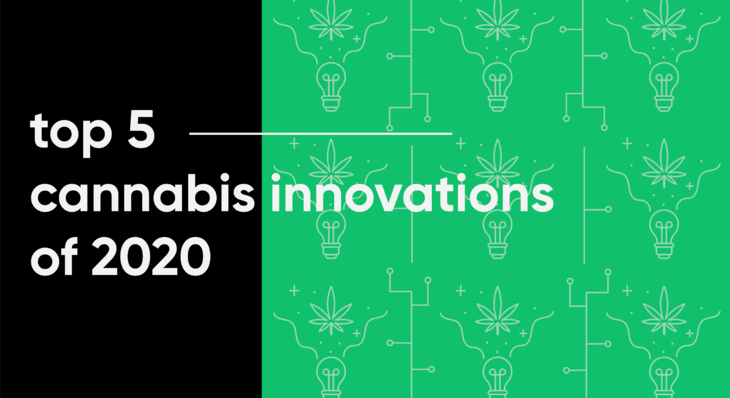 Published on Dec 29, 2020
Despite everything bad that's happened this year, 2020 has been good for the cannabis community. Increasing support for marijuana legalization across the nation, including a lot of new initiatives at the state level (like in Alabama and Kentucky) and four new states legalizing recreational marijuana in the 2020 November election. On top of that, The House of Representatives passed the MORE Act decriminalizing marijuana at the federal level and five other states announced they have their eyes set on legalization in 2021. With so much happening for the cannabis industry right now, there have been a lot of businesses throughout 2020 that have stepped up their game to make innovative solutions for the cannabis industry. Now that we're closing out the year, we want to take a look back at some of these incredible cannabis innovations.
The Top Cannabis Innovations of 2020
Marijuana Vending Machines
If you haven't heard of anna, just wait. Anna is the first operational self-checkout technology within the cannabis industry. Based out of Denver, anna is an AI-powered vending machine that dispenses upward of 200 different products. The first anna vending machine opened for business in October 2020, and the company is beginning to sell the vending machine to both dispensaries and CBD retailers. On top of the customer experience, anna also double-checks all transactions and allows for easier state compliances on the dispensary's end. With an inevitable boom coming in the cannabis market, anna will become a powerhouse innovation over the next few years.
Virtual Cannabis Conferences

The cannabis industry is limited in its ability to advertise because of marijuana's federal classification and legal status. This, in addition to COVID-19 and subsequent social distancing requirements, has been especially hard for cannabis businesses in both marketing tactics and inter-business relations. This has helped create one of the most innovative, experimental seminar platforms: the Emerge Virtual Cannabis Conference. Taking place December 15-17, 2020, the Emerge conference allows members of the cannabis community to be part of a virtual business conference like never before. Attendees will create personalized avatars they can control in a 3D online environment, allowing for a higher level of virtual depth and gamification. The Emerge conference is a solution for a 2020 problem, but it may be opening the doors to an entirely new standard in conferences and events (and not just within the cannabis industry).
Accessible Cannabis Lab Testing
There are many vital aspects to growing and distributing legal marijuana, but one of the most important aspects also happens to be one of the most difficult: quality control. In a competitive market where resources are often limited, many cannabis companies have a hard time accessing full lab testing for their product, especially for new startups. This is where Orange Photonics comes into play. Their portable lab technology provides a more affordable, accurate way for small cannabis businesses and startups to ensure the quality of their products. Founded in 2015, Orange Photonics constantly advances the technology within their portable cannabis analyzers. Their most recent model, the Lightlab 3 Cannabis Analyzer, allows non-technical users to test their product using liquid chromatography and spectroscopy. It tests all standard cannabinoids and has several different modules for various uses. This tech could be the new standard moving forward, especially as the cannabis industry continues to boom.
Community Medical Aid Application
As scientists verify both CBD and marijuana's legitimate medical benefits, their popularity as a medical option also grows. The past few years have seen groundbreaking strides toward understanding and distributing medical cannabis products. 2020 saw one big leap in particular with the Gofire Inhaler, a mobile application and smart cartridge that helps you find the right medical cannabis products, measure proper doses, track your intake and medical progress and give feedback and support to a growing community of medical cannabis patients. A Denver-based company, Gofire has been around since 2014 as a leader in cannabis hardware and software solutions that focus on health and cannabis dosage. They launched their Gofire Inhaler at the end of 2019 and saw the first batch sell out and become a self-sustaining ecosystem in 2020.
Social Equity Within the Cannabis Industry

Supernova Women has been around since 2015, but 2020 was a big year for this amazing organization. Amid the COVID-19 pandemic and the social justice movement sparked by the death of George Floyd and the resurgence of the Black Lives Matter movement, Supernova Women has stepped up to strengthen their mission: equality and representation for women of color in the cannabis industry. They have turned this organization into a movement, facilitating employment services within cannabis, holding significant webinars on business and social equity and working with cannabis companies to address the systemic racism and oppression that has been so visible this year. Not all innovation is in tech, and Supernova Women has brought innovation to the cannabis community by helping make social equity a major talking point within the cannabis industry. We hope to continue to see the industry respond to their hard work and all-too-important cause.
A lot has happened within cannabis throughout 2020 - let us know if there's something else that should be on the list! Comment below with your favorite cannabis innovations of 2020!