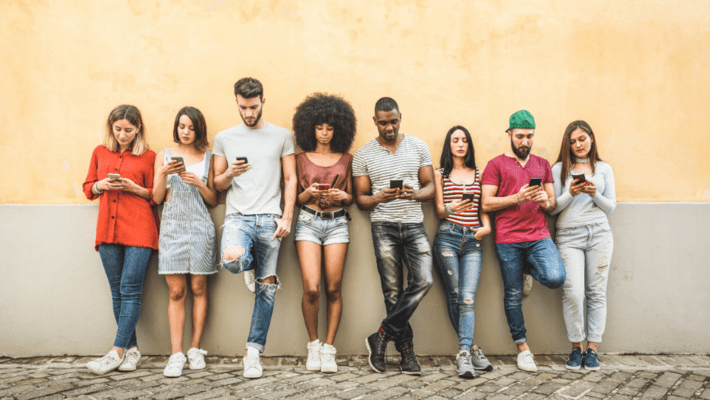 Social Media Tips: Cannabis Marketing & Current Events
Social media is an invaluable tool for any cannabis marketing strategy. It offers an easy way to advertise without breaking any rules, connect with potential buyers and build your company's brand. While this makes it feel like an open field to promote your brand and product, there are certain things you should remain aware of while strategizing and posting. Especially with the increasing relevance of social movements like Black Lives Matter and LGBTQ+ Pride, authentically being part of the conversation is both vital and challenging. There are, however, strategies to ensure you're connecting with your customers, building your brand, and supporting social movements in a responsible, thoughtful way.
Why Social Media is Important

As a cannabis company, there are certain advertising tactics you are unable to use - paid ads on social media channels like Facebook is one of them. With 3.5 billion social media users worldwide(and a staggering 90.4% of all millennials), it's critical for brand exposure and engagement that you utilize the aspects of social media available to you. By creating social media accounts for your cannabis business, actively posting, and engaging with your customers, you can reach more new business and cement brand loyalty on a larger scale than with any other marketing tactic available.
If your cannabis social media marketing strategy is going to effectively work, you'll need to put time and creative resources toward your posts and brand image. Simply posting content on social media will result in lower engagement levels and fewer conversions. Creating content that actively engages your followers, provides insight, and connects with larger social narratives and purposes is critical. Acknowledging current events and being an ally should be part of your company's message. Not only will it resonate with your customers, but it's the right thing to do. The cannabis industry has deep ties to many current social movements, and it's our responsibility to stand in solidarity. It's also our responsibility to be a member of our respective communities, support our customers, and be aware of current events and their consequences.
Current Events & Cannabis Marketing
There are a lot of things to consider as you build a cannabis marketing plan during these unprecedented times. Being a socially aware company that advocates without overstepping can be a challenging position. Yet, as a business, you have a responsibility to correctly acknowledge current events like politics, Covid-19, Black Lives Matter, and LGBTQ+ pride. Consider these tips while creating a dispensary marketing plan and building your cannabis business social network.
Keep a Steady Post Schedule
Your social media presence can increase brand awareness, build customer loyalty, provide better conversion rates, and drive profits. To do this, you need to have a steady posting schedule. Create a social content calendar and build out your posts in advance, and post around the same time on the same days. Your followers will grow to expect a certain amount of content (and quality) from your posts. By consistently offering content and actively engaging with your followers, your cannabis marketing efforts will be increasingly effective. While this is important, it should also be noted that it is critical to be aware of the content you're posting and any events that may be happening. If a serious event happens in the world, it is important to pause social media schedules for the time being to avoid posting anything insensitive.
Respond to Comments and Actively Engage

As you build a base of followers and create a consistent posting schedule, your content will hopefully begin to receive comments and frequent responses. By responding to your followers' comments and messages, you'll be able to show sincere support for your followers and the events that matter to them. Try to individually respond to comments within a day, thank people for their engagement, and stay positive. No matter what the comment is, be thoughtful and considerate when responding - it's one of the best ways to promote your brand and gain customer loyalty.
Be Supportive Without Being Overtly Political
As a business, you will have customers and social media followers that hold many different perspectives and opinions. Therefore, the more politically neutral you can remain, the better. For example: post a reminder that urges people to vote, but don't tell them who they should vote for. Unfortunately, social justice is often politicized but we still believe it is our responsibility to stand up for social justice and show support and solidarity. Show support for Black Lives Matter. Be an advocate for LGBTQ+ Pride. Underline the importance of Covid-19 safety guidelines like social distancing. Some rights and responsibilities transcend politics. However, as you show your support, remember to focus on social justice and not the politics that so often get entangled within it all.
Retain Positive Messaging
No matter your stance on any given topic, remain positive. Your messaging should center around the positive promotion of change and social awareness. During Covid-19, post your guidelines for social distancing and responsible health practices; don't call out the people not wearing masks. Show your support for social movements like Black Lives Matter, don't post about the people pushing against those rights. Focus on the positive. Be a force for progressive thinking and forward movement. Your brand and social presence may have a larger impact than you know - make sure it's a positive impact. This is especially true when directly responding to comments. Even if your content is adversely responded to and you receive negative responses, take the high ground and remain as positive as possible.
Take Down Potentially Insensitive Past Posts
Not everything ages well. As our culture continues to progress, our social awareness grows, and current events shed light on past injustices, it's our job to adjust our perspectives and consider where we've been and where we're at. Go through your company's social media history and look for anything that might be insensitive, untrue, or socially unaware. What you posted years ago can still be seen today, which is why it's important to make sure your entire social media timeline is maintained to project the best version of your brand.
Fact Check

Now more than ever, it's imperative that you make sure what you're posting is true. Extreme, polarized opinions have caused an insurgence of false information to flood social media and other prominent information channels. If you're posting about a current event, a movement, a stance, or even a person or educational fact, make sure to double-check your sources and confirm the truth of your content. We have a responsibility to the people that might take our word as truth, and it's up to us to ensure we remain ethically engaged and socially aware.
Do you work on a cannabis marketing team or follow a worth-while cannabis social media account? Let us know how you implement effective marketing strategies and navigate current events. Comment below!