How to Become a Cannabis Budtender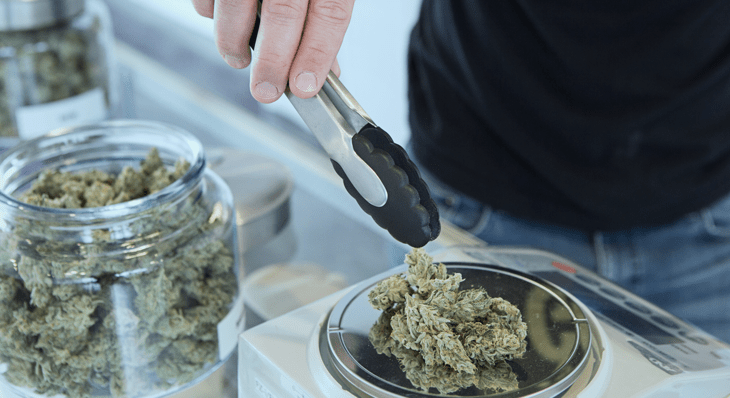 Published on May 16, 2021
Cannabis is being legalized and culturally accepted at a rapid rate. As of May 2021, 17 states and Washington, D.C. have legalized recreational weed and 36 states have legalized medical marijuana. Likely caused and affected by continued legalization, more than 68% of Americans believe that recreational cannabis should be federally legal. Needless to say, cannabis is becoming a much more viable career. There are thousands of cannabis jobs opening up around the nation, and the most iconic and front-line role within cannabis is the budtender. Many cannabis consumers are intrigued at the prospect of joining the industry by becoming a budtender at a local dispensary. So, let's take a look at what budtenders do and how to become a budtender.
New Jobs and the Cannabis Industry

Even with the COVID-19 pandemic, legal American cannabis sales grew over 45% to $17.5 billion. Since cannabis was first legalized in 2012, they have only continued to climb in a rapid upward trend that doesn't look like it's going to stop anytime soon. Experts predict that the global legal market will reach over $65 billion by 2027. Of course, as the revenue grows, so too do the job opportunities. It was estimated that over 77,000 cannabis jobs were added in the United States in 2020 alone (and that's during a time of drastic economic recession). As the legal cannabis industry grows, these jobs open up across the board. More growers and farms are being established every day, as are distributors and, of course, dispensaries. More states with legalized recreational cannabis and an increasing social acceptance of weed mean one thing: lots of new dispensaries and a lot of budtending jobs that need to be filled.
What is a Budtender?
A budtender is responsible for the final step in the long process of getting cannabis from the plant to the consumer. When you go to your local dispensary and buy weed, the person that asks if you have any questions grabs your weed and rings you out is a budtender. A budtender job description will likely include you needing to stock the store, tend to the product, ring up customers and provide quality customer service and industry expertise. A first-class budtender can help customers figure out what they're looking for (no matter who they are) by being a friendly source of knowledge and providing insight into types of cannabis, the product, brands, and the cannabis industry in general. Budtenders are students and educators of the cannabis industry and help make cannabis more accessible to both the avid stoner and the first-time user.
What Do Dispensaries Look for in a Budtender?

Being a budtender takes a lot of work and employers look for certain qualities in candidates. While you don't need technically need budtender training to get a job, there are several key characteristics you should possess. If you're wondering how to be a budtender, make sure you're ready to take on the following traits:
Passion
Budtenders have to care about what they're selling. Being a budtender is about knowing the industry, knowing your product, and being passionate enough to convince the consumer that you know what you're talking about and that they should buy what you're offering. You have to like cannabis, but you also have to be enthusiastic about different types, what's coming next, how it's grown, and different people's personal preferences. This passion bleeds into the other two key traits that dispensaries are looking for in a budtender.
Willingness to Learn
The cannabis industry is changing constantly, evolving with new cultivation methods, new consumer innovation, and new laws and legalizations. As a budtender, you need to be able to keep up with trends, know the laws, and advocate for each consumer. Having experience as a student and teacher on your budtender resume will help tremendously here, because not only do you have to stay on top of the cannabis industry, but you also have to help your customers understand.
Customer Service
Budtender jobs come down to customer service. At the end of the day, budtenders are customer service reps for the cannabis industry. Having customer service experience (especially in retail) will give you a major leg up when looking for a budtending position. When you interview, be kind, ask the right questions, and go into it with an open mind. These characteristics will shine through everything that happens in that interview and will help you succeed on the sales floor.
What to Expect from a Budtender Interview

We can't guarantee what will happen in your budtender interview, but here are a couple of questions that are more likely to be asked than not:
Do you have a budtender certification and/or customer service experience?
How would you describe the difference between Indica and Sativa to a customer?
What is your favorite strain and why?
How would you handle an interaction with a rude customer?
Give us an example of a time you had to handle an uncomfortable situation.
What would you change about the cannabis industry?
Career Paths for a Budtender
Being a budtender can be as much as you want it to be. It can be a summer job or it can be a full-fledged career move. A budtender salary pays a national average of over $32,000 a year, but it's just the starting point to a litany of cannabis-related opportunities. Within an individual dispensary, you can rise into management, store buyer, marketing or even ownership. Budtenders can also take their knowledge into different parts of the industry, moving into production and cultivation, working for commercial or independent farms, or even moving into litigation and cannabis advocacy. Being a budtender is great, but it also opens up a plethora of doors into the world of legal cannabis.
Are you a budtender or a dispensary manager/owner? Comment below and share your tips on how to ace and interview and what it takes to be a first-class budtender.