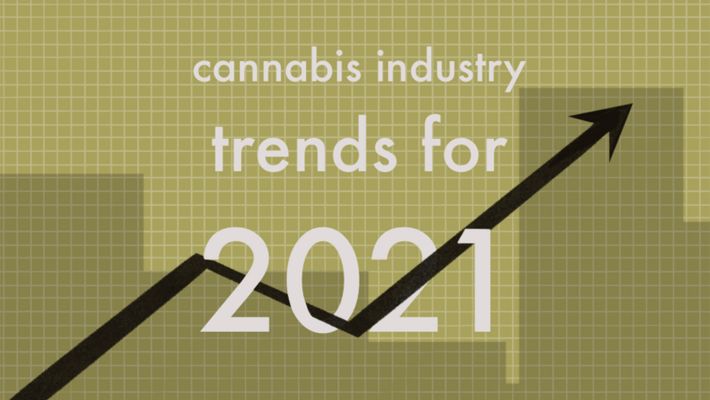 Cannabis Industry Trends to Look Out for in 2021
Ever since Colorado kicked off the country's first legal adult-use cannabis market in 2014, the American legal weed industry makes incredible strides every year. Despite the pandemic, political polarization and economic downturn that underscored 2020, the cannabis industry saw continued success with newer products like live resin and carbonated drinks supported by dispensary trends like increased delivery and a focus on social justice and sustainability.
New legal marijuana markets are already open across the Midwest and set to open soon in the South, suffice to say cannabis will have another major year in 2021. So what can you expect to see in the cannabis industry over the next 12 months? We tracked down the most potent trends to keep your eye on in 2021.
The Top 8 Cannabis Industry Trends To Watch for in 2021
Lesser-Known Cannabinoids Take Center Stage
Sure, you've probably heard plenty about marijuana's two most prevalent psychoactive and medicinal components, THC and CBD, but how much do you know about THCV, CBG or CBN? Many know THCV and CBG for their invigorating, mind-clearing properties, while CBN contributes to relaxation and better sleep. These lesser-known cannabinoids are already being isolated in gummies, extracts, flower and more. Expect to see a lot more than just THC and CBD on dispensary menus over the next year. Additionally, we've seen a lot other compounds like Delta-8 and natural substances like Kratom hitting the shelves in some states.
AI Is Coming to Your Local Dispensary

Historically, growing and selling cannabis has been an industry focused on relationships. Relationships with nature, relationships with the community, buyers and even law enforcement. In 2021, get ready for more relationships with robots. Automated indoor growing systems will soon track everything from pH and water levels to plant genetics, while dispensaries around the country have already begun responding to COVID-19 with online ordering and other point-of-sale automation. The Terminator won't replace your favorite budtender in 2021, but they'll probably have more help from computers.
Home Grow Enters a New Heyday
It should come as no surprise that most people have had a lot more free time this year. And with COVID-19 regulations likely keeping people out of offices and traveling less, 2021 is a perfect year for at-home cannabis growers to dive into heady horticulture. Combine those homebound conditions with more states passing legalization laws that allow personal cultivation, and we're hoping to see some heavy home harvests from coast to coast next Fall.
Mainstream Corporations Will Dive Deeper Into Legal Weed
Legal cannabis turning into big business. Every year, America's "green rush" has incorporated new states into the world of legal weed, and every year, major corporations have felt more and more comfortable dipping their toes into this once-controversial industry. Whether it is multi-national alcohol producers like AB-InBev and MolsonCoors, tobacco giants like Altria or even classic brands like Coca-Cola and Amazon, corporate America is getting a lot more comfortable investing in weed. As more states move to legalize and federal legislators continue to push the issue on a national level, legacy national brands and Fortune 500 companies will only continue going to pot.
Solventless Cannabis Extracts Will Get Even More Popular

If you've spent any time around cannabis concentrate users in 2020, you've likely heard your friends rave about the taste, potency, and purity of rosin. Slated to take over the market in 2021, is the much-heralded solventless extract. Create pristine dabs by squeezing flower or hash using tons of pressure and a little bit of heat. Rosin production is increasing across state-legal cannabis markets and will expand more in the coming months. Hopefully, that increased manufacturing and popularity will lead to industry-wide price drops similar to live resin, creating even more access to the beloved golden extract.
Cannabis Branding Becomes Even Bigger Business
There are more cannabis brands on the legal market than ever before and new companies seem to be putting plants in the ground every day. With so much selection for customers, branding is becoming one of the most important facets of the legal marijuana industry. It is no longer enough to simply grow good weed. Companies across the states are using exclusive strains, flashy packaging and nationwide social media marketing to build name-brand recognition. 2021 will see that race for brand supremacy heat up even more until eventually, weed brands become just as recognizable as the home goods and groceries we purchase every day.
Live Resin and Rosin Give Vape Cartridges New Life
Vape cartridges got a bad reputation after the health crisis caused by tainted black market carts in 2019. 2020 saw vape companies try to reestablish their place in the market with transparency, test results, and most importantly, increases in product quality. In 2021, look for vape manufacturers to further embrace live resin and solventless live rosin extracts for filling their discreet cartridges. A focus on quality extracts and continued clarity about safety precautions could be just what vape cart producers need to finally turn the tables on the complications and fear caused by the 2019 crisis.
The Push For Federal Legalization Gets Louder
The last four years have been all about state-specific legalization measures, but with increased interest from Congress and an impending change in the White House, there is a renewed expectation for federal cannabis reform. The House of Representatives passed full-scale cannabis reform for the first time in history in December 2020, and while that specific bill likely won't make it out of the Senate, we should not understate that type of progress in D.C. In addition to existing legislative attitudes warming to weed, a run-off vote in Georgia in early 2021 could help reshape the outlook of the Senate and add more cannabis-friendly lawmakers to the mix. It may not be the year that federal prohibition ends, but 2021 should see more discussion of marijuana in Washington's halls of power than ever before.
Are there any other big cannabis industry trends you're expecting to see in 2021? Give us the inside scoop in the comments below!