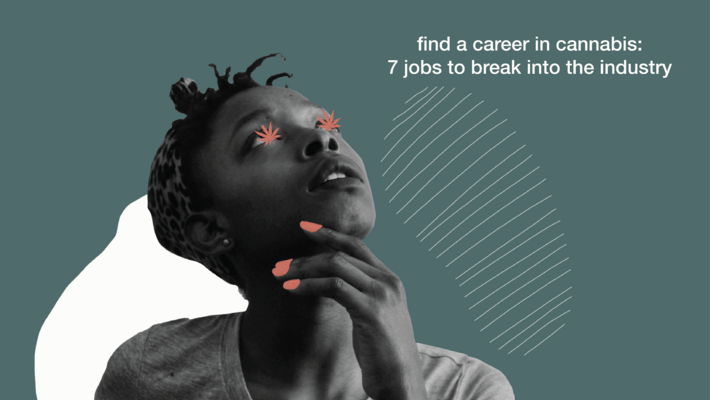 Find a Career in Cannabis: 7 Jobs to Break Into the Industry
As the nation struggles with the COVID-19 crisis and a sagging economy, some marketplace sectors continue to grow and even thrive. One industry that is expanding and remains host to several growing job fields is cannabis. Many states across the country are legalizing the use of medicinal and recreational marijuana, so the demand for people to fill open jobs is vast.
Over 66 percent of Americans support legalizing marijuana, and marijuana initiatives are racing through state legislatures. Recreational marijuana use is now legal in 18 states and U.S. territories like Washington D.C. and Guam, and it is legal for medical use in 38 states. Legalizing cannabis has enormous implications for state economies and the national economy. The industry totaled more than $8 billion in sales in 2017, posted a 76 percent increase in cannabis jobs in 2018. Experts expect the legal cannabis sector to be worth $23.4 billion and employ nearly half of a million Americans by 2022. Illinois recently joined the ranks of the legal marijuana states, and its April 2020 sales exceeded $37 million.
A current estimate of jobs in the cannabis industry is 200,000 to 300,000. Although most are entry-level cannabis jobs that sit on the lower end of the pay scale, as the industry expands, the need for skilled employees to fill positions is also increasing. Simply put, the cannabis industry is growing at an astounding rate.
Jobs to Get into the Marijuana Industry
With the legal industry exploding into a multi-billion dollar cash cow, there will be a lot of needs for cannabis production and processing companies, dispensaries, and other folds of the industry to fill. That means many people are going to be employed by the legal cannabis industry in a massive variety of ways. Follow us as we go in-depth on some of those new and ever-evolving roles. So with that in mind, let's get right into it!

Some consider the budtender to be the face of the weed industry because they will be the person who guides you through the process of buying marijuana at the dispensary. A top budtender must be knowledgeable about each of the store's products and know the effects of the specific strains behind the counter. The best budtenders will take the time to compassionately discuss the patient's needs and recreational consumers to ensure a proper purchase. Dispensaries are opening daily, and quality budtenders are always in demand. A background in retail, customer service, or the service industry is helpful. Simply put, budtenders need to be knowledgeable about cannabis and customer service, friendly to their consumers daily, and know their way around a variety of different legal weed products. They're as close to a jack of all trades in an industry like legal cannabis!


This position is responsible for providing general support for the growing operation. Very little prior knowledge is necessary, but site workers must be reliable, focused, and know how to pay attention to minor details. Duties include plant feeding, light management, tool maintenance, site quality control, and proper plant growth and harvest documentation. It is one of the more general marijuana-growing jobs, but it is also one of the most important. A job like this is a great entry-level position for someone looking to break into and make their name in the world of legal cannabis!
Marijuana Packagers ensure all product packaging for distribution and sale. All marijuana products must be prepared safely and legally and follow specific guidelines and regulations. Packagers should be comfortable working with small and large quantities of hand-trimmed flower, oils, wax, shatter, and other forms of cannabis products. This job is extra important because improperly packaged or stored cannabis products will go rancid quickly, wasting the consumer's hard-earned money. This gig is an essential cog in the production machine that is legal weed!
Along with budtender, if you were to Google "marijuana jobs near me, " the position of Trimmer would be at the top of the list. A deft touch and good concentration are essential for trimmers to prune plants and make the buds look perfect expertly. Strong knowledge of cannabis anatomy and the structural differences between strains is crucial, as is the ability to weigh properly, catalog, and safely handle the cannabis throughout the workday. Trimmers used to be mainly seasonal workers at harvest, but the proliferation of the industry has turned the trimmer into an essential full-time employee. It's a job with significant security as well. The world of legal weed runs on cannabis flower, and somebody has to be around to trim and grow that flower. It's a job that will never go out of style!

Lab Techs support the laboratory scientists and analysts in preparing and staging samples, documenting and labeling incoming and outgoing vials while ensuring a clean lab environment. The position of Lab Technician is one of the most accessible cannabis research jobs to obtain.

The weed industry runs on cash, and dispensaries and grow operations require heavy security to guard products and money. Since money is constantly moving, security personnel always work at dispensaries, labs, distributors, and cultivation sites. As long as dispensaries and legal weed businesses can't use federally-backed banking establishments, you'll always have a business to protect and job security in the role.


Cannabis Supply Chain Manager is a position with a wide range of responsibilities that could be a good fit for candidates with various backgrounds. Supply Chain Managers are usually responsible for purchasing and procuring supplies, working with suppliers and vendors, and handling logistics such as shipping and receiving. Inventory management and quality control of production and assembly processes also fall under the purview of the Supply Chain Manager.

How to Get into the Marijuana Industry - Tips
There's no shortage of well-paying jobs in the cannabis industry; you might just need to do a little bit of research to find the segment of the industry that's right for you. So before simply searching for "Dispensaries Hiring Near Me, " take some time to understand some basic industry terminology and research all of the different marijuana jobs in your area. Try to hone in on what is of interest to you and what matches your experience. Remember that cannabis careers can differ significantly. Cannabis cultivation jobs can vary from MMJ jobs (medical marijuana). Furthermore, retail positions are nothing like working in a lab.

Other tips include:
Suppose you think you need additional education to start a cannabis career or land the marijuana job you desire. There are plenty of options for in-person or online schooling in that case. Most offer affordable packages tailored to focus on aspects of interest, whether they are in business or finance or science or sales. A degree from a school like Oaksterdam University or the Cleveland School of Cannabis is most likely necessary in order to enter the industry and immediately earn money closer to the range of a master grower salary ($75,000 - $150,000 per year, depending on the size of the operation).
Do you work in the cannabis industry? What sector? How did you go about getting the job and beginning your cannabis career? Tell us about it in the comments section below.