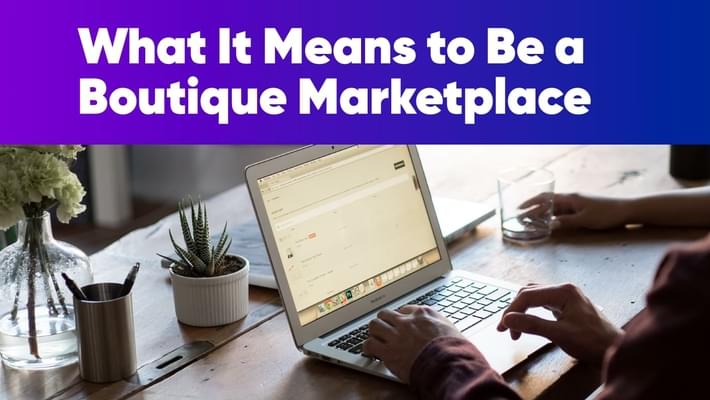 What It Means to Be a Boutique Cannabis Marketplace
As the cannabis industry becomes more digital, dispensaries must use online marketplaces to inform customers of menu changes, provide delivery and curbside solutions, and reach new customers.
But the digital interaction between the dispensary and its customers has become stagnant. What was once an incredible innovation that brought value to business owners and customers has since fallen short of its potential.
Read on to understand the need for boutique cannabis marketplaces and how larger platforms are failing their clients and users. We'll also provide a solution that brings value to dispensary operators and the shopping experience.
What is a Cannabis Marketplace?
Cannabis marketplaces are third-party platforms that bring your dispensary and cannabis lovers together online. Retail cannabis businesses are given a space to provide basic information, upload their menus, and share deals.
Consumers can conveniently browse multiple dispensaries to find the best product for their needs without walking into a physical store. These marketplaces also build a sense of community through the review sections of each product.
Rather than physically walking into your dispensary, viewing the products, and making a decision, the consumer can turn to an online cannabis marketplace to get the same information from your menu digitally.
Example of the Customer Journey Using a Marketplace to Buy a Product
Search for or type your cannabis marketplace of choice into the web browser
Enter your zip code to find nearby dispensaries
Go to the product category or enter the product in the search field
Compare prices, potency, compounds, and reviews
Add the product to your cart
Choose to pick up in-store, curbside, or view delivery options
Benefits of Marketplaces for Dispensaries
The cannabis industry needs digital solutions, and the online marketplace is the best way for your dispensary to expand its digital footprint. A listing on a marketplace provides a place to host an active store menu, and the benefits include the following:
Detailed product information
Increase in sales
Convenience for customers
Delivery and curbside pickup integrations
Boost in SEO
Improved digital visibility
While large marketplace platforms have provided groundbreaking services to dispensaries looking to expand their customer base, many people say they've become too big and can't provide their clients with an intimate experience.
What is a Boutique Marketplace and How is It Different?
While the major cannabis marketplaces have gone corporate, an alternative has emerged. Boutique marketplaces are much smaller operations emphasizing customer service and communication rather than exponential growth.
A boutique cannabis marketplace provides a digital space for your dispensary to upload essential business information while taking a catered approach to serving you.
Here are just a few ways that leveraging a boutique marketplace can help grow sales:
1. Integrates with Your POS
Boutique marketplaces work with your dispensary's existing point of sale (POS) system, so there's no need to download anything or buy any new equipment. With local, third-party delivery services, you can add your products to the inventory to help drive sales from another source (the marketplace).
2. More People Browse Your Menus
Boutique marketplaces feature advanced filtering that helps customers find the products they're looking for.
3. Helps with SEO
Boutique marketplaces can have just as high domain authority as larger platforms. Once you've added links to your website on the platform, search engines like Google will deem your site to be more credible. Links, of course, lead to referral traffic from the marketplace, more traffic from organic search, and better rankings.
4. Increases Online Visibility
One of the most significant benefits of using a boutique marketplace is the influx of new shoppers that will become aware of your business and products. Many people use marketplaces exclusively to shop for products. So, if you aren't listed, they may not even know your dispensary exists.
You'll increase your online presence and attract new customers through the marketplace. If your products are high quality, competitively priced, or even unique, you'll be in a position to get the attention of shoppers who are looking for the very products you offer.
5. Drives More Orders from a New Source
Naturally, you want more orders and more people coming through your doors. By getting your dispensary listed at Where's Weed, you can reach qualified customers in a highly regulated industry, pushing more traffic to your website.
Did you know that traffic to the Where's Weed website is over 85% organic? This means our boutique marketplace inherently attracts users with a high purchase intent. Whether you choose to claim your listing or opt for additional paid opportunities for better visibility, we'll help you make the best marketing decisions for your business.
Boutique vs. Traditional Cannabis Marketplaces
The massive cannabis marketplaces have failed to accommodate all their clients. As a result, when users visit one of the platforms, profiles are often incomplete, menu items are only sometimes accurate, and product details can even be nonexistent. In many cases, visiting a large marketplace harms the shopping experience because of the disconnect between the dispensary and the consumer.
On the other hand, Boutique platforms offer a far more direct relationship between the marketplace and business operators. A large platform may not have the capacity to handle your account and ensure they deliver the best shopping experience for users on your behalf.
A boutique marketplace places more emphasis on valuing customer service and direct communication with each dispensary. It builds a client relationship and provides a custom approach to your needs. These platforms have loyal client bases because each account is given a dedicated team. They're different from large competitors because of their dedication to:
Better customer service
A more personable and attentive customer experience
Accessible customer service representatives
Passion for the cannabis industry
Marketplaces in Other Industries
We've seen the success of online marketplaces in other industries such as the food & beverage industry with GoPuff, DoorDash, UberEats, and more. There are also online retail marketplaces like Amazon that have given a whole new meaning to online ordering and shopping by being completely digital. All of these marketplaces were put in place to help bring more efficiency and convenience to the consumer, putting purchasing power directly in their hands. Even though, the cannabis industry still has some catching up to do with laws and regulations prohibiting a purely online ordering and delivering experience for cannabis, dispensaries and consumers alike are being provided with efficiency and convenience with these cannabis-specific marketplaces.
Where's Weed: A Boutique Cannabis Marketplace
The Where's Weed website is a comprehensive online consumer resource that connects users looking to buy cannabis products with nearby businesses in the United States and Canada. In addition to hosting vital business information and dynamic online menus, we also provide the following:
Delivery Services
MMJ Doctor Listings
Smoke Shops Listings and Advertising
Branded Products
Educational Resources
Cannabis News and Culture
As a tech company with less than 50 employees, Where's Weed is small but fully capable of handling multi-state operators. Our boutique marketplace has the power to manage large accounts but also has demonstrated the desire to provide personal care to dispensaries that need to be more experienced in navigating the digital world.
Where's Weed provides an unparalleled customer service experience. Communication is a top priority, and all client issues are streamlined to give dispensaries special attention and customized service.
Our Mission at Where's Weed
Founded in 2011, our mission is to provide an all-inclusive cannabis marketplace for businesses to connect organically with consumers who have a high purchase intent. Our boutique marketplace is propelled with educational resources to reach consumer markets through organic online traffic and SEO. We're a passionate and collaborative team that truly cares about supporting the consumer cannabis experience.
Where's Weed upholds the boutique marketplace ideal by providing a tailored service to dispensary owners and cannabis enthusiasts. We help you create the best possible profile to boost sales while optimizing the shopping experience.