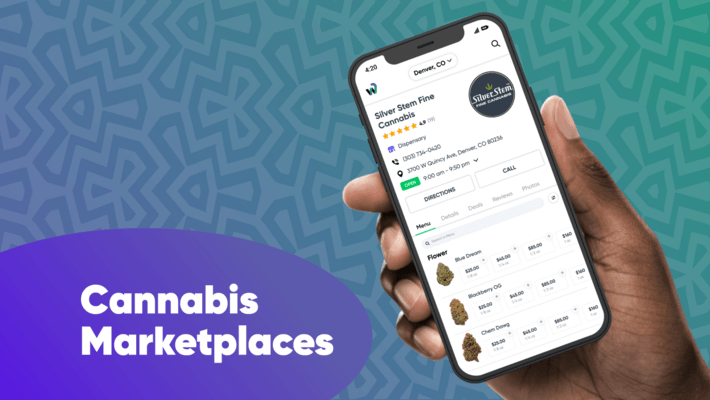 What are Cannabis Marketplaces and Why Your Dispensary Should Use One
Operating a dispensary can be lucrative, but competition is rapidly increasing. Take Oregon, for instance, where there are over 350 recreational dispensaries, and the number continues to grow yearly.
To remain competitive in a growing industry, you must use every available resource. Marketing is challenging because many digital platforms don't allow cannabis advertising. Therefore, incorporating cannabis marketplaces into your retail strategy is critical in today's market. These platforms streamline the buying process for consumers and offer a new way to reach consumers.
What is a Cannabis Marketplace?
A cannabis marketplace is a third-party platform, such as Where's Weed, that hosts numerous dispensary menus, information, and deals. They serve as a digital tool for consumers to view the entire retail cannabis market in their area of choosing rather than searching for individual menus one at a time.
Rather than physically walking into a dispensary, viewing the products, and making a decision, consumers can turn to cannabis marketplaces to get the same information digitally.
Here's an example of the consumer journey using a cannabis marketplace to buy a product like live resin:
Search for or type your favorite cannabis marketplace into the web browser
Enter your zip code to find dispensaries nearby
Go to the concentrates category or enter "live resin" in the search field
Compare prices, potency, compounds, and reviews
Add live resin to your cart
Choose to pick up in-store, curbside, or view delivery options
Cannabis marketplaces also offer a variety of ways to shop for products. Consumers can browse dispensaries' menus in their proximity, shop by product category, or look at the latest promotions.
The Digitalization of Retail Cannabis
Our industry has been slow to take advantage of digital solutions, but the COVID-19 pandemic forced retail cannabis companies to put their menus online, offer contactless purchasing options, and even delivery.
During the pandemic, dispensaries were awarded essential business status from state governments. Restrictions on delivery were removed, creating a new submarket with incredible growth potential.
In-store capacities were dramatically restricted. While digitalization was inevitable for the industry, the pandemic and government-ordered lockdowns forced cannabis companies to incorporate digital solutions to remain profitable.
How Cannabis Markets Help Consumers
Today, most dispensaries are running at full capacity, but cannabis marketplaces are still vital to the buyer's journey. Here are some of the ways these marketplaces provide value to shoppers.
Product Information
Marketplace platforms allow consumers to make educated decisions about their purchases. Access to all product information for participating dispensaries is an advantage to the shopper looking for the best prices or quality.
Become Aware of Deals
Dispensaries can promote weekly deals on a cannabis marketplace. For example, a dispensary might offer a promotion like "$25 flower eighth Fridays" to drive sales. Marketplaces are great for communicating announcements about products to potential customers.
And once you've attracted new customers thanks to those deals, you'll want to alert them in the future to new deals. An easy way to do this is by distributing an e-newsletter to your customer list, but first, check that your email marketing platform is cannabis-friendly.
Convenience
Ordering online eliminates the time consumers spend asking about products or speaking with staff inside a dispensary. Not every customer wants to invest that time. Instead, they can take their time finding and comparing the perfect products at home and pick them up later at the dispensary.
Delivery and Curbside Pickup
Ordering delivery or curbside pickup makes the cannabis buying experience even more convenient.
According to Statista.com, 44% of U.S. medical marijuana patients regularly use a delivery service rather than visiting a dispensary.
5 Benefits Cannabis Marketplaces Offer Dispensaries
Cannabis marketplaces are also advantageous for your business, of course. Here are some of the most significant ways leveraging a marketplace can help grow sales.
1. Integrate with POS
Marketplaces work with your existing point of sale (POS) system. No need to buy any new equipment or download software.
Most cannabis marketplaces feature local, third-party delivery services. Adding your products to their inventory will help drive sales.
2. Improve Access to Menus
Cannabis marketplaces feature advanced filtering that helps customers find exactly what they're looking for.
3. Boost SEO
Cannabis marketplaces often have high domain authority. Once you've added links to your website on the platform, search engines like Google will deem your site to be more credible. Links lead to more organic search traffic and better rankings.
4. Increase Visibility
One of the most significant benefits of using cannabis marketplaces is the influx of new shoppers that will become aware of your business and inventory. Many people use marketplaces exclusively to shop for products. So, if you aren't listed, they may not even know your dispensary exists.
You'll attract new customers through a marketplace by increasing your digital visibility. If your products are high quality, competitively priced, or even unique, you'll be in a position to bring brand new shoppers through your doors.
5. Drive More Orders with Where's Weed
You undoubtedly want more eyes on your business and more people coming through your doors. By getting your dispensary listed at Where's Weed, you can reach qualified customers in a highly regulated industry, pushing more traffic to your website.
Traffic to the Where's Weed website is over 85% organic, which means we inherently attract users with high purchase intent. Whether you choose to claim your listing or opt for additional paid opportunities for better visibility, we'll help you make the best marketing decisions for your business.