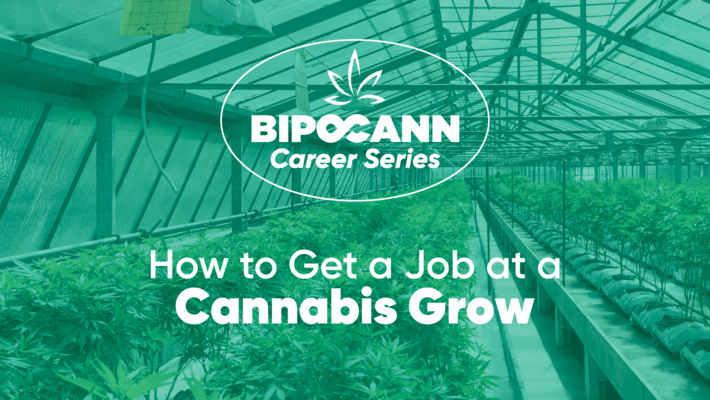 BIPOCANN Career Series: How to Get a Job in Cannabis Growing
When it comes to the cannabis industry, getting into the industry is the hardest part. We've teamed up with BIPOCANN and its network of businesses working to shape a more accessible and profitable legal cannabis industry. Here's how you can get a full-time job growing cannabis (legally, of course!)
Career Paths in Growing Cannabis
Reports state that the legal cannabis industry supported 428,059 jobs as of January 2022, many of which are "plant-touching." These types of roles all involve, you guessed it, working hands-on with the plant, but many different career paths exist within this field. One is growing cannabis, which we're here to dive into today!
Types of Cannabis Growing Jobs
There are various types of cannabis growing jobs and different types of growing environments within which these roles can exist. For example, cannabis growers could work in an indoor facility, greenhouse, or on an outdoor farm. Jobs in legal cultivation will exist in states with medical or recreational adult-use cannabis, and types of growing environments will vary by state. For example, there are more outdoor farms and greenhouse grows on the west coast, while most facilities on the east coast must be indoors due to weather constraints.
Some cannabis growing jobs are more entry-level, while others are highly-skilled, and nearly all provide an opportunity to continue moving up within the field.
Some of the most common cannabis-growing jobs available right now include:
Master Grower
Assistant Grower
Head of Cultivation
Cultivation Supervisor
Grower's Apprentice
Seed Breeders
Irrigation Specialist
Propagation Specialist
Harvesting Specialist
Understanding The Difference In Cannabis Growing Jobs: Responsibilities of Master Growers vs. Assistant Growers
A Master Grower, which could also be referred to as a Head Grower, Lead Grower, or Head of Cultivation, is in charge of overseeing the entire grow facility. Their priorities are to ensure the plants are healthy and the facility runs efficiently and compliantly. This is one of the most critical responsibilities of a Master Grower because failing to meet regulations can cost a grow facility to lose its license. Master Growers are also typically responsible for bringing in new genetics, designing grow systems, maximizing harvests and profits, and managing and training the rest of the growing team.

An Assistant Grower is typically in charge of upkeep from planting to harvesting. They will also oversee feeding and watering schedules and delegate tasks from the Master Grower to the rest of the growing team, then report on progress.
According to ZipRecruiter, the national average salary for a Master Grower is $73,713, but in hot markets, a highly-skilled and in-demand Master Grower can make over $100,000. GlassDoor reports the average salary for an Assistant Grower is $53,219 each year.
Prerequisites for Cannabis Growing Jobs
While the requirements of a cannabis-growing job will vary by role, experience level, state, and more, here are the answers to some common questions.
Do I need a college degree or certification for cannabis growing?
A college degree is typically not required to work in most cannabis cultivation facilities since the legal industry is relatively new. However, many highly-skilled master growers will have degrees in agriculture, horticulture, physical science, or other botanical studies. Now that legal cannabis is more widespread, more options are starting to exist if you want to pursue a degree in cannabis cultivation.
How can I get started in cannabis growing?
If you are interested in cannabis cultivation but don't have any experience, you may want to start by getting an entry-level role within the industry. For example, working as a budtender at a dispensary or trimming or packaging at a grow facility can help you make connections, determine if this is the right industry, and springboard into cannabis cultivation.
If you have some experience growing cannabis, getting a job as an entry-level trimmer or growing assistant is a great way to get your start in the legal industry and work your way up. The main thing is to get your foot in the door. This is a competitive job market, and a willingness to work and learn the ins and outs of cannabis cultivation can help you stand out to employers. Many cannabis companies tend to promote from within and bring employees from other areas of the business into cultivation because they are already familiar with operational processes.
What skills are necessary for growing cannabis?
While many different roles within cannabis cultivation require different skill sets, there are a set of natural talents and soft skills that are crucial for success in this field:
Passion for the Plant
More than anything, someone pursuing a career in this field should have an extreme passion for the cannabis plant. Working in cannabis growing is incredibly labor intensive, so individuals must be motivated and genuinely love what they are doing, or they can quickly become burnt out.
Ability to Multi-Task
As a cannabis grower, there are a lot of regulations that must be followed while completing your day-to-day job tasks. You'll have some plants in vegetation and some in the flowering stage, various strains running at once, and multiple employees to work with. So, the ability to pay attention to all these processes simultaneously and multitask without losing sight of the details is essential.
Willingness to Learn
In cannabis, there are constantly changing regulations, new products, and more brands entering the space. Plus, as more research is being done on the cannabis plant, there continue to be new methods of cultivation that are discovered, new strains that are produced, and different ways people can use it to improve their day-to-day life. Successful cannabis growers must stay on the cutting edge of advances in the industry with a willingness to keep learning new things and the ability to adapt quickly.
Growth in Cannabis Growing Careers
According to a study by MJ Biz, legal cannabis sales are anticipated to exceed $33 billion by the end of 2022, a 32% increase from last year! As the demand for cannabis continues to skyrocket yearly, so does the need for skilled growers who can cultivate the plant commercially.
These numbers are only expected to keep growing over the next few years as more states legalize, so if you're interested in a career as a cannabis grower, now may be a great time to take the first step!