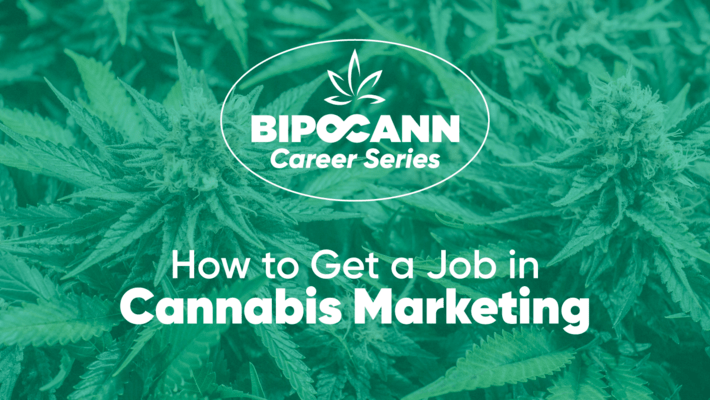 BIPOCANN Career Series: How to Get a Job in Cannabis Marketing
When it comes to the cannabis industry, getting into the industry is the hardest part. We've teamed up with BIPOCANN and its network of businesses working to shape a more accessible and profitable legal cannabis industry. Here's how you can get a job in cannabis marketing.
Career Paths in Cannabis Marketing

There's no denying that cannabis is a booming industry and that there is a potential for exponential growth as state legalizations continue and federal legalization becomes increasingly likely. Because of this, many people are looking for cannabis industry jobs. Fortunately, there are many ways to get into the cannabis industry. One of those potential career paths in marketing, which plays a critical role in any cannabis business's success. Keep reading to learn more about how to get a job in the cannabis industry for marketing.
Cannabis Marketing
Marketing in cannabis can mean a lot of different things, but there is one thing that almost all of them share: potential growth. Whether you're a social media manager for a local dispensary, an associate for a marketing agency, or a brand manager for a grower, the number of jobs is rapidly increasing. It's estimated that in 2021 in the U.S. and that there are currently over 425,000 cannabis-related jobs in the US as of January 2022.
While there isn't an exact count for how many marketing jobs are part of this figure, we know that the number of jobs is increasing across the board. With a 33% year-over-year increase in jobs, the cannabis industry is showing no signs of stopping. Some experts estimate that the US alone could support upward of 1.75 million cannabis jobs if this trend continues.
We sat down with Lisa Buffo, Founder and CEO of the Cannabis Marketing Association (CMA), to talk about making a career in the cannabis industry through marketing. Buffo moved to Colorado in 2014 to start the industry and has experienced many unique challenges and rewards with marketing marijuana jobs.
The industry is primed for professional opportunities. If you want a marketing job in cannabis, you've come to the right place to learn more. Insight from professionals like Buffo is invaluable.
Prerequisites for Cannabis Marketing Jobs
So you want a marketing job in cannabis, but what do you need to get started? As far as education goes, it depends on the job. Most positions will ask for at least a bachelor's degree in marketing, communications, or a related field. However, a Master's degree or higher can go a long way in setting candidates apart. Some cannabis jobs will also accept experience in place of education.
Suppose you are starting your career in marketing. In that case, we highly suggest looking at entry-level positions like copywriters, communication coordinators, or even getting in on the ground floor of a dispensary as a budtender. Once familiar with the industry, you can grow into a marketing position and build a few connections.
Whether you're new to marketing and the cannabis industry or are more familiar with cannabis and have marketing experience, you can also check out a membership with the Cannabis Marketing Association.
"A CMA Membership comes with access to our Member Portal," said Buffo. "Which includes dozens of webinars, podcasts, and written resources for cannabis marketers."
This sort of information and connections with the membership could be the difference between unanswered applications and earning interviews. If you have prior marketing experience, there's a good chance that it will translate to the cannabis industry. Buffo highlighted that storytelling, along with many other fundamental aspects of a marketing career, is something that transfers seamlessly from other industries.
"I say this over and over again, but good marketing is good storytelling," said Buffo. "There are so many great stories in cannabis. Brands are made by people who are seeking to convey a value proposition. Good cannabis marketing tells the story of the product, its value, and the why behind the brand."
Buffo also noted that a willingness to learn and be flexible is critical for success in cannabis marketing because many different rules and regulatory frameworks require an open mind.

Types of Cannabis Marketing Jobs
As we said earlier, many different marketing jobs are available within the cannabis industry. Some of the most common job categories include:
Marketing Manager/Director: manage team members, budgets, and contractors/agencies.
Events and Partnerships: focus on brand exposure, career development, and relationship building within the industry.
Digital and Social Media: create content strategies and manage a brand's online presence and engagement.
Creative Producer and Design: create assets that range from packaging to brand creatives and advertisements.
Day-to-day tasks for these jobs will require creativity, social awareness, writing, communications, and an analytical capacity for understanding engagement and returns on investment.
There are also different levels of the business to be aware of. Some of these jobs may be for "plant-touching" companies that directly relate to cannabis (i.e., dispensaries, growers, distributors, etc.). Other jobs might be agency-focused or ancillary to the cannabis industry as a whole, working as a third party to promote cannabis brands from the outside.
Whatever the role, Buffo sees a couple of significant shifts in cannabis marketing.
"We're having more conversations around programmatic and digital marketing," said Buffo. "Branding is also getting more sophisticated, and marketers focus on showing returns on investment while keeping costs down."
No matter what path you choose or where your focus lies, it will all be easier the more you know the industry. Get involved, learn how to work in the cannabis industry, what's trending, what's coming next, and how you can apply your aspirations and skills.
"If you want to get into cannabis marketing, the Cannabis Marketing Association is a great first stop," said Buffo. "However, you can also support the non-profit organizations we support in our Social Equity Program. Marijuana Matters, Cannabis Impact Fund, and Minority Cannabis Business Association. They are all doing great work supporting entrepreneurs."