Iowa officials to hold hearing on the state's new medical marijuana laws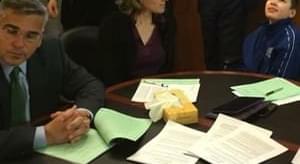 Published on Aug 25, 2014
On Tuesday, Iowa officials will be holdling a public hearing to discuss the implementation of the state's new medical marijuana laws.
Iowa legislators voted this spring to allow Iowans to use a marijuana oil to treat severe types of epilepsy. The oil has low levels of the chemical that usually makes marijuana users high.

Under the new law, participants must receive a recommendation from an Iowa-licensed neurologist. People who are approved for the program would receive registration cards allowing them to possess the oil.