Medical Marijuana 101: Doctors, Regulators Brace For 'Big Marijuana'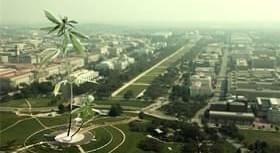 The ballot initiative, submitted by the D.C. Cannabis Campaign, was approved by the D.C. Board of Elections and garnered enough signatures to qualify to be on the November general election ballot. Ballot Initiative 71 proposes allowing adults over the age of 21 to legally possess up to two ounces of marijuana, as well as give up to one ounce to other adults. Additionally, the ballot initiative allows for the home cultivation of up to three marijuana plants.
The argument that marijuana is poised to become Big — as in Big Tobacco — begins more than a hundred years ago, argues Dr. Sharon Levy, a pediatrician at Boston Children's Hospital.
Changes in curing made tobacco easier to inhale, additives made it more addictive, and machines began to churn out inexpensive, readily available cigarettes, she says. With these "innovations" and lots of market savvy ads, tobacco use and addiction rose dramatically.
"Is there anything to prevent innovative products with marijuana that will do the exact same thing?" asked Levy, who runs the adolescent substance abuse program at Children's.