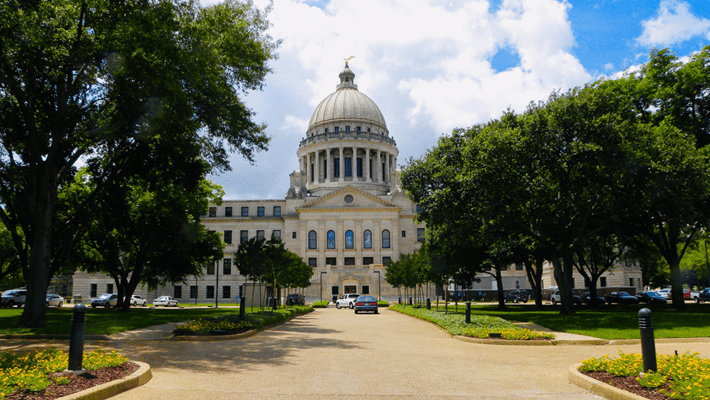 When Will Mississippi Start Marijuana Sales?
In Mississippi, joining the ranks of legal weed states comes as a stark reversal after decades of state legislators ignoring and fighting cannabis reform. Like all brand-new legalization laws, the Magnolia State marijuana program will take some time to develop, but by the time dispensary doors open, local and national experts expect the conservative southern state to house one of the country's most liberal and welcoming medical cannabis programs.
To make sure you know what to expect from Mississippi's new foray into the American green rush, we put together a handy guide covering the state's cannabis history, medical legalization law, and the particulars of who will be able to access the legal weed along with where, and when it will be available.
Missississippi's Marijuana History

You might assume that because of the state's southern roots and track record of conservative politics, that Mississippi would be one of the nation's toughest anti-pot states. Like most assumptions though, that would be entirely wrong. In fact, compared to its neighboring states like Arkansas and Alabama, Mississippi has been ahead of the game with weed for a while. In 1978, Mississippi decriminalized minor marijuana possessionof 30 grams or less. Under the long-running law, local police have the discretion to either file a misdemeanor charge or replace jail time with probation and a small fine. In addition to statewide decriminalization, the University of Mississippi has been the longtime home of the only legal cannabis grow sanctioned by the DEA and the federal government. The university cannabis plot has contributed to marijuana research since the 1960s but has been routinely criticized for producing a low-quality and often moldy final product.
Still, despite long-standing decriminalization and university research, Mississippi still has plenty of harsh laws and state legislators dead-set on continuing prohibition. Carrying a few grams of weed inside of a car or possessing paraphernalia like a pipe or grinder can get you up to 90 days in jail, and even in the era of widespread legalization, selling more than 10 pounds of weed can still result in a life sentence without parole. This year, Mississippi state legislators tried their hardest to kneecap the state's activist-organized medical marijuana legalization measure. Mississippi lawmakers went as far as to place a second, more restrictive medical marijuana measure on the same ballot in an effort to confuse voters and kill the original proposal.
Initiative 65 and Mississippi Marijuana Legalization

Even in the face of institutional opposition, Mississippi's original, broad medical marijuana law, Initiative 65, passed with an overwhelming 73% of the vote. Under the newly-passed initiative, 22 qualifying conditions will allow Mississippi residents to acquire a medical marijuana card and access an eventual network of dispensaries. The 22 conditions are; cancer, epilepsy or other seizure disorder, Parkinson's disease, Huntington's disease, muscular dystrophy, cachexia, post-traumatic stress disorder (PTSD), HIV/AIDS, chronic or debilitating pain, amyotrophic lateral sclerosis (ALS), glaucoma, agitation of dementia, Crohn's disease, ulcerative colitis, sickle-cell anemia, autism with aggressive or self-injurious behaviors, pain refractory to appropriate opioid management, spinal cord disease or severe injury, intractable nausea, severe muscle spasticity, and any medical condition for which a physician believes the benefits of using medical marijuana would reasonably outweigh potential health risks. Medical marijuana cardholders will be able to purchase and possess up to 2.5 ounces of cannabis every 14 days.
When Will Weed be Available For Sale In Mississippi?

Unfortunately, Mississippi's medical marijuana legislation did not come attached with a full set of rules and regulations. The good news, though, is that the Hospitality State will work quickly to establish a homegrown industry. According to deadlines set forth in the legalization measure, the Mississippi Department of Health is required to establish final regulations for the program by July 1st, 2021. Once those regulations are in place, the DOH is on a short deadline to start issuing plant-focused business licenses and patient identification cards by August 15th, 2021.
As for the final date when Mississippi medical marijuana patients will be able to actually walk into a dispensary and purchase legal cannabis? That date is still up in the air, but if all goes well when DOH officials craft regulations and hand out licenses, marijuana could be ready for sale as soon as Fall or Winter 2021.
How Restrictive will Mississippi's Medical Marijuana Program Be?

Thanks to the vague definitions of qualifying conditions like "chronic pain" and the stipulation that licensed doctors can award medical marijuana cards for any ailment they see fit, Mississippi is expected to quickly become one of the most welcoming states with legal weedand could become the country's most liberal medical marijuana destination.
Mississippi's medical law also allows for a free market of cannabis businesses, skipping the high licensing fees and complicated application processes that have kept many marijuana programs in the hands of just a few deep-pocketed producers. In that same spirit of open access, individual towns and cities will not be able to block dispensaries from opening, with the cannabis shops awarded the same status as local pharmacies.
As far as restrictions go, tourists are out of luck as patients will need to be residents of Mississippi to acquire a medical card. And unlike California, Colorado, and other states where weed is legal, Mississippi medical patients will not be allowed to grow their own personal cannabis at home. Likewise, it will still be illegal for medical patients to smoke weed in public, with a fine of $100 for toking on the street. Because the law only covers medical and not recreational legalization, Mississippi residents with a criminal record or current jail sentence for marijuana crimes will not be able to seek expungement.
Are you a Mississippi resident looking forward to your state's new legal market? Let us know what you're most excited about in the comments below!