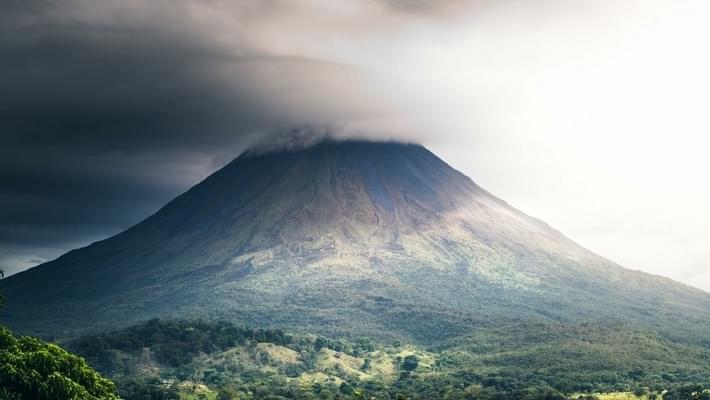 Legalization Update: Costa Rica Legalized Medical Marijuana
This past week Costa Rica joined the ever-growing list of states and nations around the globe that have legalized access to cannabis. Thanks to the passage of this new law, the tropical island nation will now allow for the production and processing of hemp plants, effectively legalizing and establishing a medical cannabis program and allowing for the cultivation of industrial hemp.
This progressive bill separates Costa Rica from the vast majority of Latin American nations, where cannabis is still largely stigmatized and banned in all forms aside from Argentina, Brazil, Chile, Colombia, Ecuador, Mexico, Panama, Paraguay, and Peru.
But how exactly did we get here? Especially considering that earlier this year, attempts to legalize medical cannabis were vetoed by Costa Rican President Carlos Alvarado. Well, don't worry. We here at Where's Weed are going to break down the past, present, and future of legal weed in the nation, break down exactly what's in this new bill, and go in-depth on the impact of Costa Rica joining the growing list of nations that have approved some form of legal cannabis!
The History of Legal Weed in Costa Rica

Cannabis in Costa Rica has always fallen into a strange semi-legal gray area. While it's technically true that the nation's Narcotics Law No. 8204 says that it's illegal to sell and produce marijuana on a mass scale and that it's illegal to carry marijuana of more than a small dose, the law doesn't go into detail on how much qualifies as a small dose or if cannabis is legal for personal use. So just like here in the U.S., that legal gray area has led to pockets of the island nation where use is mostly accepted and allowed, while it's still punished severely by law enforcement in other areas.
In early 2019, however, legalization advocates began pushing for reform, and legal changes started to gain some momentum regarding cannabis legality. A few laws that would legalize both recreational uses and establish a medical use program were proposed before lawmakers. The bill to legalize medically made it as far as the President's desk before being vetoed, with President Alvarado seeking limits for individual cultivation and consumption. The bill was then reworked, and a newly written form of that bill is what has now passed and legalized medical use on the island!
It's important to acknowledge that a massive factor in the successful push for legalization was the fallout of the COVID-19 pandemic. It's no secret that a nation like Costa Rica is highly dependent on tourism to keep its economy afloat. Due to the global lockdowns and economic impacts of COVID, Costa Rica saw 2 million fewer visitors land on their shores than usual in 2020. That meant that a national workforce of around 211,00 people directly employed by the tourism industry was severely impacted by the 70 percent drop in overall tourism, a 40.7 percent dip in business from hotels and restaurants, and an overall decrease in national GDP by 4.5 percent in 2020. Simply put, COVID heavily impacted Costa Rica as a whole and this medical legalization bill could provide the influx of cash that would help it recover properly.
So What Does This New Bill Allow For?
So let's dig into this bill a bit to break down exactly what patients will be allowed to do under this new law. Thankfully, we here at Where's Weed did the reading so that you don't have to.
So here's a quick, comprehensive breakdown of what this new bill allows:
The new legislation covers the cultivation, harvesting, processing, storage, and transport of medical marijuana and hemp. The Minister of Agriculture will regulate the hemp market.
The Minister of Health will be in charge of regulating the medical cannabis market.
Costa Ricans who want medical cannabis access will need a card, just like here in the United States. Guidelines for applying will be finalized and released later in 2022.
Those who want to cultivate medical marijuana will need permits from national health institutions.
All hemp components are legal for food and industrial purposes, just like here in America.
Hemp products must contain less than .1 percent THC.
The new law does not yet cover any regulations/restrictions for tourists with medical licenses from their home countries. Further details could be available by May.
Seed-to-sale tracking systems will be implemented.
Home growing will not be permitted.
Unlicensed cultivators could face stiff legal penalties of six to twelve years in jail.
Tax fees collected by the Ministry of Agriculture and Livestock, and the Ministry of Health will be fully reinvested in national agencies, law enforcement, and compliance oversight.
The bill has just passed, so details on qualifying conditions, purchasing limits, and such have yet to be finalized and released to the public.
The Future of Legal Weed in Costa Rica

Costa Rica is already a premier tourist destination. It's no wonder that they want a piece of the $5.7 billion legal cannabis pie. The demand and momentum for legal cannabis globally are only growing, so it makes sense that a nation like Costa Rica would seek to stake its claim as a premier stoner destination. After all, experts see the global legal cannabis market being worth as much as $35 billion by only 2025.
Plain and simply put, Costa Rica will benefit both in the short-term, due to money generated to help the COVID-19 recovery, and in the long-term, due to the growing demand for legal cannabis nationwide. This is for sure a step in the right direction when it comes to legal weed globally. We bet it won't be long before recreational-used bills become a reality for tourists and locals alike in Costa Rica!