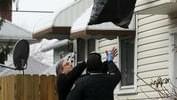 Dayton Bust Turns Up Half a Million in Cash
Police raided and searched four addresses owned by a Dayton man, these raids turned up 150 marijuana plants with marijuana worth approximately $500,000 in addition to $100,000 in cash, and multiple firearms.
DAYTON — One man was arrested on charges accusing him of orchestrating a marijuana-
growing operation in east Dayton.
Dennis B. Wamsley, 37, of 5941 Gander Ave., was charged with cultivating marijuana and aggravated trafficking after authorities on Wednesday raided four residences and confiscated more than 150 plants, about $100,000 in cash, numerous firearms and vehicles.
Authorities estimated the street value of the pot at about $500,000.
"They had some of the best marijuana on the street," Montgomery County Sheriff Phil Plummer said. "(Wamsley) was in charge of all four locations."
Four search warrants were issued at 7 a.m. by the RANGE Task Force, which assists with drug enforcement in Montgomery County. Warrants were served at the Gander address, 2402 Speice Ave., 671 Carlisle Ave. and 128 McReynolds St.
Wamsley, according to county auditor's records, owns the residences on Gander, Speice and McReynolds.
Authorities believe the latter two — along with the house on Carlisle — were grow locations.
At the Gander residence, where Wamsley lived, authorities seized about $100,000 in cash plus three weapons, two of which were long rifles. They also seized numerous vehicles and Mason jars full of marijuana bud that authorities said were ready for sale.
"It was an elaborate grow operation of high-grade plants — it's called 'purp' or 'kush' on the street — that sells for a lot of money," said sheriff's Sgt. Mike Brem, who heads the task force.
He said the operation included watering and fertilization systems controlled by timers.
The operation was "putting a lot of high-grade weed on the street," Brem said.
More arrests and charges stemming from the raids are possible, according to Plummer.
Jeremy Coots, who lives near the house on McReynolds Street, said he never expected the suspect there "to be in trouble because he never says anything to anybody.
"I looked in the back of the truck and saw some weed plants and knew he was getting in trouble for cultivating," Coots said. "I've only seen him and his two dogs, he never really caused any problems ... was a pretty good guy."
Kimberly Dinsmore, who witnessed the raid near the McReynolds Street address, said the raid scared her. "I'm not used to cops being in the area," she said.
If residents fear that their neighbors may be connected to illegal activities, Plummer said, authorities should be notified. He attributed the raids to tips from citizens as well as good detective work.
"If they're in fear that this is going on, by all means, call us right away," Plummer said. "A lot of our violence stems from drug dealers robbing drug dealers. So if you have a drug house next to you, I'd advise you to give it up."
And while marijuana doesn't have the reputation of a "hard" drug, Plummer said marijuana can still result in significant transfers of money. That, along with its status as a "gateway" drug, makes it dangerous.
"Marijuana flies under the radar a lot because (people) think it's 'just' marijuana," he said. "Unfortunately one drug can lead to the other and you can see what kind of money they're making selling marijuana.
"A lot of the heroin and crack cocaine gets our attention because of the violence that comes along with that," Plummer said, "but we want the marijuana dealers as soon as we find out who they are."
Staff writer Doug Page and WHIO-TV contributed to this report.