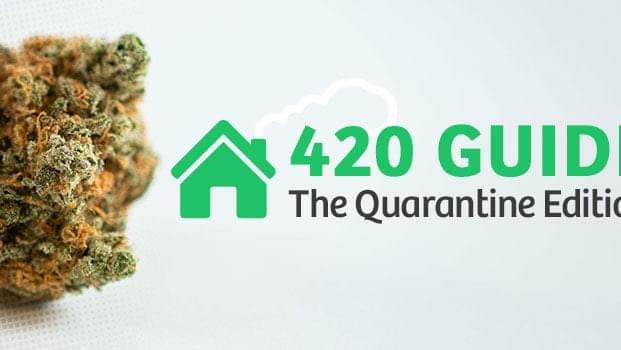 420 Guide: The Quarantine Edition
This year's annual celebration of marijuana has been overshadowed by the rapid spread of coronavirus across the globe, with many weed enthusiasts finding themselves low on options in terms of ways to celebrate this 4/20. The 20th of April is a special time for connoisseurs of cannabis, with more weed related festivals, events and parties taking place in one day than any other time of the year.
The team here at Where's Weed fully understands how frustrating having your holiday plans cancelled can be, so we decided to create a comprehensive guide to enjoying 4/20 from the safety of your home, keeping community contact to a minimum and helping reduce the spread of the coronavirus in your region. While distancing yourself from your friends and family can be hard during these times, there are plenty of ways you can celebrate while staying safe and enjoying responsibly from the comfort of your couch!
What is 420?: How April 20th Became the World's Official Day of Weed

Across the world, the number 420 has become synonymous with weed, being used by cannabis enthusiasts as the preferred time of day to 'light up,' as well as the official date (April 20th) of marijuana's largest annual celebration. The term '420' can even be used interchangeably with terms like weed or bud, with marijuana connoisseurs often describing themselves as '420 friendly.' The number has become so recognizable that even non-smokers now know what 420 is referring to, much to the dismay of most stoners.
So how did a seemingly insignificant number like 420 become the official mascot of marijuana?
The True Origin of 4/20
There are numerous theories about how and why 4:20 became the official time to spark up, with most of them being nothing more than urban legend. The more popular of the ideas is that 420 came from police codes, which officers would use to refer to citizens using cannabis or suspected of being high. However, this has been proven false over the years as there is no police force or penal code that uses '420' to refer to marijuana in any way.
The true origins of 4/20 can be traced all the way back to the 1970s in a small town in Marin County, where a group of high school students at San Rafael High School started ditching class to go smoke weed.
The five students - Dave Reddix, Steve Capper, Jeffrey Noel, Mark Gravich and Larry Schwartz - referred to themselves as 'The Waldos' and would meet at 4:20pm every school day to enjoy some of Marin County's finest reefer. The group of students used 420 as their official code for marijuana, as no one at the time had any idea what the number meant.
420 and The Grateful Dead

The student's cannabis code didn't catch on right away and it would be decades before the secret code rose to its current level of prominence. Perhaps the true beginning of 420's rise to fame began years after the 'Waldos' graduated high school, when Dave Reddix got a job as a roadie for a small time band from Palo Alto, California, known as The Grateful Dead.
Dave got the other roadies and eventually the band members to start using his 420 code to refer to smoking marijuana. In 1990, a group of fan's of the band, self-described as 'dead-heads,' handed out flyers inviting other fans to partake in cannabis consumption on April 20th at 4:20 p.m.
At the concert was a young Steve Bloom, who at the time was a leading reporter for High Times Magazine. Fascinated by the culture and participation at the concert, Steve ran the flyer in next month's print issue of his magazine, evolving the '420' term from its underground code status to the iconic marijuana mascot that it is today.
Your 4/20 Guide While Staying Inside

Since that bygone era, 420 has become universally synonymous with cannabis, with more weed-related festivals, parties and events taking place on April 20th than on any other day of the year.
Until a few months ago, 2020 was planned to be no different, with hundreds of festivals and events scheduled to make 4/20/20 the most impressive holiday yet!
However, the world had other plans, as a seemingly unstoppable virus known as COVID-19 rapidly spread across the world, bringing nearly every country on the planet to a standstill.
As cases of the coronavirus rose across America, 420 event planners sadly had to make the tough decision to cancel or postpone any public events, as social distancing has become a key way to combat the deadly virus.
How To Prepare For A 420 At Home
Despite the tragic circumstances, April 20th of 2020 can still be enjoyed from the comfort of your home. While distancing yourself from friends and family is always a tough choice to make, it is utterly important during these next few weeks.
However, just because you can't throw your annual 420 party in person, does NOT mean you can't celebrate the universal holiday of cannabis with your closest friends. That's why Where's Weed created this 420 quarantine guide for marijuana connoisseurs who are desperately looking for ways to participate in their favorite holiday without the risks of public gatherings or meetings.
Whether you are planning the hottest virtual 420 party of the year or plan to celebrate solo this year, here are a few tips to make this April 20th fun and exciting, all from the comfort of your couch.
Stock Up Early!

Visiting your local dispensary or supporting a cannabis delivery service in your area a week or two in advance of April 20th is a huge way to promote social distancing and prevent waiting in long lines to purchase your favorite THC products. Stoners across the world often wait until the last minute to stock up on cannabis for their 420 celebration, creating massive lines and extraordinary long wait times for delivery (if you can even order). While waiting in line to buy cannabis products would be acceptable on 4/20 any other year, they should be avoided at all costs given current social distancing guidelines.
For these reasons, Where's Weed highly recommends planning ahead and purchasing your 420 stockpile several days (or weeks) before April 20th. Not only will this help promote the safety of you and your friends, but it will also respect the cannabis workers on the front lines doing their best to supply you with your favorite products.
420 Sales and Cannabis Deals
As the central holiday of the cannabis world, 4/20 predictably boasts some of the best deals and coupons on marijuana products that you will find all year. Discovering deals on a range of cannabis products and THC-infused edibles at your local dispensary or delivery service is easier now more than ever before with the range of resources available online.
420 Essentials
Before you visit your favorite dispensary or smoke shop, creating a shopping list of cannabis-related items for your 420 personal-party can save you time and money and help you reduce the amount of time you have to spend around other humans. Your list will vary depending on your chosen method of consumption, but these are a few items that any 420 party cannot do without.
What to get before your 420 party:
Rolling papers
Plenty of snacks
A case of your favorite beverages
A TV or laptop to stream your favorite 420 online event
Your favorite smoking devices (vaporizer, bong, blunt wrap)
Lighter
420 Cannabis Basics
Should I get indica, sativa or hybrid strains from my dispensary in preparation for 420? What's the most enjoyable way to consume cannabis while on lockdown? Knowing the answers to these questions and more is essential to enjoying the famous holiday.
If this is your first time celebrating 420, or perhaps you want to brush up on the foundations of your cannabis knowledge, here are several articles to help you stay informed on the latest marijuana news and information, ensuring you will never be caught off guard on the big day.
Celebrating 420 Responsibly During the Coronavirus Crisis

While having your scheduled events cancelled and your 420 party plans in shambles is never fun, it is for the best this year. As you've undoubtedly heard by now, social distancing is the primary way to combat the continuing coronavirus crises, and as such, the myriad of in-person 420 concerts and events have all been cancelled.
This likely does not come as news to anyone, as the ramifications of social distancing have run deep over the last few weeks in America, with many citizens experiencing much larger problems than cancelled cannabis events.
Yet despite the gravity of our current situation with coronavirus, Americans should still do their best to participate in upcoming events and enjoy themselves from the comfort of their own homes. In response to the obvious need for a digital approach to 420, numerous dispensaries, musical artists and cannabis groups have opted to move their planned events and concerts online! This means that you and your closest friends can get together virtually and have a digital 420 party without giving up the excitement that is always present this time of year. Here are a few upcoming events and strategies that can make this 420 just as good as any other year, maybe even better! Check back in for updates on 420 news and events as more are announced through the month.
Virtually Connect With Friends This 4/20

Over the last few years, numerous apps and programs have come out that allow friends to remotely hang out and enjoy the company of others without leaving the comfort (and now safety) of their own homes. These virtual platforms have become more useful than ever now that most of the world is on temporary lockdown and quarantine.
Plan your digital 420 party or event beforehand and utilize one of the many virtual chat room apps online today. Platforms like Google Hangouts, Zoom, and Skype are invaluable tools in the belt of any responsible virtual 420 party planner and can provide you and your friends with hang out options during this confusing time.
Online 420 News and Events
Cannabis event planners across the country have recognized the need for digital avenues this year, which has resulted in dozens of planned 'virtual 420 parties' happening this month.
Here are the latest 420 events taking place online in April 2020:
Virtual 420 Party:


Hosted by Lightshade Dispensaries (based in Colorado), this groundbreaking virtual cannabis experience features dozens of special guests, musical artists and live entertainment to help the community come together and share the love. As a sponsor for the event, the Where's Weed team thinks it is going to be the hottest 420 event happening in 2020, but don't take our word for it. Mark your calendars and get the pre-rolls ready, as DJs and bands from across the country offer up-close-and-personal performances in your own living room. The event will take place on April 20th and is completely free of charge to stream, so register today!
Haus of Jane 420 Celebration: Join TokeActivity (a global community for women involved in cannabis) for an interactive online 420 celebration! The event is intended to help and empower business women in cannabis by providing resources and information for those looking to break into the industry. Tune in from 3-6pm PST.
The 420DabventCalendar: Rather than a single-day event, HIgher Celebration has chosen to create a month-long interactive calendar (complete with giveaways), specifically for lovers of cannabis. Much like a holiday advent calendar, the 'Dabvent' calendar features 20 boxes to open throughout the month of April, each day with a new marijuana-related surprise!
High Stream 420 Festival: Join the National Cannabis Festival and the Emerald Cup for a night filled with live musical performances, online workshops and much more. Although it's free to join, the event is encouraging attendees to donate to several coronavirus relief charities to help those in need. Tune in at 4 p.m. EST!
Chronic Relief: Make this year's holiday the most iconic in our community's history by joining a live stream of celebrities, artists and influencers, with 100% of all donations being donated to Feeding America. Click the link to RSVP.
Puff, Pass and Paint: Join leading artists online for a 420 art-focused event, drinking wine and smoking green as you help create a community inspired art-piece!
Spliff Film Festival: Join this film festival and watch a collection of cannabis-inspired independent films without ever leaving your house!
Stream Dr. Dre's 'The Chronic': Tune in on 4/20 as one of the most iconic and influential hip-hop albums of all time (and a recent 2020 inductee in the National Recording Registry) is free to listen to across all streaming platforms!
Stay tuned as we announce the latest and greatest 420 news and online events happening across the country, so that you and your friends can tune in and celebrate 420 with millions of others around the world!
Online Games Perfect For A Quarantined 420 Cannabis Cup
If online concerts and events aren't quite your speed, consider teaming up with a few friends or online strangers to enjoy one of many digital games available on the web that allow you to stream video chat and play simultaneously!
Here are a few online games and apps that can help you make your upcoming 420 party a hit!
| | |
| --- | --- |
| Houseparty | Houseparty Games:Houseparty.com is a video chatting app, except for one unique factor. During your video chat with all your friends, the app also lets all participants play one of many exciting games! |
| | |
| --- | --- |
| skribbl.io | Skribbl.io: Like pictionary, this is a drawing game in which each player takes a turn drawing a selected word while your friends try to guess the word. Available online free for you and your friends to enjoy this April 20th. |
| | |
| --- | --- |
| reallifestl.com | Evil Apples Vs. Humanity: Unless you have been living under a rock for the last decade, you have likely played one of the hit card games 'Apples to Apples' or 'Cards Against Humanity.' Evil Apples Vs. Humanity takes the hilarious R-rated card game online, allowing you and a few friends to come up with the most raunchy jokes and phrases this 420. |
The Best Movies to Enjoy on 420
If you are more of a solo-stoner or perhaps just want to snuggle up beside your significant other to get high and enjoy a movie, there are thankfully thousands of movies ready to be streamed, many of which are perfect for 420! Here's a few of our favorite cannabis movies available for streaming online.
The Best Cannabis related movies on Netflix to watch this 420:
Pineapple Express (2008)
The Hangover (2009)
Rolling Papers (2015)
Spring Breakers (2012)
Wet Hot American Summer (2001)
The Waterboy (1998)
Grass is Greener (2019)
Seth Rogen's Hilarity For Charity
What are your plans this 420? Do you have any creative ways to get high with friends without leaving your house? Let us know in the comments below! a