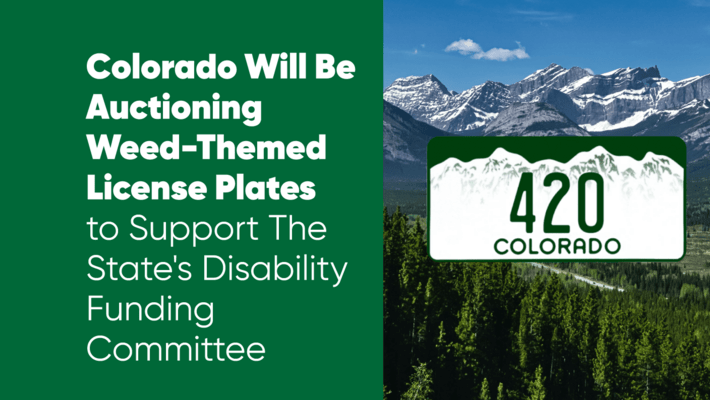 Colorado Will Be Auctioning Weed-Themed License Plates to Support The State's Disability Funding Committee
Few states in the union have done a better job at building a thriving, positive legal cannabis community than the state of Colorado. Topped only by the state of California in pure scale when it comes to their legal market, the Centennial State's legal cannabis market is thriving, popular, and generating hundreds of millions in the process. Whether you're looking for edibles, top-notch cannabis strains to enjoy while camping or hiking, or just looking for a nice strain to chill out with on the couch after a long week of work, a dispensary in Colorado is sure to have what you're looking for. So what is the state doing to take advantage of having the nation's second most well-developed and mature legal cannabis market in the world? Well, they're trying to do right by folks with disabilities!
Just last week, the state announced they would be selling state-sanctioned cannabis-themed license plates with letter and number combinations like 420, HASH, EDIBLE, THC, and CBD, to name a few, with the proceeds going directly towards the Colorado Disability Funding Committee! So for those Colorado-based stoners out there looking to showcase their love of cannabis for a good cause, this one is a no-brainer!
Here is a full list of the plates available for stoners this year!
CBD
GOTHEMP
420
710
BLUNT
BONGWTR
CANABIS
CO2
DABBING
EDIBLE
GOT OIL
HASH
MRY JANE
NORML
RESIN
TERPENE
THC
TOKER
TRIM
VISINE
WAX
WEED
High-level state officials, like Colorado's current governor and Lt. Governor, were on-board with this weed-themed fundraising effort.
"For over a decade, Colorado has been a leader in the cannabis space, bringing bold, innovative, and creative businesses to the state. This effort allows us to celebrate Colorado's mile-high reputation and fund critical projects and programs in our disability community," Governor Polis said.
"Last year's cannabis-themed license plate auction raised over $45,000, which supported Colorado's disability community," said Colorado Lt. Gov. Dianne Primavera. "This is a fantastic opportunity to provide grant funding to not-for-profit and for-profit organizations that serve people with disabilities. I'm thrilled to continue to support the efforts of the Colorado Disability Funding Committee."

The support for the auction from high-ranking state-level politicians is likely two-fold. Firstly, throwing public support behind a policy like supporting those with a disability is never a bad move. The morals of a society are often measured by how well that society takes care of the most vulnerable, and this auction adds funds to state programs to support those folks. Secondly, the auction has been proven to be successful in the past! Just last year, an auction of the same type raised more than $45k by auctioning off 14 state plates with phrases like "BONG," "GANJA," "TEBGRIDY," "HASH," and "ISIT420" that went to non-profits and other businesses supporting disabled Coloradans.
Bidding for all 22 plates will begin on, appropriately enough, April 20th this year and will be fully digital, so it's easy to get involved for a great cause. We here at Where's Weed expect it to be a major success, just like last year!
However, this successful and popular fundraising effort is far from unique for those familiar with the legal cannabis industry in Colorado. Ever since the inception legal recreational industry in the state back in 2012, funds from the sale of recreational pot have gone to good causes throughout the Centennial State.
According to the legalization bill, funds generated from the taxation of legal cannabis sales will go towards funding state-level programs and organizations in public health, education, human services, agriculture, and a wide range of other fields. And Colorado has no shortage of funds to allocate these days.
In 2021 alone, Colorado set a new record for marijuana tax and fee revenue in a single year, raking in an astounding $423 million. That's an increase from $387 million the previous year, showing the growth of the state's legal industry isn't slowing down anytime soon! In the ten years since the creation of the recreational program, the state of Colorado has collected more than $2 billion overall.

Depending on where you are in the state, the use of those funds on the local level might look different. In Aurora, for example, recreational cannabis tax money has been used to build The Aurora Day Center, a safe place for houseless folks to go during the day. And that's just a part of the city's larger $1.5 million investment into combatting homelessness. In Pueblo, legal cannabis profits have been used to fund scholarships for underserved and underprivileged students. Residents in Denver pay an additional 1 percent sales tax on their weed, but that money is used to fund the city's Regional Transportation District and the Scientific and Cultural Facilities District.
Simply put, the state is putting the income they generate from cannabis sales to good use. Not only do residents of Colorado get to enjoy their thriving and popular recreational market, but they can do so knowing that the money they are spending is being used to fund social programs throughout the states, keep their K-12 education programs strong and well maintained, and consistently helping those with disabilities throughout the Centennial State. All and all, Colorado is a shining example of how to build a positive and thriving legal cannabis market and help the greater good in the process!