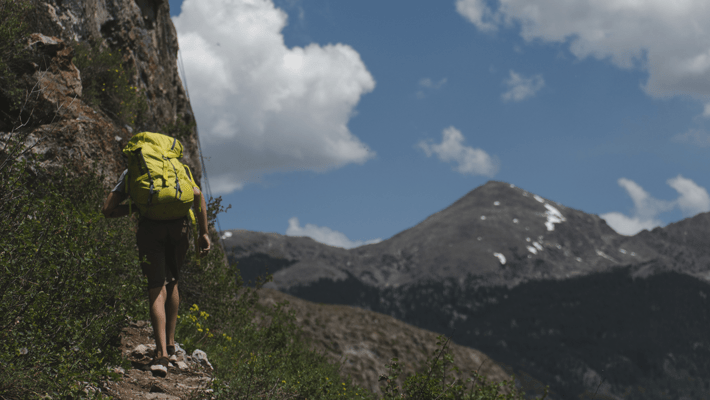 Top 5 Strains to Smoke on a Hike in Colorado
Few things go better together than cannabis and nature. I mean, can you think of anything better than lighting up and catching that euphoric head buzz as you traverse mountains and lush forests? While these two go hand-in-hand, it's imperative that you're grabbing the right strain for the day that will keep you moving, energized and happy, even on that harsh incline. Keep reading for weed-friendly hikes and the best cannabis strains to accompany you for the day.
Colorado's Cannabis History

Even though in today's times you can automatically associate cannabis and this sunny, outdoor-centric state, that hasn't always been the case. When Colorado was founded in 1876 cannabis was completely legal and was used for pharmacological purposes. However, as prohibition movements amped up in the early 20th century, cannabis was deemed illegal in 1917. Fast forward to the year 2000, where medical weed was approved by 54% of Colorado voters. It was the first state where the medicinal use of marijuana was a protected as a constitutional right.
In 2012, Colorado passes Amendment 64 to legalize recreational cannabis. Colorado and Washington were the first two states to do so simultaneously, and the first recreational dispensaries opened January 1st, 2014. The rest is history, as it is now a billion-dollar industry.
Sativa or Indica?
When it comes to cannabis, this is a question that is as old as time. It is the first question that a budtender will always ask you and is all about what type of high you're after. The sativa vs. indica idea is simply an industry standard for the type of high to sell to consumers.
However, when it comes to hiking, make sure you reach for the sativa. A sativa strain is going to induce stimulating cerebral effects. It delivers a mind high, leaving you feeling focused and energized, and most often compliments physical activity and daytime use. An indica, on the other hand, will deliver a decrease in energy - perfect for relaxing or sleeping. Popular indicas include different types of kush strains, which we want to leave at home this time around.
So, when it comes to hiking, you're going to want to narrow down your strain finder to a sativa, or you may find yourself struggling to finish the hike.
Weed-Friendly Hikes in Colorado
While there is nothing better than lighting up in the wide-open spaces that nature has to offer, remember that it is illegal to consume on public lands and federal lands such as national parks. It is probably best to take a hit before you get to the trailhead.
Hanging Lake

As one of the most popular hikes in all of Colorado, everyone is thankful that this beautiful spot survived the wildfire season of 2020. The 3.1-mile hike takes you on an elevation gain of around 1000 ft and features a beautiful lake filled with turquoise water that can be enjoyed all throughout the summer months and is nestled within the Rocky Mountains in Glenwood Springs. One of the best cannabis strains for this hike is Strawberry Cough, which is a fruity sativa boasting 20% THC, that is sure to deliver a tingling, euphoric head buzz. Strawberry Cough is among the popular strains perfect to get baked with for a short and sweet hike.
Bridal Veil Falls

All the way down in the southwest corner of the state in the gorgeous city of Telluride is this 4.8-mile hike. With about 1,300 feet of elevation gain, you'll reach amazing waterfalls that are over 350 feet tall, making it worth every single step you took to get to the top. It's a must-do hike if you find yourself in the area, as they are the tallest free-standing falls in Colorado. We like the strain Jack Herer, which is a sativa with 17% THC that is going to get you motivated to make it to that waterfall. It's one of the best weed strains for creativity, so pack your journal and get writing during the hike for a little reprieve.
Serpents Trail

The last stop in Colorado along I-70 before you reach Utah is the little town of Grand Junction. Here, you'll find this amazing 3.4-mile trail with about 1,000 feet of elevation gain that is full of switchbacks and an incredible view of the Grand Valley. You'll look down and see the cities of Grand Junction and Palisade, which are filled with vine-ripened grapes that will be made into delicious wines. Light up before the trailhead with the hybrid strain Lemonhead OG, which is widely considered one of the best strains of all time, coming in with 23% THC while providing the user with an intense tingling sensation and a renewed zest for life.
Bear Creek Trail

Located in North Cheyenne Caon Park in Colorado Springs, this 7-mile hike is great for not only hiking but also mountain biking and viewing the beautiful wildflowers of Colorado. With around 1000 feet of elevation gain, you'll reach views of this 1600-acre park filled with granite rock that is perfect for seeing the likes of black bears and mountain lions. Next on the list of strains that are hike-friendly is Amnesia Haze, a sativa that will give one an enthusiastic head buzz while providing a sharpening of the senses, all with 21% THC.
Sky Pond

This 9-mile hike isn't for the faint of heart. However, ask just about anyone in Colorado and they'll tell you it is one of the best in the state. Located within the beautiful Rocky Mountain National Park, you'll be surrounded by some of the best mountains in the world, all with a stream following your path as you scramble your way up to the beautiful Sky Pond. With about 1,700 feet of elevation gain, you're going to want to be prepared for this one. For that reason, we recommend a CBD strain, such as Elektra, to keep you calm, relaxed and what some describe as a "refreshed version of themselves" as you traverse the mountains.
Do you dabble with cannabis while hiking? Do you have any strains to try or to avoid while out in nature? Let us know below.