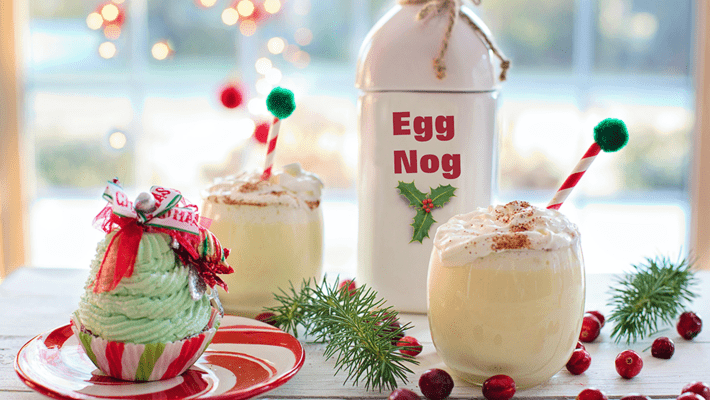 How to Make Cannabis-Infused Eggnog: Marijuana Recipes
Throughout December, holiday festivities are up in full-force and running. With the sun going down early and the heat being turned up, everyone has their own method of celebrating the season to be jolly. Out of all the other classic Christmas recipes, eggnog seems to be the one that consistently makes its way into the festive homes of celebrating families each year. This medicated version of an all-time favorite holiday drink will be sure to leave you super relaxed and feeling good by the fireplace in no time. Not only does this cannabis-infused eggnog taste delicious while giving you a great high, but it will also make your whole home smell like Christmas morning in a winter wonderland.
Cannamilk

Before making this recipe, it's important to understand why you can't just throw cannabis into eggnog and call it a day. Other than tasting terrible, you need fats and heat to infuse cannabis and get high. Making cannamilk is one great way to do so, especially for recipes like this. Raw marijuana contains the cannabinoids THCA, and although THCA consists of numerous health benefits, it cannot give that high feeling. You first need to go through decarboxylation, which is the process of adding heat to the marijuana flowers so that the THCA is converted into the psychoactive compound THC, which is what makes us high. When heat is applied to raw cannabis, a carboxyl group is removed and is replaced with a proton, activating the potential of cannabinoids and turning THCA into THC. THC also needs a fat to bind to in order to be absorbed by the body. Milk is particularly rich in lipids, especially triglycerides, which act as a great carrier for THC. If you want to skip this process, try adding a few drops of CBD oil from our friends at CBD Infusionz for the relaxing benefits without the head high.
How to Make Cannabis-Infused Eggnog

Ingredients
4 grams of marijuana
5 cloves
1 teaspoon cinnamon
12 egg yolks
4 cups of milk
1.5 cups of sugar
2.5 teaspoons vanilla extract
Equipment
Cheesecloth
Whisk
Saucepan
Directions
Combine the cloves, cannabis, cinnamon, milk and vanilla extract in a saucepan, turning the heat to low for 30-60 minutes.
Mix the sugar and egg yolks in a large bowl, whisking until the concoction starts to fluff. Then add the cannamilk combination into that as well.
After pouring that mixture into a saucepan, cook over low heat for 3 minutes, being sure to constantly stir so that the texture thickens but does not boil.
With the cheesecloth, strain out the mixture. Leave in the fridge to chill overnight.
What delicious holiday dishes will you be enjoying with your medicated eggnog? Let us know in the comments below!