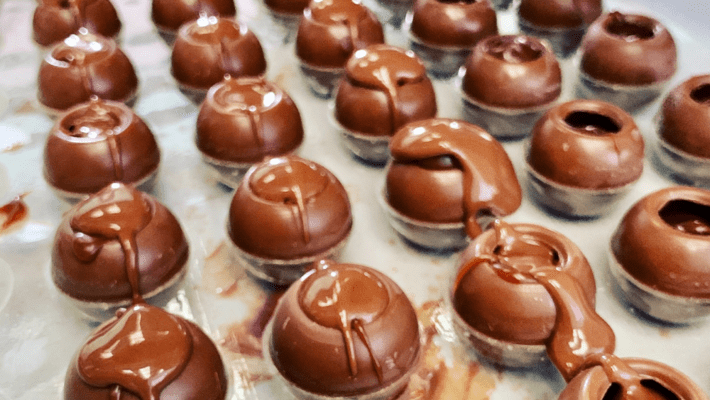 How to Make Easy, Delicious THC Truffles: Marijuana Recipes
Marijuana and chocolate - what a heavenly combination that simply can't be beaten. The rich flavor of chocolate is strong enough to mask the usually dominating taste of weed so that a rather satisfying herbal tang is left behind on your palate afterward, which will make for a more pleasant eating experience. This straightforward cannabis chocolate recipe is perfect for beginners as well as for veteran canna-bakers alike.
Cannabis-Infused Heavy Cream

In order to successfully make this THC chocolate edibles recipe, you will need to first make weed-infused heavy cream. Often overlooked, milk products, such as heavy cream, are great for marijuana infusions because they are chock-full of lipids that are essential to the decarboxylation process. Cannabis flower consists of the cannabinoid THCA, which needs to be converted to THC through the aforementioned procedure to get that "high" feeling since THCA by itself doesn't produce psychoactive effects. Additionally, swapping CBD for THC counteracts those psychoactive effects if you want to avoid them.
With the assistance of decarboxylation, the THC cannabinoids will bind to the lipids in the milk. This binding action allows our body's endocannabinoid system to absorb the THC, which is a critical requirement to feel the intoxicating effects that pot is widely known for. Be sure to dose the infused heavy cream with an amount of weed that you can handle so as not to overdo it when making your marijuana truffles. If you don't know how to figure out the potency on your own, we have provided an online dosage calculator for you to use.
How to Make Weed Chocolate Truffles

Ingredients
1 teaspoon vanilla extract
8 ounce dark chocolate
1 pinch salt
1/2 cup THC-infused heavy cream
Desired toppings for the coating of truffles (cocoa powder, nuts, etc.)
Directions
Heat up the infused heavy cream. While waiting for it to warm up, add the vanilla extract and pinch of salt.
Pour the heated liquid over the dark chocolate, stirring until smooth. Place the chocolate mixture into the refrigerator for at least 2 hours.
Prepare your coatings. If desired, you can mix your coating with chopped nuts, chocolate chips, etc.
Put on gloves for this step since it can get quite messy. Once the mixture has hardened, scoop out about 1 ounce, rolling it in your hands. When all of the truffles have been rolled into a small ball, toss them into the coating.
Return the cannabis truffles into the fridge for at least 1 hour.
Do you know of any other delicious chocolate weed recipes? Share them with us in the comments below!