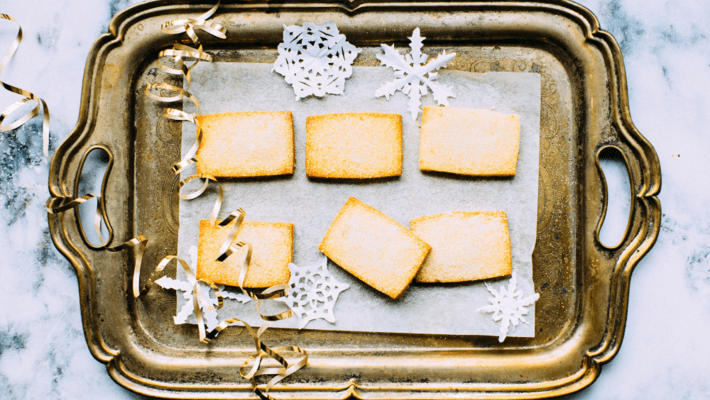 Make Delicious THC Sugar Cookies: Marijuana Recipes
Making cannabis edibles might seem like a daunting process to beginners, but it's actually simpler than first meets the eye. For both novices and those more experienced, marijuana cookies are the perfect recipe to allow one's culinary imagination to run wild. Following a cannabis infused sugar cookies recipe can be just as effortless as simply adding cannabutter to cookie dough. However, the recipe provided here will not be for pot cookies with premade dough but will instead include instructions for making the dough from scratch.
Cannabutter

To make marijuana sugar cookies, you need to make cannabutter beforehand, which acts as an extremely versatile base for all kinds of weed edibles. The most important component of making cannabutter is the decarboxylation process. This procedure involves heating up raw marijuana to convert the cannabinoids THCA and CBDA into THC and CBD in order to get that "high" feeling. When making the cannabutter, be careful to dose it properly. The potency of your THC sugar cookies is determined by the potency of your cannabutter. If you're not certain on how to dose correctly, then use this potency calculator to figure out the total amount of THC.
How to Make Pot Sugar Cookies

This recipe will make approximately 24 cookies.
Ingredients
1 teaspoon vanilla extract
1/2 teaspoon cream of tartar
1 1/4 cups white sugar
3 egg yolks
1 teaspoon baking soda
1 cup cannabutter
2 1/2 cups all-purpose flour
2 cookie sheets
Directions
Preheat your oven to 350 degrees Fahrenheit. While preheating, thinly grease 2 cookie sheets.
Add the sugar and cannabutter into a bowl, thoroughly mixing them.
Beat in the egg yolks one at a time. Afterward, add in the vanilla extract, flour, cream of tartar and baking soda, stirring the mixture until consistent.
Use an ice cream scooper to divide the dough into 24 equal portions. Roll each portion into walnut-sized balls and coat the tops by gently pressing with sugar. Place the balls 2 inches apart on the cookie sheets, making sure not to flatten.
Bake for about 10-11 minutes until the tops are cracked and just turning a golden brown color. Remove from the oven, letting them cool on the sheets for about 2 minutes before placing the cannabutter sugar cookies on a wire cooling rack.
Have you tried any other cannabis sugar cookie recipes that you really like? Share them with us below in the comments!