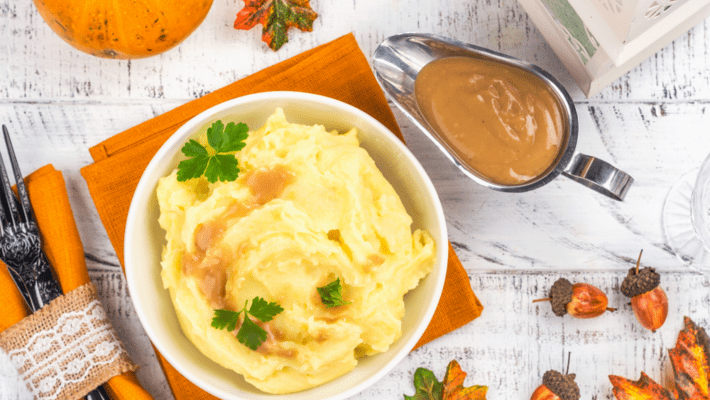 How to Make Cannabis Infused Gravy for Thanksgiving: Marijuana Recipes
Turkey gravy is incontestably one of the greatest parts of a Thanksgiving dinner and could potentially make or break the whole turkey. Imagine this sauce infused with marijuana - mouthwatering, is it not? Once your family has finally gone, more than likely leaving you with some of those inevitable leftovers, cook up a batch of this gravy to give yourself a cannabis Thanksgiving. This particular recipe can be paired with other Thanksgiving marijuana recipes and goes perfectly on top of the stuffing, potatoes, or anything really, as the weed taste is very subtle.
Cannabutter
Before you can begin making the cannabis gravy, the cannabutter required for this recipe needs to be made first. The most critical aspect of cannabutter is the decarboxylation process, in which the THCA compound in raw marijuana is converted into THC through heat. THCA is a non-psychoactive cannabinoid, so there are no psychoactive effects by itself; therefore, it needs to be turned into THC in order for that high sensation to be present. Before making the cannabutter, be sure you know how to dose properly according to your tolerance level. We provided you with the formula for that here, but if you don't want to do the math involved to find the potency, luckily there are plenty of online calculators for you to use, like this one. If you want to make an infused dinner the entire family can enjoy (without getting high), swap your cannabutter for CBD.
Cannabis-Infused Gravy Recipe

Ingredients
4 tablespoons cannabutter
1 teaspoon kosher salt
1 tablespoon Cognac or brandy
4 tablespoons unsalted butter
1 1/2 cups chopped yellow onion (requires 2 onions)
Defatted turkey drippings and heated chicken stock to make 2 cups
1/4 cup flour
1/2 teaspoon freshly ground black pepper
Directions
Cook both kinds of butter, regular unsalted and cannabutter, and yellow onions in a large saute pan over medium-low heat for approximately 12-15 minutes until the onions have turned a light brown. Be sure not to rush this step in the recipe because it makes a world of difference when the onions are cooked well.
After sprinkling the flour into the pan, whisk the mixture before adding the salt and pepper.
Cook for about 2-3 minutes, then add the mixture of hot chicken stock along with the Cognac/brandy. Cook this uncovered for another 4-5 minutes until it has thickened. Season, to taste, and serve your delicious cannabis infused gravy.
Other than the THC infused turkey gravy, how else will you make it a Weed Thanksgiving for yourself this year? Share with us in the comments below!