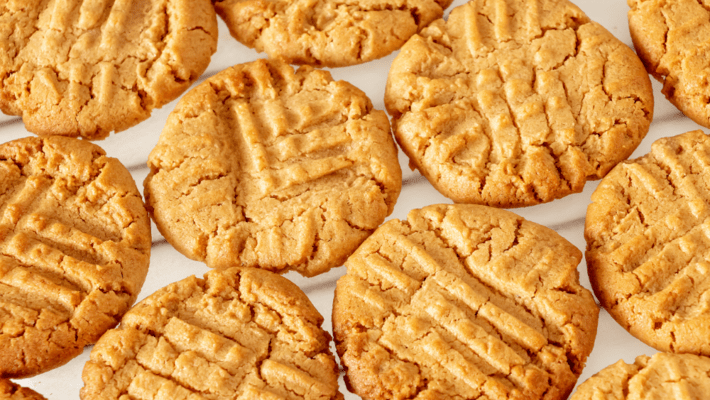 The Best THC-Infused Peanut Butter Cookies: Marijuana Recipes
Whether you're a beginner or a seasoned veteran when it comes to making cannabis edibles, cannabis peanut butter cookies are the perfect place to start. Simple and easy to make, these cookies are essentially a staple within the marijuana edible division of the cannabis industry. That strong herbal flavor that weed leaves behind on your palate can sometimes make a recipe taste a bit weird, but thankfully, peanut butter is overpowering enough to cover that up, making your eating experience much more pleasant.
Cannabutter

Before proceeding with the recipe for marijuana peanut butter cookies, you must make cannabutter, which is widely used for all sorts of cannabis edibles. In order for your edibles to give you that "high" feeling, the weed used for your cannabutter will need to go through the decarboxylation process. This means your raw cannabis has to be heated up to activate the THCA cannabinoidsthat it contains and turn it into the psychoactive compound THC, which is what gives you that intoxicating effect from weed. Make sure to pay attention to the potency of your cannabutter as this will also determine the potency of your cannabutter peanut butter cookies. If you don't know how to figure out the correct dosage for your recipe or just don't want to do the math, we have provided an online calculator for your convenience. Of course, if you don't want the head high, try swapping THC with CBD!
Pot Peanut Butter Cookie Recipe
Ingredients
1 cup desired peanut butter

1 cup softened cannabutter
1 1/2 teaspoon baking soda

Directions
Preheat your oven to 375 degrees F. While waiting for it to warm up, add the softened cannabutter, white and brown sugars, and peanut butter into a bowl. Afterward, beat in the eggs.
Sift the flour, baking soda, baking powder, and salt in a different bowl. Next, stir the other mixture into this one, and place the dough into the fridge for about 1 hour.
Roll the dough into 1-inch balls, placing them onto ungreased baking sheets. Flatten each of the balls with a fork to make a crisscross pattern.
Bake the balls in the preheated oven for approximately 10 minutes or until the weed peanut butter cookies are a golden brown.
Do you have any other favorite cannabis cookie recipes that you'd like to share? We'd love to know, so tell us in the comments below!