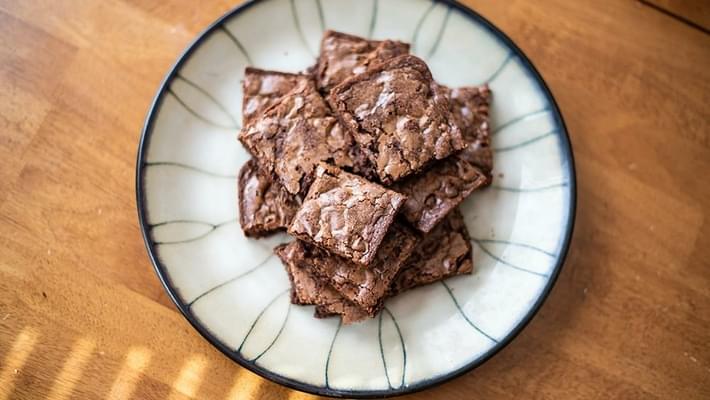 How to Make the Best Weed Brownies: Marijuana Recipes
Weed brownies are the classic cannabis edible that predominantly kickstarted the edible movement. They are also one of the most straightforward methods to make edibles, hence why weed brownies are great recipes to start with as a beginner. Although you could purchase a pre-mixed brownie mix from the store and add cannabutter, our pot brownies recipe will still be simple yet will be freshly-made. Even if you've never made an edible before in your life, have no fear - we're here to talk you through how to make cannabis brownies, which begins with making cannabutter.
Cannabutter

Cannabutter (recipe found here) is essentially butter infused with activated marijuana and is the foundational base for nearly all types of edible goodies. Doable for any level of culinary talent, making THC butter is a painless process. Of course, we all love a good pot brownie. But if you want to avoid the psychoactive effects of THC, try swapping weed with CBD!
The most crucial aspect of making cannabutter is the process of decarboxylation. Raw marijuana consists of the cannabinoids THCA and CBDA, which need to be converted to THC and CBD since THCA and CBDA won't give you any psychoactive effects. This is where decarboxylation comes in: the raw weed needs to be heated at a relatively low temperature and a slow pace to ensure that none of the terpenesand cannabinoids go up in smoke.
You may be wondering, how much weed do you need to make brownies? If you don't want to do the math yourself to find out, then you can rely on online THC dosage calculators. It is always best to err on the side of caution when it comes to dosing your edibles so that you can enjoy your experience - so start off with a small amount before working your way up to a higher dose. In this case, at least 7 grams of cannabis should work best for your cannabutter.
How to Make Pot Brownies
Ingredients
1 teaspoon vanilla extract
1/4 teaspoon baking powder
1/2 cup all-purpose flour
1 small bar or bag of high-quality chocolate
Directions

Preheat oven to 355 degrees Fahrenheit.
Mix your ingredients together in a small bowl, except the eggs. Add the cannabutter.
Add the eggs, and stir the mixture thoroughly with an electric stirrer or large spoon until a thick batter forms.
Add in chocolate and spread batter evenly in a baking pan.
Bake for 20-30 minutes. Be careful not to overcook!
How Long Do Weed Brownies Stay in Your System?

The effects of a weed brownie can be felt fairly quickly - sometimes as quickly as an hour. When you eat an edible, the marijuana has to go through the whole digestion process before the cannabinoids enter the bloodstream, which is why the THC can stay in your system for 3-30 days. Just 5 days after ingesting an edible, approximately 80-90% of THC gets flushed out of your body, but the leftover 10% can be detectedfor up to 4 weeks. If you've got an upcoming drug test, swap your cannabutter for CBD oil from our friends at CBD Infusionz to stay on the safe side.
Have you ever tried making pot brownies before? Do you have a different method on how to make weed brownies? Let us know in the comments below!