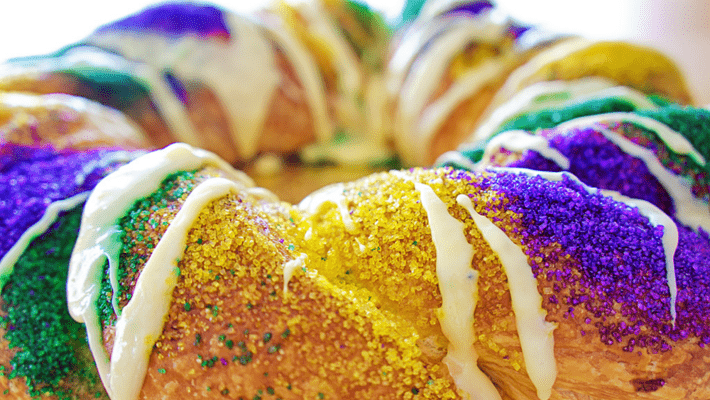 How to Make Cannabis King Cake for Mardi Gras: Marijuana Recipes
When someone has a party, there's typically cake. So when the annual party of all parties is held in the French Quarter, it only makes sense to have the most festive cake of them all in attendance: the King Cake. Decorated in the traditional Mardi Gras colors of purple (for justice), gold (for power) and green (for faith), this cake is a seasonal treat that closely resembles a sweet and rich bread. Mardi Gras partiers tend to eat King Cake between January 6 (Twelfth Night or King's Day) and Fat Tuesday (February 16, this year). The cake's origins date all the way back to the Feast of the Epiphany (Twelfth Night), which marks when the three kings were present at Jesus Christ's birth. Hence why there is a tradition of hiding a small baby doll inside of the cake. Mardi Gras custom calls for whoever gets the piece of cake with the baby doll hidden within has to throw the next party, or at the very least to make the next King Cake. This Mardi Gras, make the party a hit with a medicated King Cake. This is definitely one of the more unique weed recipes out there that is sure to delight. Whether you're completely new to making edibles or a seasoned cannabaker, a weed King Cake will be fun to make, as well as eat.
Cannabutter

Decarboxylation is an extremely vital process, integral to learning how to make edibles. This is when heat is used to convert the THCA and CBDA cannabinoids present in raw cannabis into THC and CBD, which are the psychoactive compounds that give us that beloved faded sensation. Decarboxylated weed is used for the cannabutter recipe, which seems intimidating to make but is actually quite easy. When determining how much weed for edibles, there are many online THC dosage calculators to figure out the correct amount if you want to avoid having to do math.
How to Make Weed King Cake
Ingredients
1/2 cup warm water
12 cup sugar, plus 2 teaspoons
1 teaspoon ground nutmeg
1 teaspoon lemon zest
5 egg yolks
2 teaspoons cinnamon
2 tablespoons yeast
3 1/2-4 cups all-purpose flour
2 teaspoons salt
1/2 cup warm milk
1/2 cup cannabutter
1 egg beaten with 1 tablespoon milk (egg wash)
Ingredients (for icing)
3 cups confectioners' sugar
3-6 tablespoons water
1/4 cup lemon juice
Ingredients (for decoration)
1 small (approximately 1-inch) plastic baby doll
Approximately 1 1/2 cups granulated sugar
Yellow, purple and green food coloring
Directions

Combine flour, sugar, nutmeg, lemon and salt in a large bowl, mixing thoroughly. In another bowl, combine milk, yeast and egg yolks. Slowly add the dry mixture and cannabis butter. Knead the dough, adding flour as necessary, for approximately 10 minutes.
Place the dough in a buttered bowl coerced with a clean kitchen towel, letting it sit in a warm place until the size has doubled, about 1.5 hours.
Meanwhile, butter a large baking sheet to set aside for later. Once the dough has risen, remove it and punch down.
Sprinkle the dough with cinnamon, forming it into a cylinder shape and twisting it into a circle. Pinch the ends together to finish the circle and cover to let it rise, approximately 45 minutes.
Preheat the oven to 375 degrees Fahrenheit. Brush the sides and top of the cake with egg wash before baking for 25-35 minutes. Allow it to cool on a rack completely before hiding the baby doll inside the cake as well as the icing and decorating.
Put the granulated sugar into 3 small bowls. Add a few drops of the food coloring into the bowls, mixing everything well to make colored sugar.
In a different bowl, mix the confectioners' sugar, water, and lemon juice until all the mixture is smooth. Use the icing to spread over the cake while the colored sugar can be sprinkled on top for alternating rows of Mardi Gras colors.
Have you ever tried King Cake before? Share with us below!