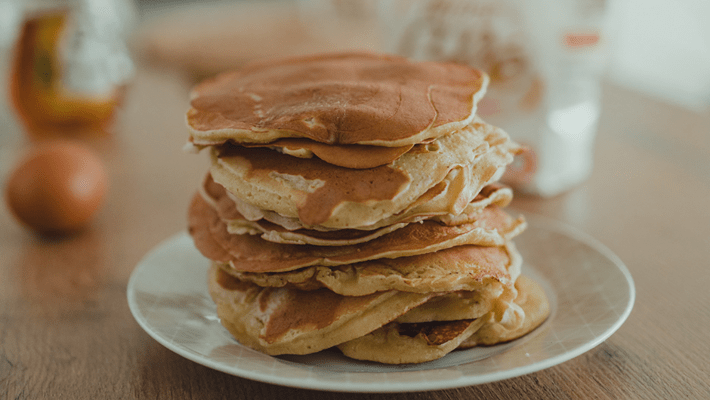 Making Delicious THC-Infused Pancakes: Marijuana Recipes
An extremely underrated weed-infused edible, cannabis pancakes are simple, fast and ideal for someone dipping their toes into making edibles, but also great for seasoned bakers. New cannabakers that are just getting started typically begin with THC-infused cookies or weed brownies since many believe those are the easiest edible recipes to attempt. So many people tend to overlook cannabis pancakes, but this recipe is perfect for starting your day the right way " medicated.
Cannabutter

An uncomplicated, effortless process that's feasible for basically any culinary level, cannabutter is the essential ingredient needed to infuse your pancakes. Cannabutter acts as the base for tons of different types of edibles as well. The best way to make top-notch weed butter is to make sure you use quality ingredients for the recipe. Using low-quality ingredients would most likely have the finished product making you feel sluggish and drowsy. If you can, steer clear of shake or trim as they consist of a lot of plant matter with chlorophyll which can leave your cannabutter tasting very bitter.
When learning how to make edibles, decarboxylation is the most critical aspect. Decarboxylation happens when the THCA and CBDA cannabinoids in raw flower convert into useable THC and CBD with heat. If the carboxylation process doesn't happen, eating an edible won't get you high. When it comes to deciding on how much weed for edibles, you can use online THC dosage calculators to determine that for you. Or, if you feel like doing some math, try calculating doses yourself.
How to Make Cannabis-Infused Pancakes

Ingredients
Cooking spray
2 tablespoons melted cannabutter
1/2 tablespoon baking soda
1 egg
1 1/4 cups milk
1 cup all-purpose flour
1/2 tablespoon salt
1 teaspoon baking powder
2 tablespoons white sugar
Directions
Combine salt, baking soda, baking powder and flour in a large mixing bowl. In a separate bowl, whisk the butter and egg into the milk.
Transfer the dry ingredients into the wet mixture, whisking everything thoroughly until all the lumpy parts are gone.
Fire up a big skillet over medium heat, being sure to coat it first with cooking spray. Pour about 1/4 cup of batter onto the skillet, cooking until bubbles materialize on the surface. Flip it with a spatula to cook until the other side has browned.
Have you ever tried THC-infused pancakes before? Do you know of any other yummy weed recipes? Share with us below in the comments!