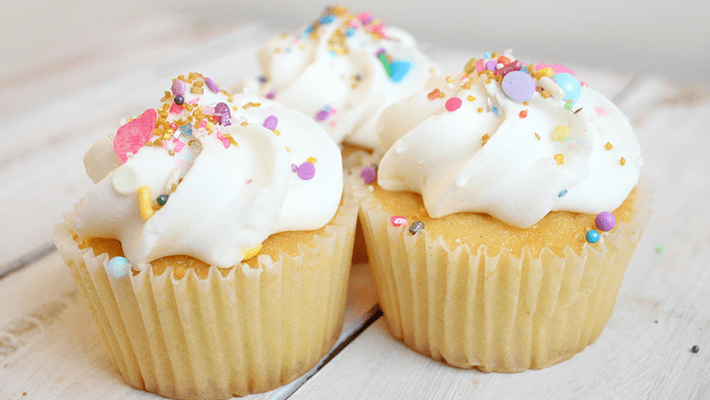 How to Make Amazing Cannabis Cupcakes: Marijuana Recipes
There is absolutely nothing better than a delicious cupcake, well maybe except for a medicated cupcake! What's great about weed cupcakes is that you infuse both the cupcake and frosting! Both parts of the recipe contain butter, which is one of the easiest ingredients to infuse with THC. Whether you already know how to make edibles or this is your first time attempting weed recipes, we will walk you through the essential steps to produce this heavenly pot pastry.
Cannabutter

The most important aspect of making cannabis-infused butter is the decarboxylation process. Decarboxylation involves heating raw weed so that the THCA and CBDA cannabinoids within it convert to THC and CBD, which are the psychoactive components that give us that familiar faded feeling. Make sure to calculate proper edible dosage because adding too much could lead to a bad high.
How to Make Cannabis-Infused Cupcakes

Cupcake Ingredients
12 tablespoons cannabutter
2 1/3 cup all-purpose flour
1 teaspoon baking powder
1/3 cup canola oil
4 large egg whites
1 1/4 cup plus 2 tablespoons organic cane sugar
1/2 teaspoon kosher salt
1 teaspoon Madagascar vanilla paste
1/2 cup sour cream
Frosting Ingredients
3 tablespoons whole milk
2 1/4 cup confectioners' sugar
Rainbow sprinkles
A pinch of kosher salt
4 ounces of 70% chocolate bar pieces
11 tablespoons unsalted softened butter (or cannabutter)
1 teaspoon Madagascar vanilla paste
Directions

Combine the flour, salt, sugar, baking powder and cannabutter in a bowl and mix thoroughly.
Whisk the oil, sour cream, vanilla paste and egg whites with a 1/2 cup of warm water in a separate bowl. Gradually add the wet mixture into the dry ingredients and mix until a smooth batter develops.
Place 12 cupcake wrappers in a tray, dividing the batter evenly among them. Bake at 325 degrees Farenheit for about 25 minutes, until the cupcake pops back up lightly when you touch the top. Afterward, cool the finished product completely.
To make the frosting, place a heatproof bowl over a small saucepan of simmering water. Add in the chocolate, cooking it until melted and then letting it cool.
Mix the sugar, butter and salt, while adding in the milk, vanilla and cooled chocolate. Combine ingredients thoroughly until smooth.
With a spatula, take a glob of frosting and place it on the center of the cupcake, spreading the dollop around. With the tip of the spatula, gently twist the utensil and lift it up to create a little swirl in the frosting, finishing everything off with a spritz of rainbow sprinkles.
Do you like making edibles? What's your favorite edible recipe that we should try out next? Let us know in the comments, we'd love to hear from you!