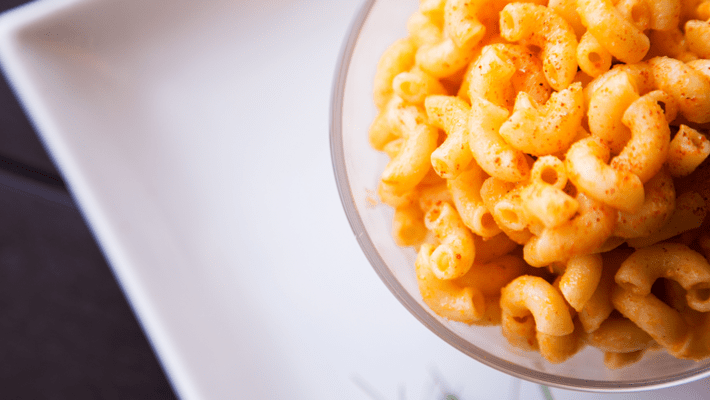 Cannabis-Infused Macaroni & Cheese Recipe
Don't Forget the Decarboxylation Process
Yes, we just threw a big word at you all, but don't worry. It's a simple and straightforward process that involves time, heat and light to remove a carboxyl ring from the THCA molecule, which is the precursor to THC. Removing this ring from the precursor will then transform the THCA molecule into the beloved THC molecule. Here, you'll be able to feel all the wonderful, euphoric and sometimes intense feelings that cannabis is used for. If you disregard this process and use just raw cannabis, you're not going to feel a thing.
How to Make Edibles: A Lesson in Dosing
While the decarb process is imperative, dosing has a whole other level of importance because you will really determine someone's time on edibles with how you dose. As the trickiest part of how to make edibles with weed, it is unfortunate that this isn't an exact science because we all metabolize things differently. Remember that less is more with cannabis, a little goes a long way to pack a punch in an edible. Even if you were one of the lucky ones who excelled in math, we recommend sticking to an online dosing calculator. Not only will this save you some time, but you can also rest assured that you're not going to send any friends to outer space.
How to Make Cannabis Mac & Cheese

With all infused recipes, it's all about the base. Some call for cannabis-infused oil and others have you wondering about how to make cannabutter. We're going to skip the how-to on cannabutter but refer to the article here.
You'll need 4 ounces of elbow macaroni, 4 ounces of the cubed cheese of your choosing, 2 ounces of milk and 2 tablespoons of cannabutter.
Step By Step Guide for Infused Macaroni & Cheese
Bring a large pot of water to boil, salt the water slightly.
Add pasta, cook for 8 to 10 minutes.
In a separate saucepan over medium heat, combine the cheese and milk. Cook until the cheese has melted, stirring frequently.
Drain the macaroni.
Stir in the macaroni, the cheese and bring the cannabutter into the mix until everything is evenly coated.
Enjoy.
Have you ever tried your hand at homemade edibles? What is the best mac and cheese brand out there? Tell us why it's your favorite below.