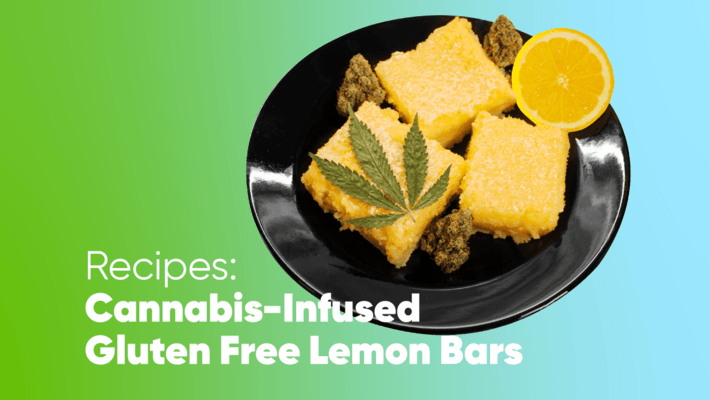 How to Make Cannabis-Infused Gluten-Free Lemon Bars
When you are gluten intolerant and have the munchies, it may seem like the world is set against you. There are few gluten-free options available at big chains like McDonalds, nor can you find many good gluten-free edibles at your local dispensary. As is often the case with stoner engineering, you may have to devise a solution on your own. If you have been craving some delicious treats with some excellent bud packed into every nook and cranny, here is a great recipe for cannabis-infused gluten-free lemon bars.
Cooking with Cannabis
Before you assemble baking racks or mixing bowls, the first choice to make is what strain of marijuana you want to include in the recipe. Some strains are straightforward in terms of their benefits, while others may have different effects based on how they mix with food ingredients. For example, purchasing a simple cannabis butter or cannabis oil from a dispensary means that you are likely buying a kush strain, given that this high-profile type of bud is very popular, very strong, and mixes very well with food. By contrast, making your own butter or oil requires consideration of type and strength. A low-intensity strain with higher CBD can kick in quicker because the body usually metabolizes CBD faster than THC. You may also want to pick a strain without a harsh taste (we're looking at you, Sour Diesel) to taste the flavors, not the cannabis.
How to Make Gluten-Free Weed Lemon Bars

Cannabis-infused lemon bars can be made much the same as pot-free lemon bars. These are popular treats not only because they have no gluten but also because they have intense flavors in a light package. Since the lemon taste packs quite a punch, it will disguise most cannabis flavors. This recipe yields about sixteen 2-inch by 2-inch squares using cannabis coconut oil. Cannabis butter can be substituted for those who want a thicker gooey inside.
Ingredients
4-6 tablespoons cannabis coconut oil or cannabis butter
1 cup powdered sugar
1 cup white sugar
4 egg whites
6 whole eggs
One tablespoon xantham gum, or another thickening agent
Juice of 2-3 lemons
Zest of 2-3 lemons
1 teaspoon salt
2 cups gluten-free flour (Bob's Red Mill flour is a popular choice)
Process
Preheat the oven to 350 degrees F. Grease, or lay down parchment paper, on a 9x13 baking sheet. Set out a mixing bowl or an electric mixer.
CANNABIS OIL OR CANNABIS BUTTER:

Making cannabis oil or cannabis butter is typically the easiest step. You want a ratio of cannabis to mix of about one to three, meaning one gram of pot for every three grams of butter (unless the strain has a higher THC or CBD ratio). Place the ground bud onto a saucepan, then add a layer of cooking oil. Allow it to simmer on low heat for 60 minutes. Watch carefully to keep it from burning.
After 60 minutes, strain out the bud, then allow the mixture to cool for about an hour. It can be stored in a refrigerator and will have a lifespan of several weeks. Use it in equal quantities for any recipe that calls for oil or butter.
THC or CBD distillate can be an excellent choice for novice bakers who haven't quite mastered the art of cooking with weed. That's because this distillate is much easier to measure, giving a precise dose that can then be tailored to an individual's desires. While you can always buy cannabis oil or cannabis butter at the store, this will usually be more expensive than making it yourself.
CRUST:

Add 1 cup powdered sugar to a mixing bowl. Add 2 tablespoons of cannabis oil or butter, then mix together until it has a smooth and creamy consistency.
Add 4 egg whites and mix.
Add 1 tablespoon of xantham gum, 1 teaspoon of salt, and 2 cups of the gluten-free flour. Mix together until you create a dough that crumbles easily to the touch.
Press the dough into the baking pan and cook it for 15-20 minutes until the crust becomes golden brown.
CURD:

Mix together 6 eggs, 2 tablespoons of cannabis oil or butter, 1 cup of white sugar, lemon juice, and the lemon zest. Stir or spin until it has a smooth consistency.
Pour the curd into the cooked dough crust and return them to the oven for 20 to 25 minutes. They will be ready to come out once the curd trembles slightly to the touch.
Let the bars cool, then slice them into squares and dust them with powdered sugar.
Do you enjoy baking with cannabis? How have you found that different recipes pair well with different strains? Let us know in the comments below!