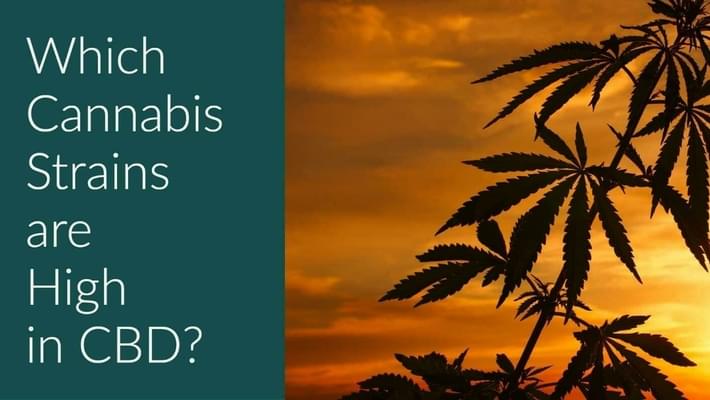 Which Cannabis Strains Are High in CBD?
As one of the fastest-growing industries in America, CBD has gone from taboo to trendy in just a few years! Some estimate that CBD sales will hit somewhere around $1.8 billion by this year! Expect legal cannabis sales to skyrocket - hitting a whopping $23 billion by 2025! No matter how you slice it, it's crystal clear that legal weed is here to stay in pretty much every form. With CBD on the rise, it can be helpful to know which strains are high in CBD and the benefits of using high CBD/low THC strains. That's where we here at Where's Weed come in!
We will break down what CBD is and how it impacts your body and mind. We'll discuss the effects and benefits of using CBD-rich cannabis strains and provide the best CBD-heavy strains to pick up on your next trip to the dispensary! We've got you covered with our list, whether it's an ultra-heavy CBD strain or just a simple 1:1 CBD strain. So, without further delay, let's get right into the action.

CBD: A Brief Overview
Before we get too into the weeds (pun intended) on what exactly CBD-rich strains do and which ones you should buy, we should first break down exactly what CBD is in the first place. After all, some may be looking for some info on which ones to check out.
Cannabidiol, better known as CBD, is just one of over 100 known cannabinoid compounds within the cannabis plant. Unlike its sister, tetrahydrocannabinol (AKA THC), CBD is non-psychoactive. While CBD derived from hemp plants is legal in all fifty states (thanks to the 2018 Farm Bill), CBD harvested from marijuana plants is permitted only in select states. As long as the products you're buying contain less than .3 percent THC, you're typically good to go no matter where you live!
What Are the Benefits of Smoking CBD?

So now that we're crystal clear about what CBD is and why strains rich in it are so important let's talk about some of the benefits of doing so!
When smoking high CBD strains, users will not feel the same mental high they would if they were smoking a strain high in THC (although the body high may be more significant). That's because, as we mentioned before, CBD is non-psychoactive. Instead, high CBD strains produce a clear and calming state, allowing users to have a smooth and relaxing experience without the loopiness, disorientation, and paranoia often associated with THC-rich cannabis use. In addition, high CBD strains also have many therapeutic and healing properties and can be used to help with things such as:
While there is no doubt that CBD has many beneficial effects, it is essential to note that CBD is not a cure-all. Users should not stop taking their prescribed medications nor add CBD into their routine without first consulting a medical professional. The medical benefits and potential of this cannabinoid could be endless, and studies are continually being conducted to discover the benefits and long-term effects of CBD.
Growing High CBD/Low THC Cannabis Strains
Regardless of how you slice it, it's clear that CBD has some role to play in helping people feel good. That's where CBD-rich cannabis strains come into play. Like it or not, smoking is still the primary way people consume cannabis, so it only makes sense that growers would look to produce CBD-heavy strains, right? While some growers are focused on creating strains with high levels of THC, others are shifting their attention to strains with a high percentage of CBD. With CBD gaining popularity, the market sees more demand for these types of strains. So, what classifies a strain as high CBD?
To be considered high CBD, marijuana strains must have a minimum of 2 percent to 5 percent CBD. On the other hand, Hemp is often grown at much higher levels, some even reaching between 10 percent to 20 percent. When considering a strain to try, it is crucial to know whether you are looking for a hemp or marijuana strain.
Growing high CBD strains is almost identical to growing high THC strains as far as the care and maintenance go. If you genuinely want to grow a high CBD strain, it all comes down to good genetics. In every strain's genetics - there is already a predetermined max amount of CBD it can produce. So, if high CBD levels are not in the strain's genes, you will not be able to increase those levels. Many breeders have seeds for high CBD strains available for purchase online. There are also sites dedicated to strain genetics, which list the full genetics of the strain and what company sells seeds for it.

What Are Some High CBD Hemp Strains?

Hemp is any cannabis strain grown with 0.3 percent THC or less. Because hemp has such low levels of THC, it has naturally high levels of CBD. There are still some strains of hemp that contain much higher levels of CBD regularly used for their therapeutic properties.
Charlotte's Web - This strain is one of the most well-known today. Created by the Stanley Brothers, it is highly effective in treating seizures in patients who have epilepsy. This strain was available before medical cannabis was legally available to patients.
Cherry Wine - This strain is high in CBD, but it also has a high terpene profile; this means that it possesses a lot of flavors! CBD levels in this strain can range from 15 percent to 22 percent.
Lifter - This strain is a reliable option that consistently tests out at around 15 percent CBD.
Charlotte's Cherries - A cross between Charlotte's Web and Colorado Cherry, this strain tests around 15 percent.
Berry Blossom - This strain is popular among growers all over the place and consistently tests between 12 percent to 13 percent CBD.
Cobbler - This is another strain with high CBD levels and a high terpene profile. CBD levels in this strain range from 12 percent to 20 percent.
Trophy Wife - another high tester on our list, this strain's CBD levels can range from 15 percent to 19 percent.
Chardonnay - this is another consistent strain, with levels ranging from 12 percent to 15 percent CBD on average.
What Are High CBD Marijuana Strains?
If you live in a state that allows legal medical or recreational cannabis use, we have compiled a list of high CBD strains to watch out for at the dispensary! These are typically available throughout the 38 states and U.S. territories that have established some medical marijuana program!
ACDC - This strain has one of the highest CBD content with a 20:1 CBD: THC ratio. If you're looking for pure power, this might be the strongest one on this list.
Cannatonic - this strain has a CBD: THC ratio of 5:1, which is plenty powerful enough to get the job done!
Harlequin - is one of the more well-known strains with a 5:2 CBD: THC ratio.
Sour Tsunami - This strain is another well-known option. It can range from a 1:1 ratio or a 3:1 CBD: THC ratio depending on how it is grown.
Canna-Tsu - This strain is a great high CBD choice with a high terpene profile. Depending on the grower, it can either have a balanced 1:1 profile or a 5:1 CBD: THC ratio.
Stephen Hawking Kush - like most Kush's, this is an indica dominant strain with a 2:1 CBD: THC ratio.
Next time you are at your local dispensary, think about trying one of these great strains! Check out our website for a list of shops near you and then tell us about your experience!