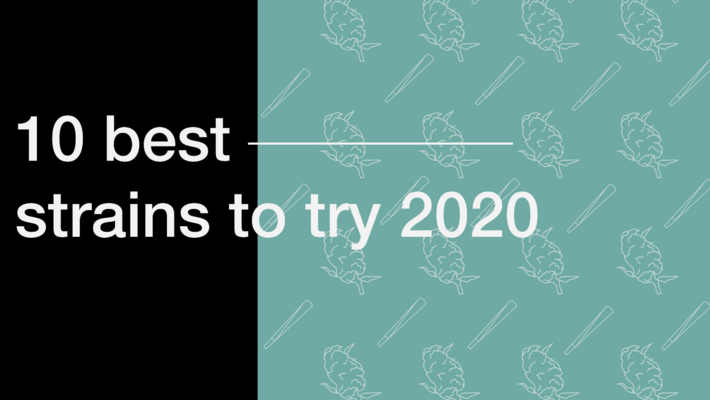 10 Best Strains to Try in 2020
Whether you are new to the legal cannabis game or have been rolling 'em up for decades now, there are likely some new or reinvented strains that you have not yet tried. After all, it's impossible to argue that the legal cannabis industry hasn't come a very, very long way in the past two decades or so.
Due to the ever-changing nature of the cannabis cultivation industry, even classic strains we have come to cherish over the years have seen some tweaks and changes, whether big or small. As such, there is a myriad of potent cannabis products hitting the market every year, with more strains than you can shake a stick at appearing on dispensary menus all over the country. Before you head out to your local dispensary to pick up some of the finest strains of flower, powerful cannabis concentrates, and tasty edibles, here is a list of ten of the best new or reinvented strains you should try this year
The Best Strains of 2020

Peanut Butter Breath, otherwise known as Peanut Butter Cup, has hit the ground running with cannabis cultivators across America this year. This unique and potent strain packs a punch with a whopping 28 percent THC and a complex terpene profile that has strong earth tones and chocolate flavors that taste better than a Reese's Peanut Butter Cup. Simply put, this strain of cannabis flower smells as good as it is to actually consume.
The high of this strain leans more towards relaxing than energetic, despite the 50/50 indica-sativa split, and is a solid choice when you are planning for a mellow day inside. To make PB Breath, the ever-popular Do-si-dos strain was crossed with Mendo Breath F2 by Thug Pug Genetics, one of Michigan's top geneticists. Seeds are available for sale if you feel like growing a lil PB of your own at home, so we highly recommend picking up some for yourself if you're into home growing!

This fruity strain created by Connected Cannabis CO brings together Gelato #41 with the potent Lemon Tree strain to create a dynamic bud packed with terpenes and mouth-watering citrus flavor. The aroma is intoxicating, drawing you in with fragrant hints of pine, lemon, and cookies, which may tempt you to taste your buds just to check if they taste as good as they smell. This sativa-dominant strain boasts a wide spectrum of green and purple hues with colors not usually found in other sativas.
The strain creates dense, crispy nugs that provide a smooth burn when smoking, providing users with a one-of-a-kind cannabis experience. This strain took home gold at the 2018 Cannabis Cup in the 'Best Sativa Flower' category, beating out some of the best strains on the market today. While this strain may not be 'new' as of 2020, it is undoubtedly one of the best cannabis strains out today and deserves to be tried if you've been sleeping on it until now. Simply put, this strain is powerful, fragrant, and will take you for a ride thanks to its unique and well-developed terpene profile.

If you follow practically any cannabis cultivator on Instagram or any other form of popular social media, you have likely seen photos of the colorful strains and beautiful nugs at one point or another. This strain next strain has become popular not only for its pretty aesthetic looks and a bouquet of colors, but also because it creates a unique high unlike any other strain out today.

Oni Seed Company is responsible for this variation, crafting it by crossing the world-renowned Girl Scout Cookies with Tangie, mixing the delectable flavor of GSC with the energizing high of Tangie. This strain is sativa-dominant and will give you energy for hours, which can be perfect for the cannabis connoisseur on the go. If you're looking for a strain that is fragrant and pretty, but also will put the battery in your back like the energizer bunny and boost your productivity. We highly recommend this one!


Similar to Tropicana Cookies, WTC is the well-loved offspring of the ever-popular Girl Scout Cookies, except this time crossed with 'The White' and 'Tahoe OG,' to create an unbelievable Indica-dominant strain. Unlike Tropicana Cookies, White Tahoe Cookies will create a mellow, relaxing high which is perfect for those planning for a chill, anxiety-free day. If you're looking to take the edge off with a unique strain, this one is a can't miss.
The buds of this beautiful plant display lovely forest green colors paired with deep orange hairs and hints of purple shades. The unique terpene mix creates an earthy and rich taste with undertones of pine in the aroma, which may just trick you into thinking you are in the heart of a Lake Tahoe forest.


Exotic Genetix crafted this fruity strain by crossing Sunset Sherbert with Mint Chocolate Chip, to create one of the best hybrid weeds in dispensaries today. Flat out, it's one of the best cannabis strains out there on dispensary menus today. Plain and simple. And this strain has the awards and accolades to prove it. Rainbow Chip won first place for 'Best Hybrid Strain' at Michigan's 2019 Cannabis Cup, beating out hundreds of potent strains from all over the country. The 50/50 indica-sativa split produces a high with tons of energy, but reduces the anxiety-creating effects that can sometimes be found in other sativas.

This strain may be a tough one to get your hands on, as it is relatively new and hasn't seen widespread growth in some parts of the US. However, the 22 percent THC content, the unbeatable high, and the fruity, sweet taste of Rainbow Chip make it more than worth the wait. Visit our strains page to find Rainbow Chip near you!

Humboldt Seed Co created this amazing strain to improve upon the somewhat dismal growth yields of the various Gelato strains. The results have been plain and simply amazing. Vanilla Frosting brings together two cannabis powerhouses, crossing Humboldt Frost OG with Humboldt Gelato Bx3. That's about as close to cannabis industry royalty when it comes to cannabis strains. The OG brings large yields and that classic earth tone and powerful high to the table, while the Gelato Bx3 produces the idyllic colors, fruit-filled aroma, and potent flavor that has become synonymous in the Gelato strains.
Expect hints of vanilla and cake batter when smoking, with silver and green nugs that are literally out of this world. Vanilla Frosting is a hybrid strain with indica-dominant effects, making for a fun-filled, giggle-inducing high. We highly recommend this one if you're looking to have a good time.

If you haven't heard of Dimepiece yet, you are sleeping on one of the most powerful new strains in the history of weed. As the winner of the 2019 San Francisco Cannabis Cup for 'Best Indica Flower,' this strain is no joke. With a THC over 30 percent, you may just forget what planet you are on when smoking this potent bud. The strain crosses Sour Girl with the highly popular Acai Gelato, creating an indica strain that will lock you to the couch.
If you don't live in the Bay Area, Dimepiece may be tough to find (for now). But expect to see this strain moving the wildfire across the country, as the immense THC content, sticky nugs, and fruity Gelato Flavor increase its popularity in dispensaries across the US.


This one is for the CBD lovers out there, as ACDC has a massive CBD content and a somewhat low THC content. After all, there's more to a great cannabis strain than just some cool colors and a whole bunch of THC. This strain is an offshoot of the popular CBD-loaded strain 'Catatonic' and has similar effects. If you are looking for an amazing pain-relieving high or are treating some form of ailment, ACDC is for you. However, don't expect to blast off with this particular bud, as the low THC content creates more body-high and less intoxicating effects. This one is for the stoner that's looking to be a little bit more mellow without being blasted off into space!


This indica-dominant hybrid crosses Cherry Pie with the iconic Girl Scout Cookies to create an amazing tasting strain with massive THC levels. If you're looking for a strain that will put you out of commission, high as a kite, then look no further. Bred by Seed Junky Genetics, this powerful bud brings together the fruity cherry flavor of Cherry Pie with the pleasant high of GSC. The aroma of this weed is slightly reminiscent of baking cookies with a taste that is just as good. The fruit flavor from Cherry Pie is combined with the powerful cookie flavors of GSC, meaning smoking this bud may just make your mouth water.
This particular strain is excellent for anxiety relief and may help patients treat a myriad of stress-induced symptoms. If you are looking for a powerful, happy high that will promote creativity and relieve stress, give Wedding Cake a try this year.


This indica-dominant hybrid strain brings together the classic OG Kush with the relatively new Chiquita Banana strain, creating a long-lasting high and delicious banana flavor. When smoking, expect strong banana flavors paired perfectly with citrus, pine and earth tones. The resulting high will be relaxed and hunger-inducing, perfect for those looking to chill out and eat some good food. If you want to try one of the best new indica strains in the US, be sure to add Fat Banana to your to-do list.


What's your favorite strain on the list? Have you tried any other new strains you'd recommend? Let us know in the comments below!