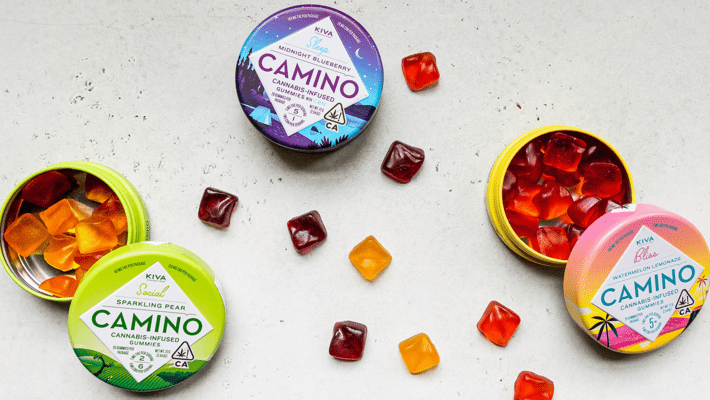 California's Best Edible Brands
Everyone loves a good edible, and it's one of the most popular ways to consume our beloved herb, cannabis. California is a state that is known for its beautiful weather, being the home to the biggest stars in the world and a famous coastline. Now, California is considered to be a mecca for all things cannabis. So we've compiled a list of the best 8 California edibles brands, take a look. Of course, keep in mind that the price of edibles varies from dispensary to dispensary when you go to pick up.
California's Weed History

California has quite the history with marijuana, and in fact, that history spans over an entire century. Not every state can say that. The Poison Act of 1907 banned the sale of cocaine, morphine and opium without a prescription, with an addendum in 1913 that included cannabis to be on the list of illicit drugs. This meant that California was the first state to prohibit the substance. Funny enough, however, California changed their tune and was also the first state to attempt to legalize marijuana in 1972 with Prop 19. This Proposition failed with 66.5% of those voting against the bill. However, by the end of the 1900s, California became the first state to legalize medicinal marijuana with Proposition 215 in 1996.
As of November 8, 2016, 57% of residents in California voted "yes" on Proposition 64, fully legalizing the distribution and sale of marijuana. However, it was not until January 1, 2018 that it officially became legal in the Golden State.
California's Best Cannabis Edibles

Kiva Chocolate Bars
This brand is considered to be one of the best edibles on the market, winning numerous awards at the Cannabis Cup. Kiva is a well-known brand, and these bars are formulated by experienced cannabis cultivators and actual chocolatiers. Each bar contains 100mg of THC, with a serving size of 5mg. Choose from flavors like milk chocolate, dark chocolate, blackberry dark chocolate and toffee crunch, to name a few. Of course, the most popular is the milk chocolate which is the perfect bite for a relaxed and happy head high. Unfortunately, this edible contains no CBD content.
Big Pete's Treats
Hailing from Santa Cruz, this chocolate chip cookie brand is huge with the locals and has been around since 1979. Locally made, ownedand using real cannabutter, these cookies are hard to pass up. Known for their CBD cookies with a 10:1 CBD/THC ratio, these are perfect for after a long hike or for a good night's sleep. These cookies come in peanut butter and chocolate chip flavors, but Big Pete's also has THC-only varieties including flavors like lemon and cinnamon sugar.
Cann Drinks

This cannabis-infused "social tonic" is among the best weed edibles in the California beverage space. With only 35 calories, all-natural ingredients and no hangover to accompany it, it's perfect for a night hanging out with your friends. The original social tonics come in lemon lavender, blood orange cardamom and grapefruit rosemary. With 2:1 ratio of CBD/THC, these drinks are sure to be the future of social drinking, giving the consumer a refreshing, light and social buzz. You won't find any gluten, stevia or GMOs while also containing pure California cannabis extract.
Pop-Up Potcorn
The next big thing in microwavable food is here, and it comes in the form of microwavable cannabis-infused popcorn. These microwave "potcorns" are sugar free and low calorie, with a balanced dose of cannabis per serving. Potcorn comes in three different varieties, and the most popular of the bunch is the 20:1 CBD/THC ratio sea salt bag. Made with premium cannabis oil, this edible is perfect for some major chill time on the couch or a blissful night's rest.
Wyld
According to Headset, a cannabis-centric data analytics company, one brand topping the best California edibles list isn't even from California! Even though Wyld is based in Oregon, this brand has firm roots in sustainability practices and makes sure they leave the land better than they found it. With both chocolates and gummies alike, the most popular edibles are the raspberry sativa enhanced gummies at 10mg per serving. Made with real fruit and fruit-centric terpenes, expect a euphoric and energizing experience. Other variations include 1:1 CBD/THC ratios, 2:1 and even a 20:1 ratio gummy.
Kikoko Honey Shot

This femme-founded brand has it all when it comes to edibles, from teas to tinctures and honey products. One of their most popular is their Honey Shot Buzz, made with New Zealand Manuka honey containing antioxidant, antiviral and anti-inflammatory properties. Expect to enliven and laugh with this 10mg THC (and no CBD) shot of honey, but beware, it is not for newbies. Those experienced will feel a pleasant head-buzz and a definite mood lift. Rest assured that the cannabis oil is sun-grown, quadrupled lab tested and sourced from northern California.
Altai Dulce De Leche Bon Bons
This brand has award-winning artisan edibles that aim to elevate the art of cannabis and pay homage to the history of cannabis that spans over 2,500 years. Their dark chocolate coated dulce de leche bonbons deliver the indulgence of excellent chocolate paired with a sophisticated high. Even once declared "Best Edible", this rich edible contains 10mg THC per dose and no CBD. Expect feelings after 45 minutes, as a perfect treat after a long day with intense relaxation effects.
Breez Mints
These cannabis mints are not only convenient but give a precise dose for daily use. While coming in a pocket-friendly tin, this brand has a mint for every feeling. Whether you want to rest and restore yourself or relax without getting high, there is a mint for you. Among the most popular is the original mint tin, with 100mg of THC per and 5mg per dose, perfect for everyday activities that include making dinner with friends or drafting reports at work. Other flavors have CBD/THC ratios of 2:1 and 1:1.
If you're based in California, do you have a favorite edible? Any that we should know about that didn't make the list? Leave a comment below.