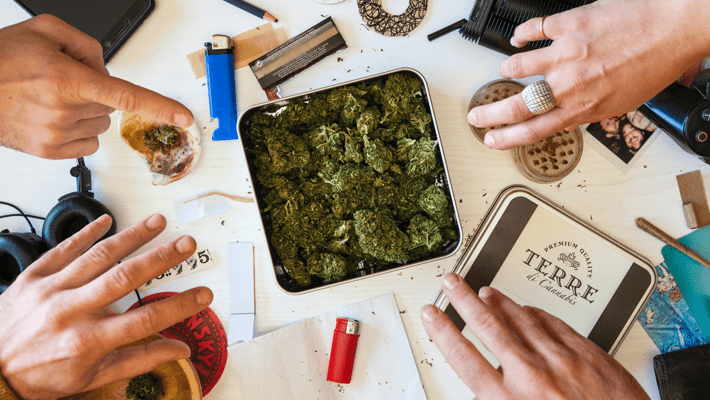 The Best Cannabis Products for Beginners
The legal cannabis industry has transformed into a multi-billion dollar legal industry that's widely accepted by the general public over the past two decades. It is one of the fastest-growing job markets in all of the U.S. and is getting closer to being federally legal each year. Along with that meteoric rise of the legal industry comes more and more average people who never would have touched cannabis if it wasn't legal and widely available in dispensaries all over the state.
For the first time cannabis user or past cannabis user jumping back into the game after a long hiatus, however, it's easy to look around and be confused by today's evolved industry. If you haven't checked in on the legal cannabis industry in a while, you might end up eating a little bit too much of an edible, taking an extra puff or two of a strain or vape pen you underestimated, or not really understand the idea of terpenes, cannabinoids, or the differences between indica vs. sativa. Thankfully, we here at Where's Weed have your backs!
This article is going to serve as a go-to guide for the novice cannabis user looking to get started. We'll break down some of the different products and low THC strains great for them, what to look for when purchasing cannabis products at the dispensary, and how to make sure your experience is as good as it can possibly be!
What to Look for at the Dispensary

We know that going into the dispensary for the first time could be overwhelming, especially if you're a first-time cannabis user. All of the confusing names of different cannabis strains, figuring out which products on the menu are actually low THC weed products and the massive range of product options available in mature markets like Colorado, Oregon, and California could all be stumbling blocks for the inexperienced and first-time user.
As a general rule, first-timers should opt for the "low and slow" approach when it comes to cannabis products. Start out with a cannabis product that's easy to dose, like THC-infused gummy bear edibles with 5 mg of THC each, or a disposable vape full of some of the best weed for beginners recommended to them by their budtender, and see how a single dose impacts you. If you don't get the desired effect after about a half-hour or so, take another dose. Repeat that process across that period of time until you get the right dosage for you and you're good to go.
As long as you aim for low THC strains and products, practice the "low and slow" approach, and communicate properly with your budtenders to figure out the best weed for beginners, you'll be golden!
Best Cannabis Products for Beginners
Now that we've gotten the general rules for what to look for in the dispensary when it comes to different cannabis strains and products, let's break down some of the creams of the crop in detail!
Harlequin

When it comes to low-THC weed, Harlequin is easily one of the most well-known and easily available for the first-timer and average consumer. This high CBD stream is a great way to get used to smoking and enjoying cannabis products without having to deal with a tidal wave of THC crashing down on you too soon. Any pre-rolls, joints, or edibles that contain the Harlequin strain should be considered go-to for first-time cannabis users!
Pennywise
Despite the scary name, this is one of the more balanced, low THC strains that are widely available at most dispensaries today! If Harlequin is one of the best cannabis strains for beginners, then Pennywise is one of the best-balanced strains around. A perfect stepping stone for when you're looking for a strain that has a little bit more THC than the Harlequin, Pennywise is one of the best options for beginners out there.
Blue Dream

If there was a popularity contest when it comes to the most widely spread and well-known cannabis strains, we think people would have a tough time crowing any different cannabis strains the king that's not Blue Dream. This mellow low THC weed gives beginners a chance to experience some terpenes and cannabinoids without getting blasted off into outer space by high THC levels. When it comes to taste and calming, subtle experiences, Blue Dream is unarguably some of the best weed for beginners!
Chill Plus Cannabis Gummies
Remember before when we mentioned the "slow and low" approach when it comes to edibles? Well, it would only make sense that we present you with some quality options to try it with, right? These tasty gummies come in delicious flavors like mango, watermelon, and blueberry, are packed with 500 mg of CBD isolate and about 5 mg of THC, and stand firmly as the perfect way to chill out with friends or enjoy an afternoon alone. You won't have to worry about different cannabis strain names or smoking here. Enjoying these edibles is as simple as popping one in your mouth and enjoying the effects!
Palms - Heal Pre-Roll

There are few things easier for beginners than pre-rolls. Enjoying a pre-rolled joint full of low THC weed is as simple as taking it out of the package, lighting it up, and puffing away. This particular pre-roll is well-balanced for beginners and CBD lovers alike, containing around 10 percent CBD and only about 6.5 percent THC. A great way to light up, get a well-balanced and low-intensity buzz and get your feet wet when it comes to smoking some of the more intense different cannabis strains on sale at your local dispensary, these pre-rolled joints are a great choice for beginners!
What are your favorite cannabis products & strains for beginners? Let us know your opinions in the comments!