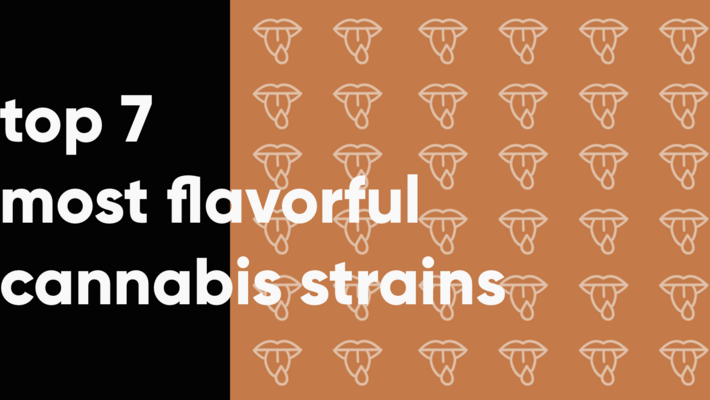 Top 7 Most Flavorful Strains of Cannabis
Cannabis lovers around the world are enjoying a market boom as legalization and societal acceptance provide access to quality marijuana at a level almost unthinkable just a few decades ago. The number of different strains of weed means that the indica vs. sativa debate almost seems antiquated and cute as hybrids continue to be produced and dominate the shelves of dispensaries. Strains with high levels of THC remain in vogue, but there is a growing segment of cannabis consumers who search for strains based almost solely on their flavor profiles. Below you will find a brief list of strains that are incredibly tasty, but it is first important to examine what gives cannabis its special flavors.

There are three main components of marijuana that determine its flavor:
Terpenes
Terpenes are hydrocarbons that exist in physical form as oils and are produced regularly across the plant world. These essential oils are key components of how a plant will smell, taste and look. Their strong odors are often critical to repelling dangerous pests that can damage the plant and can ease stress, nausea, inflammation and insomnia when consumed by humans. Limonene, myrcene and linalool are three common terpenes in cannabis.
Trichomes
Trichomes are the attractive crystalized glands (known as hairs or crystals) that produce the resin on cannabis buds and contain the majority of weed's cannabinoids and beneficial compounds, as well as their tasty terpenes. On their own, they taste bitter and off-putting. Trichomes must be well developed to produce the aroma and tastes that exist in the most flavorful strains.
Flavonoids
A part of marijuana known as a flavonoid must influence flavor, right? Indeed. In a manner similar to terpenes, these tiny molecules are also present across the plant kingdom and are responsible for providing taste and color to fruits and vegetables, along with cannabis. In fact, flavonoids work with terpenes to create the taste and color varietals of different strains. Beyond those contributions, they also are known antioxidants and have anti-inflammatory properties.
Cannabis Strains Packed with Flavor
Chocolate Mint OG

This Emerald Triangle staple is an 80/20 leaning indica with a hearty mint spice and notes of pine complemented by a mellow and sweet chocolate finish. It is strong; THC levels can head up towards 28% with very little CBD content and its cerebral and physical effects are intense. Chocolate Mint OG is the result of a cross of Emerald OG and Grandaddy Purple.
Super Lemon Haze

Super Lemon Haze is a famous sativa that provides a fabulous burst of sour lemon flavor to go with a bouncy high that takes off immediately and seems to just keep going. A cross between Lemon Skunk and Super Silver Haze, limonene and terpinolene terpenes work in tandem to create the zesty tart taste and soft skunky undertones. Elevated THC levels (up to 25%) mean that novices with anxiety or paranoia concerns should take extra care. Super Lemon Haze is one of the best weed strains for combatting fatigue. Trace amounts of up to 1% CBD may be present.
Bordello

Bordello is an indica-leaning hybrid weed with an intense tangy flavor that screams sour citrus fruit and roasted wood. Its parents are Alexis and Blueberry Apocalypse and its high is hazy and euphoric like some sativas, yet also heavy and calming like most indicas. Originally developed in Texas, Bordello hovers around 20% THC with very little CBD content.
Sugar Candy

Talk about a flavor profile! This indica-heavy hybrid that stems from parents Sugar Black Rose and Caramelo is one of the most diverse available on the market. Seemingly opposing flavors like anis, lavender, spice, lemon, mango and mint all combine to blast the senses upon combustion. Heavy THC levels in the mid-20s keep smokers happy and euphoric, but also thoughtful and introspective. Sugar Candy was developed in the test kitchen of renowned seed bank Delicious Seeds and has quickly gained a loyal following.
Durban Poison

This legendary landrace strain from South Africa is a spicy citrusy blend of sativa goodness with hints of anis and pine and is considered one of best cannabis strains in the world. Like any fine sativa, Durban Poison provides effects that are uplifting without any unwanted brain fog. It normally clocks in with THC levels a bit less than 20% and little to no CBD.
Strawberry Cough

Yes, it is true. It will fill your lungs with delicious ripe fruit flavors. But it will also bring some sweet skunky aspects with notes of vanilla thanks to its lineage of Haze and Strawberry Fields. It usually tests around 20% THC and the way the smoke grows in the lungs provides the "cough" in the name. Some enthusiasts would consider Strawberry Cough to be a bit of a creeper because its effects hit them in a mellow and gradual manner. Others counter that there is an immediate rush that then eases. However it might affect you specifically, this East Coast gem developed by renowned cannabis cultivation expert Kyle Kushman is deservedly one of the most popular strains in the world.
Cactus Breath

This is one of the best hybrid strains out there and originally comes to us from award-winning Jordan of the Islands located on Vancouver Island in Canada. Lemongrass and wheat flavors combine brilliantly with funky, creamy, almost rotten tomatoes to create a very special flavor profile. Its parents are Mendo Breath and Cactus, which is a relatively rare Northern Lights/Afghani cross, so the high is typical of a strong indica. Lack of concentration and hours of internal analysis may result. CBD levels are low, but THC percentages regularly track into the upper 20 percentiles.
Do you have a strain that you go to for exquisite taste? What flavor do you find most attractive? Take a second to tell us about it in the comments section below!