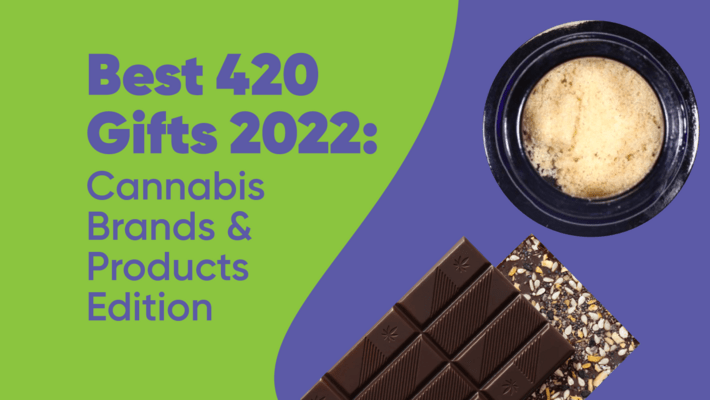 Best 4/20 Gifts 2022: Cannabis Brands & Products Edition
There are few better times of the year for stoners than 4/20. It really does not need a real introduction other than the already established legend of 4/20, its place in overall pop culture, and the prominence of the world's most popular and often celebrated cannabis-related holiday.
After all, legal weed has never been more popular than right now. With 18 states and U.S. territories recreationally legal and another 37 states establishing medical programs of their own, this year is set up to perhaps be the most widely celebrated April 20th of all time!
So with that spirit in mind, we want to highlight some of the best gifts for stoners, creating a comprehensive list of items and products that say "Happy 4/20" in a real and significant way. That's why we here at Where's Weed wanted to create a go-to stoner gift guide to serve as your one-stop shop for any and all things 4/20 related.
The History of 4/20

Before we get too deep into our gift guide, we wanted to break down the significance of April 20 in history, digging into the true 4/20 origin and giving you the accurate and culturally relevant 420 meaning. So, without further ado, let's break down the definitive history of the 4/20 stoner holiday.
While there are many rumors as to where the 4/20 origin comes from, including whispers about the state of California's penal code and a Bob Dylan song, the widely recognized origin of the 4/20 meaning is the story of the Waldos.
This group of high school students would meet outside their school every day at 4:20 p.m., sparking up at their usual hangout spot as often as they could. Over time, their smoke session was shortened to a simple codeword; 4/20.
From there, the legend would only grow into what it is today.
Our Definitive 4/20 Gift Guide
Now that we know the basic origins of the 4/20 holiday, let's get into our definitive gift guide for the stoner in your life. Whether you're looking for stoner gifts for him, stoner gifts for her, or just a gift for yourself to get blazed on April 20th, we've got you covered!
So without too much further ado, let's get right into it!

For the first entry on our list, we wanted to highlight some products that are accessible to pretty much everyone. These CBD gummies contain a massive dose of cannabinoid power, with 1200 mg full spectrum offerings. Available in tasty flavors like watermelon, cherry sours, sweet and sour gummy bears, and razzleberry rings, just to name a few. Not only are these CBD products legal everywhere, but they're a great way to celebrate 4/20 with the inexperienced stoner.
There are very few things in the world better than the rich, creamy, sweet taste of chocolate. However, combining chocolate with doses of CBD and THC takes things up a notch! That's where these delicious treats from Kiva come into play.
Available in delicious flavors like milk chocolate, dark chocolate, blackberry dark chocolate, toffee crunch, raspberries & cream, and peppermint bark, just to name a few. Each piece contains about 20 mg of THC and 100 mg of CBD. These cannabis-infused chocolate bars are as potent as they are tasty!

Cannabis-infused gummies are a dime a dozen these days. Everyone and their mother is offering some form of THC-infused chewy treats. That's why Wyld is so special. They make cannabis-infused gummies that are delicious and potent.
Currently available in Arizona, California, Colorado, Michigan, Nevada, Oregon, and Washington in flavors like raspberry, huckleberry, pomegranate, peach, and pear, just to name a few, these gummies contain around 10 mg of THC per serving. We highly recommend these tasty, chewy treats.
When it comes to edibles, Incredibles are the whole package. Not only are their edibles themselves tasty and potent, but their packaging and presentation are second to none. This is the type of brand that makes you want to preserve the wrapper due to its fantastic aesthetics.
These tasty treats are as potent as delicious and flavorful with classic candy bars in flavors like peanut butter, s' mores, mile-high mint, strawberry crunch, and cookies & cream.

For the first liquid entry on our list, we wanted to highlight Cann. Few cannabis brands own a more significant chunk of the industry than them. Cann is a leader in the space when it comes to cannabis-infused drinks.
With each can containing around 2 mg of THC and 4 mg of CBD, these drinks are more than enough to get you buzzed without blasting you off into space. They're a great way of enjoying some drinks with friends without getting too crazy.
While we've covered gummies, cannabis-infused drinks, and tasty treats of a massive variety, we wanted to provide stoners with a top-notch vape that they can puff, pass, and enjoy this coming 4/20.
With every vape containing no pesticides, no fillers, and crafted from top-notch ingredients like cannabis oil, each of their vapes are available in indica, sativa, hybrids, 1:1's, and CBD. There are few more classic things than a quality cannabis-infused vape, so make sure you pick one up for this next 4/20!

If you're looking for a top-notch cannabis brand with a massive range of products, you can't go wrong with Coda. This upper-crust cannabis brand offers edibles like truffles, chocolate bars, fruit notes, topicals, and various other cannabis-infused products. From bath bombs to tasty treats, Coda has a little bit of something for everyone!
When you're looking for a top-notch legal cannabis brand that has a little bit of everything, you can't go wrong with a brand like 710 Labs. Offering products like gummies, RSO, hash, vapes, cannabis flower, and pre-rolls, they have an excellent option for everyone, no matter what they're looking for. Offering top-notch concentrates like water hash, rosin, persy sauce, and badder, just to name a few, 710 has something for the cannabis concentrate fans out there are well as your average, everyday stoner for 4/20!

If you're looking for a tasty, cannabis-infused gummy that stands out from the rest, then Dialed In's delicious cookie dough gummies are where it's at. After all, few treats hit the same way as cookie dough. If you can infuse that cookie dough with cannabis, that's a gamechanger.
Simply put, Dialed in Gummies are about as tasty and delicious as it gets!
Did you find a new product you want to try or gift? Let us know which one below!