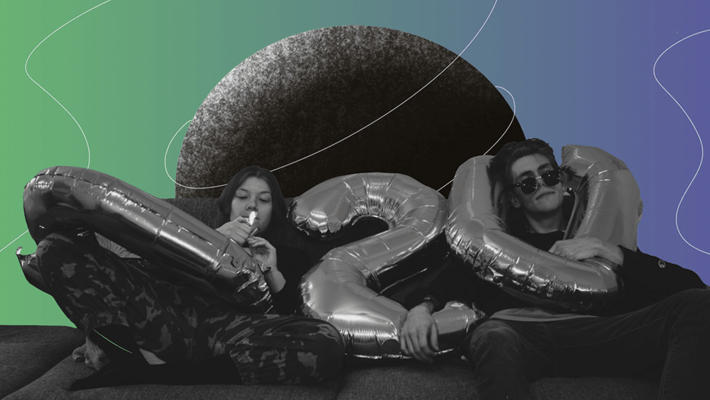 Top 12 Activities to Do While High on 4/20
It's finally 420, the stoner holiday of the year! Of course, while we will all (very likely) partaking as much cannabis as possible, we want to make sure you're not couch-locked all day watching Netflix stoned. Everyone loves a great smoking session when you can actually pair it with something productive or exciting. If you've been looking to shake up your smoking routine with some new activities to pass the time, there's no better time to start than on 420! Don't worry, these 420 things to do are COVID-friendly!
Best Things to Do When High: 420 Activities
Talk a Walk or Hike

They say there are few better things for overall well-being than getting outside, even if it's just for 15 minutes a day. This is among the best things to do while high alone, as it's a nice time to take in some much-needed sunshine. Put your headphones in, turn on your favorite playlist and see how much your mood gets elevated. Smoke up with a sativa like Sour Diesel to hit you with a euphoric cerebral buzz, perfect for the park or trail.
Grab Your Coloring Books
Okay, hear us out. Coloring books aren't just for children anymore. There is a whole market for adult coloring books, which are great to deal with an anxious or stressful mind or simply for enjoyment. If you're lighting up and looking for an easy way to be creative, a unique coloring book is the way to go. Pair it with a nice indica, like Purple Punch, to drift off into a light, mindless buzz - perfect for an afternoon with some colored pencils in hand.
Go Viral on TikTok

If you've been looking for fun things to do while high, look no further than this idea. There is a plethora of trends in the TikTok world, and who says you can't be famous, too? This is great if you're looking to mix up a session with friends instead of doing the same old sitting around. Master the latest TikTok dance with a sativa strain like Green Crack, as it will keep you focused while getting you loose at the same time.
Conquer that Weed Recipe You've Been Putting Off
Have you been dying to make edibles of your own but just haven't gotten around to it yet? There are so many out there, and we even have a few step-by-step guides as well, so the novice chef can follow along. You don't want to get too stoned while doing this (save that for after!), so try a high-CBD strain like Harlequin to keep a clear-headed awareness.
Soak in a Bath

Nothing says self-care like taking some time for yourself and relaxing with a nice bubble bath. Catch up on your favorite podcast or get ahead in the novel you've been reading while submerged. Grab a nice hybrid strain, like OG Kush, to deliver a balance of head and body numbness, without being too sedative. Even throw in a CBD-bath bomb for the ultimate chill.
Watch a DocuSeries
The genre of documentaries and documentary series has exploded in recent years, as there seems to be a hot, new one that hits the screens weekly that everyone is talking about. Whether it be a nature series, a food/traveling show or a thriller, if you're going to spend some time on the couch you might as well learn something, right? Roll up a hybrid like Pineapple Express to keep you uplifted and focused, paired with a nice body high.
Meditate

If you're looking to accomplish self-work and have been struggling, meditating with marijuana is one of the best spiritual things to do when high. Turning to your favorite herb will help you relax and get into the right mindset. Find a comfortable spot in the sunshine or under your favorite tree in the park and light up with an indica like Northern Lights. You'll feel a dreamy euphoria that will ease your mind into the right headspace.
Write Down Your Goals
Smoking weed isn't always just for sitting on the couch or doing random things with friends. If you feel like you can be a productive stoner, this is one of the best things to do high. Use a sativa like Lamb's Bread to keep you uplifted, productive and creative. Headspace is everything when brainstorming goals, so keeping an open and thoughtful mind is key.
Work on Your Yoga Practice
Yoga is all about connecting your mind with your body, moving one breath to one movement. If you struggle with quieting your mind or slowing down your body, using cannabis with yoga could be extremely beneficial here. A hybrid like Sherbet will deliver both powerful body and brain jolt for effective practice. Whether you are mastering your handstand or simply looking for a nice stretch, try this out the next time you're itching for movement.
Start a Journal

Have you been looking for a new creative outlet, or just looking to get your thoughts out of your head after a long or stressful day? Journaling, whether it be poetry, writing for gratitude or even complaining is completely therapeutic. Roll a joint with an indica like Blue Cheese to alleviate any apprehensions and get it all out on the page. We promise it will help you feel better!
Go to A Museum
We know that COVID is still here, but believe it or not many museums have been able to open responsibly, with socially distanced practices in place. You may need to do a bit of planning with a reservation, but if you and your friends are feeling energetic and want to try something new, hit a museum or exhibit you haven't been to before. Smoke a sativa like Jack Herer to deliver a blissful and creative headspace to take in the beauty around you.
Enter The Ultimate 420 Giveaway
What's better than getting high and winning over $1,000 worth of cannabis-inspired prizes?! We truly can't think of anything, so we created The Ultimate 420 Giveaway for you to enter! Ending on 4/20, this is something you won't want to miss. Where's Weed has partnered with our friends at LEVO, Stashlogix, CBD Infusionz, Terpy Js and Letter Shoppe to bring you only the best of the best in the industry (that can legally be shipped to all 50 states). Enter now!
What do your 420 plans look like this year? Will you be doing any fun activities for 420 or has COVID-19 affected those? Let us know below.