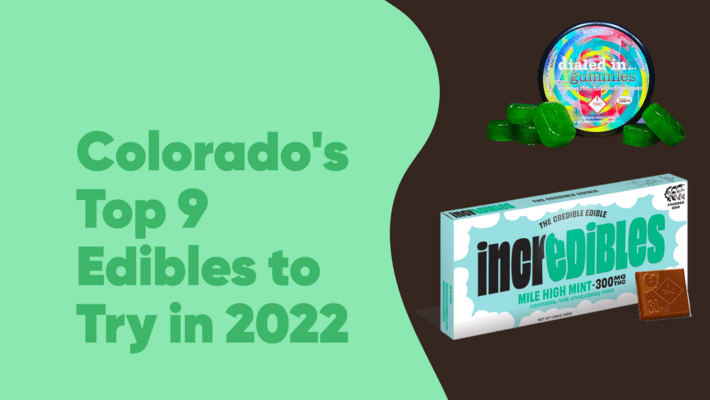 Colorado's Top 9 Edibles to Try in 2022
Colorado is the home to many things. You'll find the beloved Rocky Mountains, striking rock formations, and every adventurous sport under the sun, including bouldering, hiking, and Nordic skiing. One other huge facet of Colorado culture is its 100 + year history with the medicinal herb, cannabis. Below we'll dive into a brief history lesson on the state and keep you up to date on the best edibles in Colorado.
The Hazy History of Cannabis in Colorado
Cannabis has held an ever-changing position in not only Colorado, but throughout the country as well. Cannabis, and hemp more specifically, was once a sought-after product and even incentivized to grow in the colonies. When Colorado became a state in 1876, both hemp and cannabis were legal, with cannabis oil tinctures and hashish gaining popularity for recreational and medicinal purposes.
With the increase in recreational use, the sale, use, and distribution of cannabis was deemed a felony in 1929. It wasn't until the year 2000 that something shifted within the Rocky Mountain State for the positive. Medicinal cannabis was legalized through Amendment 20 and is still, to this day, the only state to legalize medical cannabis in their state constitution.
Catapulting Cannabis into the Future
Fast forward to 2012, when amendment 64 was passed in Colorado. With 55% voter approval, the measure to pass recreational cannabis was set in motion and has proved to be a model for the rest of the country going forward with recreational legalization efforts. The first recreational sale of marijuana was purchased by an Iraq-war veteran who consumed it to combat PTSD, proving that cannabis can be an ultimate force for good.
Colorado, especially Denver, has led the entire industry in technological advancements, cultivation practices, and production efficiencies. This year, Denver was named the best city for stoners to live in. Not only has Colorado been considered a road map for a thriving recreational market, but it has also proven to aid in the health sector as increased availability of cannabis has only led to an increase in studies of the herb.
Weed tourism is booming in the state, with total sales reaching over $70 million. This money is allocated to aid in regulation, education, enforcement, outreach, and social equity programs throughout the state. Colorado and Denver, more specifically, are looking to the future as they have passed authorized delivery services, expanded the types of hospitality establishments, and increased social equity applications.
The Best of the Best Colorado Edibles for 2022

First up on the list of Colorado edibles companies is a brand committed to small batch perfection through a solventless rosin infusion process. The quality is unmatched through the painstakingly detailed process, and the flavors are hard to match. Decide between Colorado Mountain Berry, Forbidden Cream Pie, and Lemon Tree Sangria for an exciting taste every time. Each tin contains 500mg worth of gummies with high soaring THC potency. There is an edible for every high you're chasing after.
These marijuana edibles aim to elevate the entire industry through their obsession with quality and flavor. These handcrafted edibles deliver a luxurious bite, whether it's a gummy or chocolate. You can choose between 1:1 THC: CBD gummies for a well-balanced high or 100mg chocolate bars for a more hard-hitting, impactful stoner experience.

Buying edibles in Colorado doesn't have to be boring - and this company is the perfect depiction of that. Find an incredible lineup of chocolatey bars, gummies, tarts, and mints to ease all the anxieties and chronic pain. You'll find not just THC-packed treats but also products boasting high CBD and CBN content. All filled with 100mg of the cannabinoid of your choosing, pick the tasty high you're after with this brand.
Look no further if you're looking for an updated, high-tech version of THC gummies. Dosd will consistently deliver traditional gummy consistency with water-soluble cannabinoids to deliver a quicker onset from increased bioavailability technology. With flavors like pina colada and blue raspberry, these 100mg THC per pack edibles will keep the euphoric thoughts and productivity going all day long.

What other Colorado gummies sources their cacao through family farms in South America? Coda is leading the way in artisanal chocolate edibles, truffles and much more in the state. Explore flavors such as coffee and doughnuts, maple and pecan, and salt and nibs in a wide range of THC to CBD ratios for either a low key or more intense high.
Of all the edibles, Colorado seems to love this brand more than most. Infused for every adventure, you can choose from sativa, focused, or even edibles packed with CBN for sleep. These best-in-class edibles boast real fruit and natural flavors like huckleberry and pomegranate with 100mg per pack.

While this dissolvable powder dosed with goodness may seem like candy and will even remind you of the childhood candy, fun dip, remember that Colorado edibles law requires those who can purchase to be 21+. This delicious dose of either THC or CBD in flavors like gingerberry and mint chocolate can be consumed for every kind of fix. Lay low or head to the rave with these products.
Going with this brand means you're choosing innovation. You'll find key features like pure cannabinoids, precise effects, and an ultra-fast uptake. These 10mg per strip are perfect for anyone who loves to microdose or prefers a mellow high. These strips can be found in flavors such as minty mint and sour speed, with sativa-leaning effects felt within the first 5-10 minutes of consuming.

This brand believes in the power of the plant and leads the industry in innovation and downright delicious cannabis products. Dixie is a one-stop-shop for any type of edible you can imagine with elixirs, bursts, topicals, mints, and more. With this brand, you have enough products to choose your adventure. With any dosing ratio, you can imagine reaching the type of high you desire.
Have you tried these brands? Do you live in Colorado? If so, tell us what brands we need to check out next!