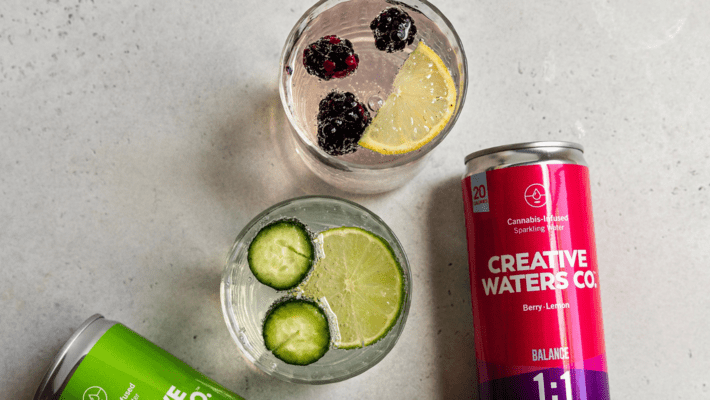 Cannabis Seltzers: What's the Hype All About?
Cannabis beverages are becoming increasingly popular across the United States. If you want to know just how popular, all you need to do is look at the different brands currently breaking into the market. PBR has created a spiked THC seltzer, and even Rob Dyrdek and Diplo have launched a cannabis beverage brand called Leisuretown. Want to know more about cannabis beverages and what to expect from them moving forward? Keep reading to find out!
What Are Cannabis Beverages?
Cannabis beverages are exactly what they sound like - enjoyable, refreshing drinks infused with cannabis for delightful effects. THC and CBD beverages are usually seltzers, sparkling water spiked with flavors, and cannabinoids. However, there are other types of cannabis beverages out there, including aperitifs, sodas, beer, coffee, and teas. But we're here to talk about seltzers, which occupy most of the market. Some of the most popular cannabis seltzers out there are Keef, Oh HI, Recess, and Cann, among many others.
Cannabis seltzers are comparable to other infused consumables, like edibles, in that the cannabis (normally THC or CBD concentrates) is extracted, decarbed, and then added to the product. They're also reliable for dosing - you know just how much THC or CBD you're getting per unit (usually 5-10mg). However, there are some significant differences between edibles and infused drinks.
First, cannabis drinks provide a social experience. Edibles are eaten, and the effects are experienced a few hours later if it's not solventless. You can't really sit around with friends and enjoy a few edibles over a long conversation. Cannabis drinks, like beer, do offer this; and if you don't like to partake in alcohol but want to enjoy drinking something with a socializing effect, cannabis drinks are the way to go. Second, cannabis drinks have a much quicker uptake, meaning you'll feel the high within 30 minutes instead of the hour or more that traditional edible highs take to set in. Third, while gummies and other edibles taste good, cannabis drinks are delicious and taste like your favorite sparkling waters with a hint of weed.
What Is the State of the Cannabis Beverage Market?
So, are cannabis drinks just a trend, or are they around for the long haul? The current financial success of cannabis drinks within the industry suggests that they are not just a trend. As of 2021, over 5% of nationwide cannabis sales were made up of cannabis beverages, and this percentage is only expected to grow. This rapid increase in popularity and demand is attributed to continued cannabis approval across the nation (and the world), the social capacity of a drink over other edibles, the use of cannabis for medical purposes, and technology that makes these cannabis drinks more potent and better tasting.
The global cannabis drink market is also set to grow at an astronomical rate of 37.3% between 2022 and 2032, with projections setting its top valuation at over $8 billion (some predictions suggest an even higher growth rate). The increase in worldwide popularity is mainly attributed to the social aspects of a drink over other consumption methods and a quick rise in the use of medical cannabis (which drinks are used for). Current projections expect the demand for cannabis drinks to increase by more than 20x starting in 2022 and moving forward, and you better believe that we are here for it!
Four Cannabis Beverage Brands to Check Out

This California-based company originated with three friends looking for an alcohol alternative for a social environment. Their curiosity resulted in Wunder, now a massive success throughout California that offers two unique levels of drink. Their Sessions line includes a wide variety of flavors with 2mg Delta-9 THC, 2mg Delta-8 THC, and 4mg CBD, while their Higher Vibes line includes just as many flavors with 10mg Delta-9 THC and 10mg Delta-8 THC. Their flavors include Blood Orange Bitters, Grapefruit Hibiscus, Blackberry Lemon, Watermelon Basil, and more. A 4-pack of Sessions will run you $20, and a 4-pack of Higher Vibes will cost $26. Wunder is currently only available in California dispensaries.

The most surprising brand on our list, Pabst Labs, is a PBR High Seltzer that offers 10mg of THC. The original brand, which has been brewing beer out of Milwaukee since 1844 and stocking dad's and college students' fridges for almost just as long, just recently decided to create this subsidiary to take on the quickly expanding cannabis market. The first well-established player in the game, we've got to give them credit. Their four flavors, Passion Fruit Pineapple, Mango Blood Orange, Strawberry Kiwi, and Lemon, are actually pretty good and pack a solid punch. A four-pack costs $18 and is currently available in California.

The most expansive brand on this list, Keef, offers a wide variety of drinks. Cannabis cola is their staple product, with flavors including Purple Passion, Blue Razz, Bubba Kush Root Beer, Orange Kush, Blood Orange, and more. They also offer liquid concentrates that can be added to other drinks (or water), pods, and cartridges. Most of their drinks come with 10mg THC and 10mg CBD per 12-ounce can. This largely successful brand is based out of Colorado. You can also find varied selections in Arizona, California, Maine, Missouri, Ohio, Oklahoma, Oregon, and Puerto Rico (only available to medical patients, depending on the state).

Cann is an aesthetic brand based out of California that values simplicity and quality. The original Cann is an eight-ounce drink with 2mg THC and 4mg CBD, but they also have Hi Boys, which are 16 ounces with 5mg THC per drink. Some of their delicious flavors include Pineapple Jalapeno, Ginger Lemongrass, Blood Orange Cardamom, and Grapefruit Rosemary. Cann products are available in dispensaries throughout California, Illinois, Massachusetts, Nevada, and Rhode Island, and they go for roughly $24 per six-pack.