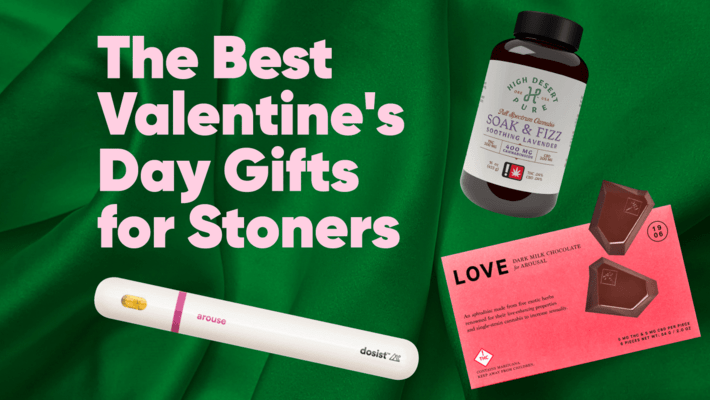 Top 7 Valentine's Day Gifts for Stoners
For those who celebrate, Valentine's Day is right around the corner for you and your partner. The holiday is usually filled with cheesy cards, an overpriced dinner, and an underwhelming time together - but if you both consider yourselves stoners, we've got big ideas for you both this holiday season. Keep reading below for some knowledge on how to use CBD and THC to spice up your life in the bedroom, followed by some products to experiment with.
How CBD & THC Benefit Your Sex Life
These two compounds of the cannabis sativa plant have exploded in popularity, both becoming a household name across industries. They have infiltrated food and beverage, skincare, and pet products - to name a few. Today, CBD and THC have also become huge in sex products and can be found in things such as lubricants, massage lotions, oral sprays, and edibles.
CBD and THC can benefit your sex life and libido in general because they can help you relax while increasing your mood. THC specifically, which is the psychoactive compound within cannabis, is said to cause a heightened sensory experience and intensity of feelings which can both do wonders in the bedroom. THC works within the endocannabinoid system, binding to the CB1 receptor, which mimics the natural bliss molecule in the brain, anandamide. A blissful state of mind can get one out of their head and into the moment with their partner during sex.
As far as CBD goes, not only does it decrease inflammation and chronic pain, but it can also inhibit stress and performance anxiety. Researchers have found that there are several cannabinoid receptors in the reproductive organs and sexual tissue. With this knowledge, they discovered that using CBD sex products caused an increase in blood flow to tissue, increased sensitivity, and promoted the body's own natural lubricants. All these things come together to foster relaxation for sex, which in turn can help increase one's libido.
Stoner Valentine's Day Gifts

This ultra-popular edible brand has created delicious dark milk chocolate specifically for arousal. With 5 mg THC per piece, this chocolate edible uses five herbal aphrodisiacs and sense-enhancing cannabis to create the best sex drug in the world for you and your valentine. The Love will start to kick in at about 20 minutes, with peak intensity about two hours in, so plan accordingly for your Valentine's Day. This product is available in Oklahoma, Colorado, Illinois and Arizona dispensaries and comes in swallowable drops and chocolate bean forms.

This pen is a 10:1 THC to CBD formula perfect for awakening your senses and stimulating your mind. If you and your partner need a pick-me-up after the Valentine's Day date, this could be the gift that keeps on giving for the both of you. Available in either a 200 dose/500 mg or 100 dose/250 mg, the Dosist pen will create sensory enhancement, mood elevation and energy. The Dosist technology creates a consistent dose each time that is effective and predictable. This product is available in California and Colorado.

Everyone loves a bundle, right? This kit, created by Foria, includes mini versions of arousal oil to help awaken the senses and enhance pleasure and a sex oil because everyone can use some lube in their life. Top it all off with two suppositories for sex filled with 50mg CBD to bring it all together for your best sex yet. You can find this bundle online.

Say goodbye to the standard massage and say hello to what Mary Jane calls the "ganjassage." This oil, enhanced with cannabis-infused grape seed oil, avocado oil, jojoba and much more, will deliver full-body comfort and relaxation. Set the mood right before sex with an oil that doesn't just hydrate the next time you're looking for some fun foreplay. Find this product in Colorado, Oklahoma, and New Mexico.

A stoner Valentine's Day wouldn't be complete without some cannabis-infused lube. This transdermal, water-based lube is perfect for turning up the passion in the evening and will deliver 30mg of THC per bottle. If you need an approachable sex toy or accessory, lubricant is always the way to go. Find this product in a licensed dispensary across California.

Here is a cannabis-infused oil that does more than just stimulate arousal for the woman. Containing cannabis, tea tree, and damiana, this oil will do wonders in the bedroom and supports a proactive vaginal health routine. This bottle is filled with 350 mg of THC and can be purchased throughout California. Remember - 8 to 10 pumps applied 20 minutes before playtime should get you where you want to be in the bedroom.

If you and your partner don't take a bath together for a bit of some foreplay, here is your sign to do so. This 400mg full spectrum 1:1 THC/CBD blend delivers the fizz of a bath bomb, and the therapeutic benefits of Epsom salt soaks all in one indulgent product. You can find this product across California and Oregon.
Do you use THC or CBD in the bedroom? Is it worth the hype? Tell us what you think of our gift guide in the comments below.