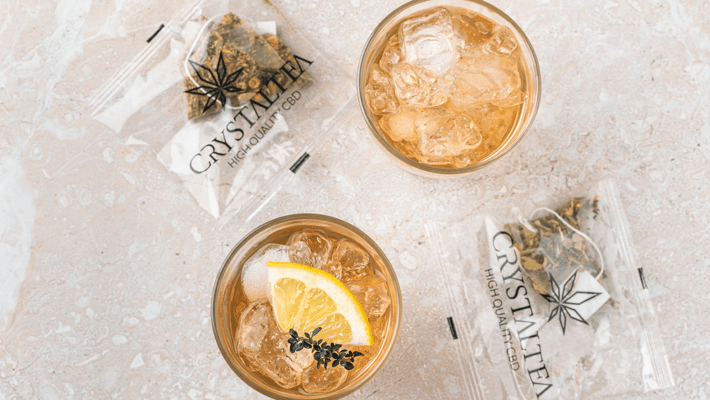 Top 6 CBD Beverages to Try in 2021
Over the past five years or so, the average consumer has seen the legal CBD market explode into a multi-billion dollar cash cow. Since the harvesting of CBD from hemp plants was legalized via the 2018 Farm Bill, consumers have watched as every product you can imagine was infused with the cannabinoid. We've seen CBD creams perfect for sore muscles and those with active lifestyles, tinctures and capsules for restful, restorative sleep, even CBD-infused snacks to help chill out and satisfy that sweet tooth all at once. What many might not know, however, is that there's an astounding amount of top-notch CBD-infused drinks on the market as well!
After all, it only makes sense. CBD is one of the most researched cannabinoids found in the cannabis plant, so study after study has reaffirmed its ability to help manage the symptoms of diseases like cancer, Parkinson's disease, Multiple Sclerosis, epilepsy, and autism by easing their anxiety, helping them get restful, restorative sleep and easing chronic pain.
But how do you know which CBD beverage companies are worth checking out? Which types of CBD drinks are right for you? What flavors or fun twists do these drinks feature to stand out from the rest? How do I find CBD-infused drinks near me? Thankfully we're here to give you a breakdown of the best options out there on the market today, how much CBD is actually in them, and where you can get them!

It's fair to say that sparkling waters and seltzers are all the rage right now, especially going into the summer. More and more young people are looking to transition away from heavy, calorie-dense beers and mixed drinks for something a little bit healthier overall. That's where this CBD water comes in.
Made with pure, THC-free CBD isolate for a refreshing, non-psychoactive treat, each can has no sugar, 20 mg of quality CBD, and only 25 calories. Crafted from only the highest quality hemp extracts and available in four refreshingly natural flavors, this CBD water is one of the lightest and most refreshing CBD drinks you can pick up this summer!
For the busiest and most active among us, Zolt sells itself as being one of the simplest CBD-infused drinks around. These CBD drink mixes come in a bunch of different natural flavor options and, of course, are packed with 20 mg of full-spectrum CBD with no THC at all.
But here's what makes this CBD drink mix so unique. Research has shown that this form of dissolvable, drinkable CBD drink mix that can be combined with nearly any other type of beverage is up to five times more absorbable by your body than other methods. That means you're getting as much CBD as possible from a refreshing drink loaded with organic ingredients on the go.
The brand offers both caffeinated and non-caffeinated options, as well as a sleep-supporting and immune-boosting option. Simply put, this CBD drink mix is one of the most convenient and simple CBD beverages on the market today.

There are few things more relaxing on a hot, sunny day than a tall, refreshing glass of iced tea. It only makes sense that someone would look to taking things up a notch by infusing it with CBD, right? Well, that's exactly what Oki did.
Each of their teas come in relaxing flavors like lemon ginger, mint, honey and raspberry, and are made with broad-spectrum active hemp extract with no added THC, non-GMO and packed with organic ingredients and natural flavors. With 20 mg of CBD per bottle, cracking open one of these natural hemp drinks supports calm, relaxation, and focus all while tasting divine.
For many around the world, the very first thing they consume in the morning is a piping hot cup of coffee. So why not take that cup of coffee up a notch by mixing in some natural, relaxing CBD?
This gorgeous blend of Columbian coffee and naturally-grown American herb is hand-crafted in small batches for higher quality, more consistent flavors have delicious hints of chocolate caramel and hazelnut, and a rich, smooth taste that coffee aficionados with love. On top of all of that, each serving contains about 9.67 mg of natural cannabinoids that will help ease pain and muscle soreness, settle anxieties and keep you focused without being jittery all day long!
If you're looking for a CBD drink for first thing in the morning, this CBD coffee is hard to beat!

If you're looking for a low-profile CBD kick without the hassle of grabbing another bottle, can, or package to carry around, this ultra-simple CBD drink mix is the way to go.
Made from full-spectrum hemp extract, no added THC and created from 100 percent pure tea, this quick and simple mix can be added into any tea, water, beverage or sports drink without being too obvious. After all, sometimes it's just not smart to be out in the open drinking some cannabis-infused beverages.
Each bottle comes with about 20 servings of about 100 mg of CBD, which means you're getting a lot of bang for your buck with this product. Just pop off the cap, squeeze the mix into a bottle of water, and this product will give you all the benefits of a CBD dose without being too obvious or changing the flavor of the drink.
If you're looking for a low-key way to take a quality dose of CBD, this CBD drink mix is the way to go.
We all have a sweet tooth every now and then, right? Well, why not satisfy that sweet tooth with some tasty, refreshing CBD soda? Well thanks to Cannabiniod Creations, you can do just that!
This ultra-tasty treat comes in delicious flavors like cartoon cereal crunch, ginger ale, orange soda, grape limeade and high tide honeydew melon is kosher certified, GMO-free and proudly made 100 percent in the U.S.! It packs a dosage of high quality, pharma-grade Cannabidiol from sustainably grown and harvested industrial hemp plants.
So if you're looking for a soda that's got a little bit less sugar than your average Coke, plus a natural, hemp-based CBD kick, this soda is the go-to CBD drink.
Do you have a favorite CBD Beverage that didn't make it on this list? Share yours in the comments below!