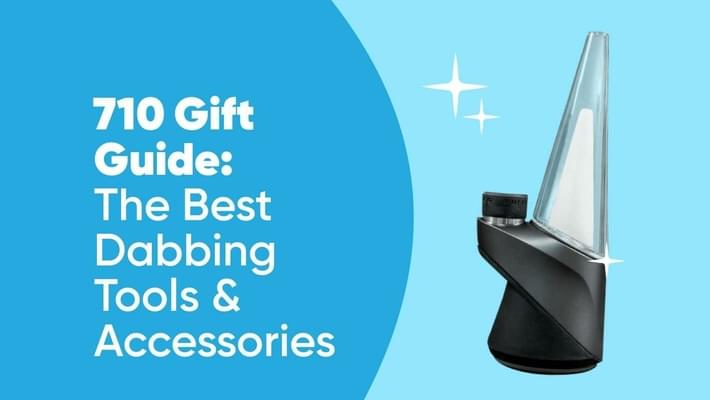 710 Gift Guide: The Best Dabbing Tools and Accessories
A men's hair cream commercial from the 1950s pioneered the phrase "a little dab will do you," a term that has long since evolved past its original meaning. In the cannabis community, a little dab is often more than enough to get you sky high, even if what you are toking is beginner grade. Dabs, also known as concentrates, oil, shatter, or wax, are the next generation of cannabis consumption. Dabs have also become popularized from the new holiday of 710, which is similar to 420 in that it is a day for stoners everywhere to partake in their favorite means of toking up. However, dabs can be more complicated than a simple joint because they require more equipment to enjoy. If you are looking for dabbing tools and accessories so that you can wish someone a happy 710, here is what you need to know.
What Does 710 Mean?
What is 710? Simply put, it is a new stoner holiday on July 10th that celebrates the use of concentrates. 710 upside down reads OIL (sort of), a much more linear explanation for a holiday name than 420, which remains steeped in mystery. What does 710 friendly mean? If you enjoy higher-level concentrates, this is the holiday for you. Sure, you can enjoy a spliff, but 710 is what separates the real enthusiasts from the part-timers. Concentrates come in several forms, requiring everything from an entire dab rig to a high-level vaporizer. This necessitates different dabbing tools for the optimal high: you need a dab nail for some rigs, some require a blow torch, and others have internal temperature controls.
710, unlike 420, also has a much shorter history, having only come to the scene in the past decade. As such, it is more flexible and subject to change: while gift-giving is not really a major theme in 420, it may be part of future 710 celebrations to get your friends and family nice dabbing tools. Whether you want to go all out or keep it nice and carefree, here are some of the best gifts on the market.
Accessories to Celebrate With This Year
Lookah ($$)

It rhymes with hookah, and for good reason. Lookah has taken steps to be an industry leader in the concentrates game, selling not just standard bongs and bowls but also dab rigs, vapes, and blowers. Their dab rigs are primarily glass but also come in more durable silicone. Like many cannabis companies, Lookah's 710 cannabis products are not just practical but artistic: their dab rigs span the range of designs from an octopus to a scientist beaker, perfect for those who want to show off their creativity each time they take a hit. One thing you may notice first and foremost is their relatively low prices: with most rigs between $100 and $200, Lookah has lots of affordable options.
Blazy Susan ($)

This Denver-based company has shot up the ranks of the cannabis community and is now one of the best-known brands in the state, if not the country. A visit to the Blazy Susan website reveals a lot of uniformly pink products, but don't be fooled: even the manliest of men can appreciate the quality and durability of their products. Blazy Susan has all the typical 710 oil products you would expect and many you would not. Their listing includes cleaners, dab trays, silicone inserts, and even cotton buds - perfect for your friend who hates getting gunk in their rig.
Puffco Peak Pro ($$$$)

The award-winning Puffco Peak might make your eyes water in more ways than one. At $400, you can be forgiven for it being too rich for your blood, but you absolutely get what you pay for. This dab rig includes everything in one place: heater, air condenser, and adjustable delivery tube, without needing to purchase a single extra piece of equipment. For the all-in-one type of gift, you can hardly do much better. Puffco also manufactures other products (including much cheaper products): the Cupsy is a water pipe disguised as a coffee cup, great for stealth hits whenever you want to avoid attention.
Stashlogix ($)

If you are tired of the intense smell of regular marijuana, let alone the potent smell of concentrates, Stashlogix has the answers you need. Their cases and bags are guaranteed forever, with free returns and exchanges for the lifetime of the product. They boast 4.8 stars across 1000 reviews and have the success to back up their promises. Based out of Colorado, the products are named after geographical features like Durango and Alma, each tailored with a unique design and color set. They do not actually sell dab rigs or bongs, but they do have bags and carrying cases for every smoking accessory you could ask for.
Dip Devices ($$)

The Dip Devices Dipper vaporizer resembles the type of pen you expect to see in a Manhattan banker's office, or perhaps one used by U.N. diplomats to sign a peace treaty. However, it is one of the most affordable dab vaporizers on the market at just one hundred dollars. The Dipper doubles as both a dab pen and a dab straw, meaning that it can be used directly or as a setup for a portable dab rig. It has all the power you need, furthermore, to get high as possible, while the company also sells beginners packs with cleaners, pads, tips, and replacement parts.
Do you plan to celebrate 710? How have you found dab culture to be different from standard marijuana culture? Let us know in the comments below!