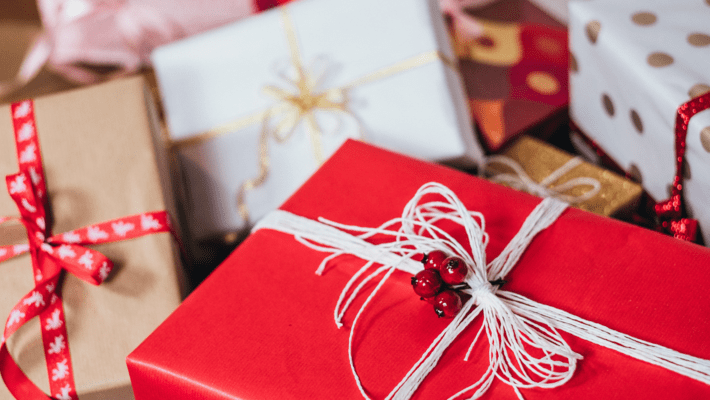 Holiday Gift Guide 2022: Our Favorite Cannabis Presents
There are so many people to cross off your shopping list this holiday season, and the stoner is one of the most fun to shop for. Whether it's an ode to their favorite plant or a new way to consume the herb, cannabis-related gifts are a perfect way to give your favorite pothead the gifts they're too afraid to put on their wishlist.
Whether you're looking for stoner gifts for him or stoner gifts for her, this stoner gift guide will show you all the hottest cannabis for this holiday season.
Prism Flower Power Bong

Prism water pipes are modular systems with plenty of replaceable parts in all colors and patterns, so the stylish and indecisive stoner in your life can switch up their piece no matter their mood. With this custom Flower Power bong, the piece is wrapped in yin-yangs, peace signs, and 70s-inspired flowers to set the mood for a psychedelic sesh and a perfect gift that someone might feel shy buying for themselves. This piece can be found on the Prism Water Pipes website for $319.88.
Flower Mill Grinder

The Flower Mill is an innovative addition to the hottest stoner accessories, offering a toothless way to shred your bud without crushing your precious trichomes and gunking up your piece. For the stoner who is obsessed with knowing their strain's trichomes or those with physical disabilities in the wrists, the Flower Mill offers a solution for every type of pot smoker. You can purchase the Flower Mill on their website, with prices ranging from $39.99 for a mini, $74.99 for a standard, and $99.99 for the premium edition.
Ooze Deluxe Bong and Glass Cleaning Kit

One of the best stoner gift sets you can get your favorite pothead is the present of a clean piece. Built up resin and gunk are no match for the strength of Ooze Resolution and the perfect gift for the stoner who always forgets to clean their piece. This is the perfect present because it's functional and perfectly organized, featuring everything you need to make your piece squeaky clean. You can purchase the Ooze Deluxe Bong and Glass Cleaning Kit on the Ooze Life website for a $30 kit.
Shine Papers

Shine Papers are a stunning stocking stuffer for your favorite stoner this holiday season. These 24K gold rolling papers turn every head in the room while burning super slowly to allow you to savor the experience for as long as possible. These are an excellent gift for the bougiest pothead in your life to show off their style while enjoying their favorite herbs. You can find plenty of cool stoner stuff on Shine's papers on their website or in one of their many certified retailers for $11 for a one-sheet king-size sheet and $38.50 for a two-pack of gold blunt wraps.
The 420 Gourmet Cookbook

In The 420 Gourmet Cookbook, JeffThe420Chef introduces the reader to the wide world of edibles beyond your average brownies and gummies. This is a great gift for anyone who is new to making their own edibles and wants to expand their horizons to become the new Martha Stewart of 420 with a dosage guide, strain recommendations, and more. You can purchase The 420 Gourmet Cookbook at all major booksellers and on the Harper Collins website here for $23.99.
Weed is a Flower Book

A Weed is a Flower is one of many fantastic pothead gifts from Broccoli Magazine. This is a 168-page hardcover photo book showcasing the beautiful cannabis plant arranged with various florals to emphasize their natural connection. This book makes a perfect gift for the art-loving stoner who appreciates the beauty, peace, and pleasure of the cannabis flower. You can purchase Weed is a Flower on Broccoli Magazine's website here for $39.
Weed Leaf Necklace

This weed leaf necklace from Blunted Objects is a beautiful statement piece for the stoner who's always decked out in baubles. It has a delicate gold chain with weed leaves that hang like a string of lights across the chest to add movement to your outfit and sing praises to your favorite plant. This weed leaf necklace from Blunted Objects is handmade in Los Angeles and has an adjustable chain between 14" and 16". You can find it on their website for $49.
Houseplant Standing Ashtray

Houseplant has quickly become emblematic of the modern stoner, ushering in clean lines, good design, and just the right amount of whimsy to make the perfect gift for any weed lover who cares about keeping their smoking accessories as stylish as the rest of their apartment. The standing ashtray stands on its own, so your must-have accessory no longer takes up precious real estate on your side tables. You can find the Houseplant standing ashtray exclusively on their website. This gift costs $295.
It's Just Weed Y'all Tee

Weed doesn't have to be a big deal. This adorable t-shirt from Old Pal Provisions is olive green and features a graphic of lips smoking three joints and the kitschy catchphrase "it's just weed, y'all." This will make a great gift for the laid-back friend who thinks the grass is greener on both sides and, better yet, that we should all be smoking it. You can find this tee on Old Pal's website for $48.
Devils Lettuce Print

This vintage-looking print is the perfect addition to any stoner gift basket because it makes a great gift for the stoner who you're not quite sure of. This is a perfect universal home decor piece that is sure to catch plenty of eyes and maybe even some takers. Better yet, the print is 11" x 14", so you can easily find the perfect frame. You can find the Devil's Lettuce Print on Holy Smokes website for $16.