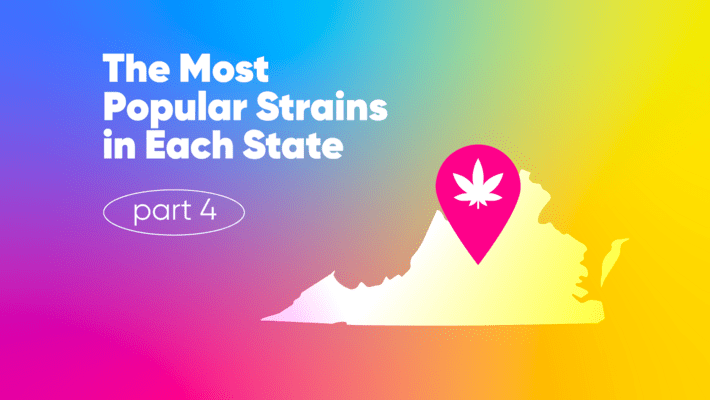 The Most Popular Strains in Each State: Part 4
Every state has a favorite strain (some are unique to that state, while others share their favorite with many other states). This is the fourth and final entry of our ongoing series to take a look at every state's favorite strain. We've already covered 45 of the 50 states, so we hope you enjoy the last five (plus Washington, D.C.)!
Cannabis in the United States
The cannabis scene in America has been rapidly changing over the last decade. There are currently 21 states (plus Washington, D.C.) with legalized recreational cannabis and a total of 37 states with medical cannabis programs. There are only 13 states that do not have some form of legalized cannabis; however, the federal government still classifies cannabis as a Schedule I drug - meaning that the federal government officially sees the drug as having no medical benefits, being highly addictive, and being completely illicit. We are hopeful that federal legalization will happen sooner than later, especially since new polls show that 90% of Americans believe medical cannabis should be legalized, and 60% believe it should be legalized both medically and recreationally. Regardless of its federal classification, however, every state has a favorite cannabis strain. We've curated the last list of our series, below.
Virginia
Most Popular Strain: Jack Herer

Virginia legalized recreational marijuana in 2021, and the famous Jack Herer strain has since become the most popular strain in the market. Jack Herer's namesake is one of the most famous men in cannabis history, and this Sativa-dominant strain has become nearly as iconic. It has an earthy pine scent and a spicy, woody flavor. It boasts 18% THC and is hard-hitting, producing a euphoric, uplifting high that will leave you feeling creative and energetic. It is also well known as a medical-grade strain that is helpful against stress, anxiety, and depression.
Washington
Most Popular Strain: Blue Dream
Along with Colorado, Washington was one of the first two states to legalize recreational cannabis back in 2012. Many states have since followed suit, but Washington remains one of the seminal cannabis states in the United States. Currently, the most popular strain is - as with half the states on this list - Blue Dream. At 18% THC, this Sativa-dominant hybrid strain offers a balanced, cerebral high that'll leave you feeling incredibly relaxed and creative. Its flavor profile is primarily blueberry and sweet, and it's often used to treat depression and chronic pain.
West Virginia

Medical marijuana is relatively new to West Virginia (recreational weed is still illegal), but it has taken quickly with qualifying users. The most popular strain currently, like in many other states, is Girl Scout Cookies. Also known as GSC, this incredibly popular strain is best known for its ability to give you the munchies and produce an enjoyable high that'll leave you laughing and happy. As its name suggests, its flavor profile is sweet and vanilla-dominant, and it's known to help combat chronic pain and appetite loss.
Wisconsin
Most Popular Strain: Blue Dream
Wisconsin currently only allows for medical CBD use and local decriminalization (meaning it's up to counties and municipalities to decide their take on cannabis decriminalization). It is also one of only 19 states to threaten jail time for recreational possession. However, Blue Dream remains the most popular strain in the state. It is much more than just medicinal CBD. At 18% THC, this Sativa-dominant hybrid is a great companion for daytime creativity so long as you don't have much to do. It'll keep you focused and creative, but you'll also feel full-body relaxation. Its flavor profile, aroma, and taste are blueberry-heavy and are known to help alleviate nausea and chronic pain.
Wyoming
Most Popular Strain: Black Jack
Wyoming, unfortunately, has some of the strictest cannabis laws in the United States. Not only is it illegal recreationally, but medical cannabis is illegal, along with heavy restrictions on CBD. That being said, the state's most popular strain at the moment, Black Jack, is far from falling within those parameters. With 19% THC, this strain - a cross of Black Domina and Jack Herer - is a popular medical marijuana strain used across the U.S. to combat stress, anxiety, and depression. It has a distinct smoky pepper flavor and a piney aroma and produces a focused, uplifting high that is great for daytime smoking.
Washington, D.C.
Most Popular Strain: Blue Dream

While Washington, D.C., isn't a state, it has a lot of autonomy, including its own cannabis laws. Recreational marijuana is legal in the United States capital. Unfortunately, because the U.S. Congress controls Washington, D.C.'s budget, no infrastructure has been laid out for licensing and recreational dispensaries. Possessing and using adult-use cannabis in the capital is legal, but there is nowhere to buy it legally. However, there is a gray market loophole that allows cannabis to be "gifted." That being said, like so many states, Blue Dream reigns supreme in the nation's capital. This Sativa-dominant hybrid, with a sweet, blueberry flavor profile, comes in at 18% THC. It offers a very balanced high, both cerebral and full-body relaxing, and it's often used to combat nausea, chronic pain, and depression.
Let us know if you agree with the favorite strains we've listed above and what other strains you might consider the most popular in your state. Comment below!