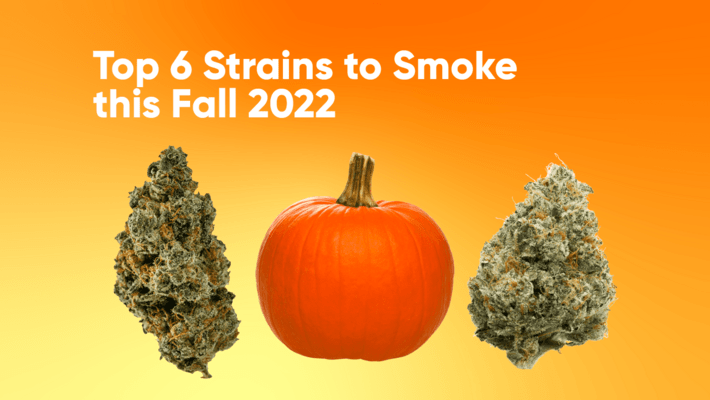 Top 6 Strains to Smoke this Fall 2022
As the seasons turn and the weather starts to grow cooler, many people find that they prefer particular types of cannabis more. The falling autumn leaves bring to mind different cannabis strains that allow you to enjoy holidays and events you don't find elsewhere in the year or just let you bundle up and enjoy a day spent on the couch. Here are some of the best weed strains to smoke now that it's fall.
Gorilla Glue

When to use: during a Halloween party or horror movie session
One of the most substantial entries on the list of strains with a lot of power, Gorilla Glue lives up to its name with a massive 18% THC rate, enough to keep you in a good mood for a long time. This indica-dominant hybrid is bred from Chem's Sister, Chocolate Diesel, and sour Dubb. Popular because of its hard-hitting nature, Gorilla Glue gives a relaxing high and has been used to help with insomnia in case you have stayed up too late watching Halloween movies.
Bubba Kush
When to use: for a day spent outdoors among changing colors of nature's leaves
The popularity of Bubba Kush is all but unchallenged among the best strains of all time, a classic indica clocking in at 20% THC. The terpenes on kush are some of the most well-known, including pinene and limonene, giving it a fantastic woody flavor akin to hiking through pine trees on a mountain. Notes of chocolate and coffee also make the Bubba Kush great for before or after a meal. Bubba Kush is popular partly because it can do it all: if you want to enjoy a big day or just enjoy time with friends, sparking up the classic kush is a great way to start or end a smoke session.
Super Silver Haze

When to use: for the first football game of the season with your fellow fans
You often see Super Silver Haze mentioned as one of the best weed strains, and you need only look at a nugget to see why. This sativa is coated in beautiful silver and orange hairs, boasting a massive 4% CBD rate and 22% THC rate. Haze provides a long-lasting euphoric high, allowing you to forget about life's problems and enjoy whatever is right in front of you.
Chernobyl
When to use: right before Thanksgiving dinner!
With a name like Chernobyl, you know you will feel an impact after taking a single puff. With a whopping 27% THC, there are few entries on the list of the best cannabis strains that contain more THC than this. Chernobyl is powerful primarily because of its alpha pinenes, which give it a powerful hit and a strong flavor of lemon and lime. This sativa has a heritage: it was bred from Trainwreck, Jack the Ripper, and Trinity, meaning that it has the name power to get you as high as the clouds.
Blueberry Headband

When to use: once you've completed a long day of school and need a break!
Perhaps the perfect relaxation smoke is Blueberry Headband, an award winner on the list of the top cannabis strains. The name is the flavor, and few strains of weed have a more potent or recognizable taste than Blueberry. With caryophyllene terpenes and a mellow, calming effect, it's a great way to hit pause as life seems to accelerate with the introduction of new classes, projects, or work opportunities. Blueberry Headband is great for improving mood, appetite, or sleeping patterns, meaning that it can be helpful whenever you face something new.
Lemon Diesel
When to use: whenever the mood hits you!
This indica hybrid is among the most popular strains, and for good reason. It gives the classic euphoric high you want from a sativa in tandem with a deep body relaxation that is more typical of indica strains. Originally developed by the Green Lantern Seeds growers, Lemon Diesel is a combination of California Sour and Lost Coast OG. It has a sweeter strain that gives a strong high, with light-green buds and orange strands. Lemon is its name, and lemon is its flavor, along with the classic "skunky" diesel taste. At 70-30 indica to sativa, it's a great relaxing toke, and at 15% THC, it will get you buzzed without making your mind melt away. Consider smoking it later in the day to get the creative lift or enjoy a conversation before the indica ties you down to the nearest couch, chair, or video game system.
Do you like to smoke different variants as the weather turns? What are the strains that you always keep coming back to? Tell us about your favorites now that it's fall!