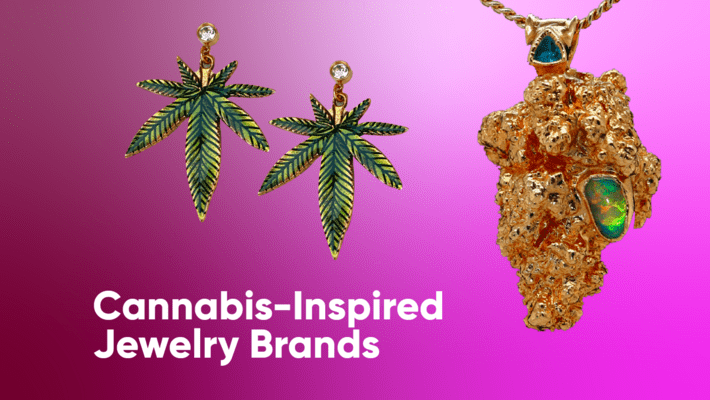 9 Unique Cannabis-Inspired Jewelry Brands
As cannabis legalization is on the rise throughout the country, so is jewelry inspired by the plant. There are many reasons one might choose to accessorize with marijuana-inspired designs - whether you're in the industry or a stoner looking for a cute way to show off your favorite hobby. Cannabis jewelry also makes the perfect gift for your friends and family who are 420 fans. Read on to see some of our top picks for cannabis accessories at every price point.
High Point Jewelry

The founders of High Point Jewelry are big promotors of safe and legal cannabis, with a history that includes operating testing, extraction, and manufacturing facilities, owning a dispensary and CBD store, serving on the Cannabis Task Force in Colorado, and advocating for women-oriented trade associations. High Point Jewelry focuses mainly on pot leaf accessories with various finishes: from gold and gemstones to silver and beaded. They also have a molecule collection with necklaces featuring the chemical symbols for THC and CBD. High Point is offered online at their website and in dispensaries and retailers worldwide with a price point ranging from $40 - $1,700. You can see the store locator here. High Point also has a partnership with the Last Prisoner's Project wherein they provide a free "legalize it" stoner necklace for those that make a donation to the organization. The Last Prisoner Project is a non-profit organization dedicated to criminal justice reform by redressing and reforming drug policy.
Blunted Objects

Blunted Objects represents the new generation of stoners who are challenging the cultural stigma of cannabis. They offer inspiration from the counterculture of cannabis, festival season favorites, and experimental fashion. This shop offers a wide variety of wares, from vintage ceramic ashtrays to 420 jewelry with a price range of $5 - $50. Blunted Objects' entire catalog is available exclusively on their website. We love that this women-founded brand is constantly challenging the norm of what's considered socially acceptable in the mainstream and using the power of cannabis to push the boundaries of what's possible.
Jada
The journey of JADA began in 2014 with the creation of an original skincare formulation. The formulation was developed by a woman who suffered from lifelong eczema. Her struggle to love her skin motivated her to seek alternatives in plant medicine to manage symptoms. JADA's line is available exclusively on their website and offers pieces from ~ $350 - $1,550.
JADA has a variety of pot leaf accessories in finishes that range from sterling silver to gold-plated and 10-18K luxe gold. We admire that JADA has created kush jewelry that offers the cannabis community the opportunity to shine on any stigma-enforcers by being bold advocates while repping the plant in style.
Cannacentrix

In San Francisco during the 1970s, the technique of Cannalchemy was first introduced - turning cannabis leaves into gold. The craft was eventually lost due to the difficulty in solidifying each fragile leaf without first dissolving it in the tank. Working with this alchemist, Cannacentrix has been able to revive this practice as wearable art. Featuring metal-dipped marijuana leaves, Cannacentrix offers necklaces, earrings, and ornaments for ~ $175 - $420. We love that this hand-crafted stoner jewelry is a one-of-a-kind collector's item & conversation piece that attracts cannabis enthusiasts everywhere you go. Cannacentrix's entire line is available on their website.
Jacquie Aiche
Jacquie Aiche seeks to bring much-needed sensuality and fun to the often-conservative world of high-end jewelry. Jacquie's designs are based on feeling and intuition. Each piece is a talisman of energy to give women whatever they need. For lovers of good vibes, the energy of minerals, and layers of diamonds and gold, of course. With a price point of $120 - $14,000, The entire line of Jacquie Aiche jewelry and accessories can be found exclusively on their website. In the Sweet Leaf collection drawing inspiration from the cannabis plant, Jacquie has offerings from high-end lighter cases to clutches and jewelry. We love that each piece of jewelry from Jacquie Aiche is designed to empower women. Using minerals, crystals, and motifs that inspire feelings of love and beauty. More than just fine jewelry, they are personal and sacred amulets.
Ras Boss

Ras Boss uses real leaves, seeds, and flower from cannabis plants to create art pieces designed to spark a positive dialogue around the plant and the people who care for it. What was cannabis is now art. From buds to leaves, Ras Boss offers gold casts of real cannabis nugs and leaves on pendants and earrings. The entire 24k gold line of cannabis jewelry is available on the Ras Boss website for $150 - $5,200. We love that Ras Boss pieces make high-end, beautiful tributes to our favorite plant - breaking the stigma and enforcing the wonders of weed.
My Bud Vase
My Bud Vase focuses on bongs, smoking accessories, and jewelry - seeking to elevate the smoking process and upgrade your stash in every realm. We love that My Bud Vase covers the whole gambit of looking your greatest while you enjoy your favorite plant - you can wear your bud while lighting some up! In addition to weed leaf-inspired necklaces and earrings, My Bud Vase also has a wide selection of bongs, rolling trays, and other smoking accessories. You can shop the entire My Bud Vase collection ranging from ~ $75 - $95 here on their website.
High Society Collection

High Society Collection is a women-owned, small business creating jewelry for cannabis enthusiasts. Most pieces are dual-purpose and also function as joint or blunt holders. High Society's line of hemp-loving jewelry is quite inclusive, from joint and blunt necklaces featuring tamping sticks and roach clips to mary jane mask chains. The High Society Collection is available exclusively online on their website ranging from ~ $25 - $280 (two made-to-order, one-of-a-kind pieces available for ~ $880 - $1,500). We love High Society's mission to be the antithesis of fast fashion with handmade jewelry made in Portland, OR. The design's uniqueness stems from its connection to the designer and the maker.
Etsy
There are also plenty of small artisans on Etsy that make affordable cannabis-inspired jewelry. If you're one to easily lose your jewelry or have a lower budget, this may be the option for you. These shops are a few of our favorites: Sugar Rose Studio, TRIPSYNDICATE, and GanjaGlassDesigns.
Are you a cannabis jewelry lover? Would this make the perfect gift for the stoner in your life? Let us know in the comments below!