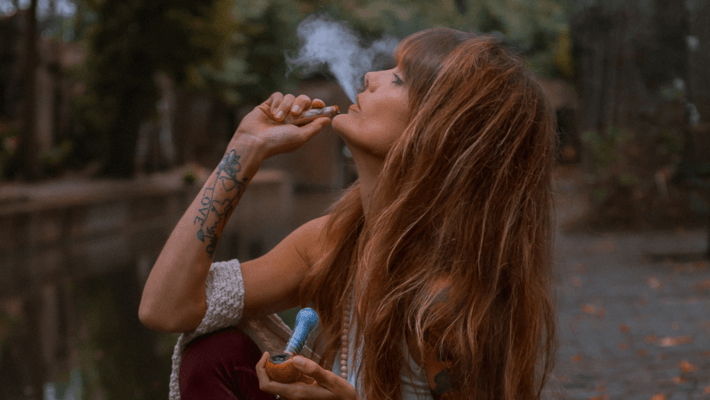 Women's History Month 2022: The Future of Cannabis is Female
Cannabis has traditionally been seen as a boy's club. To set the scene, you'll likely picture a bunch of bros that gather around for a smoking session, rolling joint after joint, blasting their favorite record. However, marijuana being dominated by men is now a thing of the past, with more women taking control of the industry. It's Women's History Month, which means we are celebrating not only the women in the industry but also the women consumers.
Cannabis Women: They Matter, Too

It's an exhausted headline at this point, but it is important to remember that the United States is setting precedent for the rest of the world in the industry. The US cannabis market is projected to reach $90 billion in sales by 2026, and women are a huge reason the number is increasing. Women are now participating in the industry like never before and need to be recognized for continuing to propel the industry forward. Even though female leadership is at an all-time low, with female executives accounting for just 22%, women are still at the helm of majorly powerful companies.
Women-owned brands are popping up all over the place, and there are major brands that have been founded by or partly by women, such as Kiva and Wana edibles. With the colossal shift of women dominating the consumer culture of cannabis, companies are pivoting like never before and looking forward to the women's perspective to help in product research and development and marketing strategies in a traditionally male-dominated field. With cannabis becoming popular among women like never before, now is the time for female leadership to look out for the interests of their fellow women.
The Female Takeover

The weed business is booming, with marijuana sales growing 46% during 2020, the first year of the pandemic. While this may surprise no one, what should surprise everyone is that women buyers have overtaken male buyers. Women now consume cannabis more than men, according to the Cannabis Consumers Coalition, and women also now make up for 59% of new users, according to Brightfield Group. The reason for the uptick in women's cannabis consumption can be traced back to a plethora of reasons, whether it be pandemic stress, anxiety, or just boredom.
Not only have women overtaken men, but it is a specific subset of women that are leading the charge. Gen Z women are the fastest growing subset of women consuming cannabis, likely because most of them are freshly turning 21 - which is the legal age to purchase cannabis virtually anywhere in the US. This shift in consumption that favors women is changing many aspects of the industry, whether it be packaging and sustainability practices to the mission and social justice work that most brands are now a part of.
Women in Cannabis
These influential women are leading the charge in innovation in an ever-changing industry that has no signs of slowing down.
Rosie Mattio, Mattio Communications

This strategic powerhouse is at the helm of the #1 cannabis PR firm, according to Greenmarket Report. Mattio Communications strives to make new brands into sustainable and lasting ones in an extremely complex market. She has driven not only the cannabis industry but is also at the forefront of the blooming psychedelics market as well.
Valda Coryat, Trulieve CMO

Trulieve is all about hand-grown plants with relief from a product that you can trust. With its own flower and dispensaries across the country, this company offers reprieve when traditional medicine isn't enough. Coryat leads the marketing organization as Trulieve has expanded its footprint to over 155 retail dispensary locations across 11 states.
Kate Miller, Co-Founder of Miss Grass

Among women in the cannabis industry, this one actually got her start as a budtender. She's the CEO and co-founder of this all things cannabis and CBD brand. This full online shop & wellness brand is focused on accessibility, education, and end the stigmas surrounding cannabis.
Brett Heyman, Founder of Flower by Edie Parker

Founded in 2010, Edie Parker has sprung from a mutual love of fashion and cannabis. Inspired by vintage handbags and mid-century style, Brett Heyman has created the ultimate chic cannabis line of luxury smoking products after saying goodbye to her director role at Gucci. Heyman wants you to show off your love of cannabis with her products.
Mary Pryor, Co-Founder of Cannaclusive

As we know with the War on Drugs, cannabis hasn't always been inclusive. This brand was created to facilitate a fair representation of minority cannabis consumers. Pryor helps create this collective that is focused on inclusive marketing and advocacy in the cannabis industry.
Olivia Alexander, Founder of Kush Queen

Alexander has become one of the industry's top tastemakers, pushing Kush Queen into a multi-million-dollar brand known for quality and innovative wellness products. Formerly a beauty queen, she has launched both CBD and THC-rich products that continue to set the standard in the industry.
Anna Kaplan, Co-Founder & CEO of SugarTop Buddery

Kaplan is a classically trained oil painter & artist turned cannabis-connoisseur. She helps run SugarTop, a vertically integrated cultivator, distributor, and wholesale processor based in Eugene, Oregon. She is a pioneer of women in the industry, sitting on the Board of Directors of the Oregon Cannabis Association, and is President of a nonprofit for women in the industry.
Jane West & Jazmin Hupp, Founders of Women Grow

This organization, founded in 2014, aims to connect, educate, and empower diverse leadership in the emerging cannabis industry. The company aims to create 1,000 women-owned cannabis companies and is a safe space for networking opportunities for women in the industry.
What do you think of these pioneers in the industry? Do you believe that these women will take cannabis to the next level? Tell us your thoughts below.