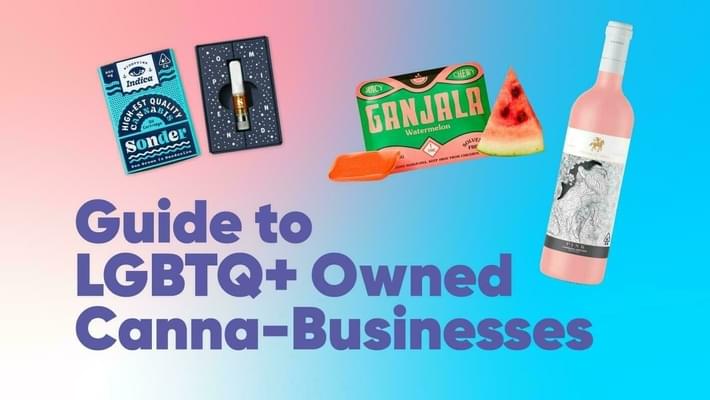 Guide to LGBTQ+ Canna-Businesses
We're turning the corner into summertime, and perhaps a normal summer at that. As warmer days and longer nights become the norm, we have a lot to look forward to. Summer is the season of road trips, camping under the stars, concert-going, and the arrival of Pride month. June is the month for all things rainbows and gay rights and is especially a great time to support and advocate for LGBTQ+-owned cannabis businesses.
Why You Should Support These LGBTQ+ Businesses

The legal cannabis industry has finally broken into the mainstream and is here to stay. You'll see celebrity endorsements at every turn, cannabis pet products lining the shelves, and new jobs sprouting up in the market daily. It's a billion-dollar industry and is one that has no signs of slowing down. While this idea may not be new to anyone, what many people probably don't know is that the cannabis and queer communities share a rich history.
It is safe to say that the industry wouldn't be where it is today without the likes of Dennis Peron and Mary Rathbun, among others, who were active LGBTQ+ members that fiercely fought for cannabis.
The intersection between cannabis and the queer community truly began during the AIDS crisis, when it became apparent that cannabis was one of the only things helping patients. Peron was an activist for how beneficial marijuana could be in relieving treatment symptoms, and he eventually went on to co-write Prop P and Prop 215, which legalized medical marijuana in California. Mary Rathbun, aka Brownie Mary, sold weed brownies to patients in the AIDS hospital wards to help combat symptoms.
Pride and Cannabis Today
For the LGBTQ, weed is deeply personal and is a symbol of healing and hope - especially in a time when those things were sparse for the shunned community. Even decades after the AIDS epidemic, cannabis use among queer folks is still significantly higher than its straight counterparts. "Almost a third of sexual minority adults (30.7%) reported using cannabis in the past year, compared to 12.9 percent of heterosexual adults".
There are hundreds of queer businesses to support, so consider doing your homework and finding your local LGBTQ+ business to support. Promoting and supporting these LGBTQ+ businesses will only build the confidence of the owners, allowing them to be themselves in the workplace and beyond. Social equity is important to the consumer these days, and a recent study found that 37% of people are looking to support queer canna-businesses specifically. What better time to do it than during Pride month?
LGBTQ+ Businesses to Support for Pride and Beyond

This LGBTQ cannabis business was born out of a tiny kitchen in Telluride, Colorado, in 2012. Ganjalas is all about bringing together adventure, bliss, and nostalgia in edible form to achieve whatever high you desire. These three founding ladies work hard and play hard - and they hope you'll do the same with their single-serving edibles in delicious flavors like watermelon and strawberry lemonade.
This business, led by a duo of women, is all about how one can use cannabis as a vehicle for greater creativity. Sonder aims to create a deeper connection to yourself and the world around you and was made for like-minded thinkers, dreamers, and makers. Located in Santa Cruz and growing its bud in none other than The Emerald Triangle, shop the likes of crystals and cartridges - available in California only.

Handmade in Portland since 2014, this women-owned brand started out in the medicinal community and has expanded exponentially since then. For Peak Extracts, it's all about the custom-tailored edible experience, which is why they do all their own extractions and boast single strain products, to retain all the nuances of the organic flower. Shop CBD, tinctures, chocolate, rubs, and more in Oregon.
This farm is one of the first in Mendocino County to be fully women-owned and operated, not to mention queer. With three decades of experience, these women are practically connoisseurs in the premium, sun-grown cannabis business. You can expect nothing but organic practices in their fields to ensure healthy, clean, and natural products every time. With a "queer to table" motto, these women have made a name for themselves in one of the best areas of cannabis cultivation in the world.

The latest in cannabis is weed-infused beverages, and the two women behind this brand are trying to create a truly elevated experience. With cannabis and wine industry backgrounds, they brought together the magic from the Napa Valley with a state-of-the-art infusion technology for an unforgettable experience. Choose from a pink, white, and mimosa variety in California.
The LGBTQ cannabis industry is a small but mighty one, and this organization is looking to elevate queer voices every day. Both industries are constantly fighting for inclusivity, and the Proud Mary Network is fighting fiercely through education, networking, and advocacy. Boycott bad weed, read their blog, or consider stopping by one of their mixers to support the cause.

This non-profit organization is a safe space that sheds light, builds community, and brings awareness to the lives of women and non-binary trauma survivors. "Jane" is any self-identified woman or non-binary person who chooses cannabis to confront, process and heal trauma. The non-profit has offerings such as trauma-informed puff and paint workshops, monthly healing events, affordable physician recommendation programming, and more. With a diverse, all-women board, join the conversation today.
This lifestyle and activist company is all about bridging the gap between the queer and cannabis communities. The host, Jamie, has cultivated an intuitive cannabis cooking show to end both the stigma of marijuana and the fears of cooking in the kitchen. In each episode, he cooks with a special guest, and they touch on topics that range from reiki to weed.
How do you show your support for queer canna-businesses? Are you familiar with any of these above? Tell us your best Pride stories below.