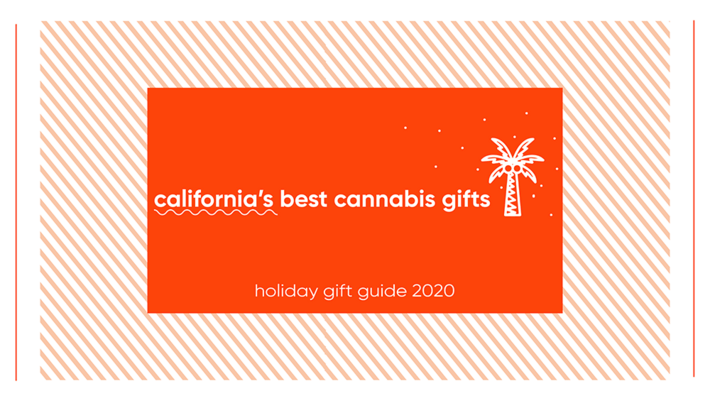 Holiday Gift Guide 2020: California's Top Cannabis Gifts
When it comes to cannabis, few states do it better than California. While the holidays may be a bit different this year, the stoners in your still life deserve a present that they will love. Lucky for you, we made a gift guide to help you find the perfect present for your favorite cannabis consumers.
Note that most of these gifts are only available in California and may not be distributed throughout the entire state. Click the links to find the closest dispensary that distributes these products to you.
Need more gift ideas? Check out our other gift guides:
California's Best Edibles

Move over White Claw, there's a new tonic in town. While we're typically used to eating our edibles, Cann's Cannabis-Infused Social Tonic is the next big party drink. Containing a 2 mg THC to 4 mg CBD ratio, these tonics will give you a nice light buzz without the hangover. Available in award-winning flavors like Lemon Lavender, Grapefruit Rosemary and Blood Orange Cardamom, you'll surely want to buy a pack for yourself. Added bonus: these tasty tonics are made with all-natural ingredients and there are only 35 calories per can!

A new take on classic strains, PLUS Strains Gummies captures the essence of each strain while still making a delicious, all-natural edible. Available in Pineapple Express, Granddaddy Purple Grape and Lemon Jack, these gummies embody the strain's original flavor notes and unique effects with real fruit ingredients and cannabis-derived terpenes. This ultimately gives the user the same sensory, potency and entourage effect they know from smoking these strains added to the flavorful experience of an edible.

Can't decide between a cookie edible or chocolate edible? Why not try both? Punch Edibles created these Cookie Delight bars for those who don't want to choose. Each bar contains 90 mg of THC total, with each serving size at 10mg. Available in White Chocolate with Chocolate Cookie, Dark Chocolate Mint with Chocolate Cookie, Milk Chocolate with Vanilla Cookie, Dark Chocolate with Vanilla Cookie and finally Milk Chocolate Caramel with Vanilla Cookie, these edibles will be sure to please. If you celebrate Christmas, maybe try leaving these out for Santa instead? We're sure you'll be put on the nice list!
Top Cannabis Flower Gifts

Does shopping for cannabis overwhelm you? Canndescent allows both experts and novices alike to curate and to enrich their cannabis journey. By answering, "how do you want to feel?", this brand offers strains made to Calm, Cruise, Create, Connect and Charge. Besides a personalized cannabis experience, Canndescent grows its ultra-premium cannabis flower in customized environments based on the specific strain and growth stage. They flush, dry and cure the flower for over 30 days, then pick the bud by the stem and trim it by hand. Moreover, Canndescent's collectible gift boxes allow you to roll your own joint, including a two- or five-jar collection of their virgin cannabis flower, organic hemp wick, rolling papers, crutches and matches.

Sometimes, you just need weed that's easy to throw in any bong, bowl or blunt without too much work. That's where Caliva's Reef Leaf Super Fine Grind comes in. Five grams of pre-ground cannabis flower packs are in a convenient pouch for use at home or on-the-go. These packs are available in indica, sativa and hybrid strains to choose from.
The Best Concentrates & Vapes

Are there any dabbers in your life? If so, they'll love an upgrade from regular concentrates to STIIIZY's Curated Live Resin. Smoking live resin is a different experience for dabbers and allows them to taste the same flavors and aromas typically associated with flower in concentrate form. Flash freezing the entire cannabis plant allows live resin to preserve the full-spectrum of cannabinoids and flavor. Best of all, STIIIZY has 15 different varieties available so you'll be sure to find one of your favorite strains.

When buying cannabis products, it's often difficult to be sustainable because of non-recyclable packaging. Seeing this issue, Dosist decided to find a solution. The brand's rechargeable Dose Pen is an exclusive innovation that gives you more options than ever to take control of your health and happiness. Besides 100% curbside recyclable packaging, Dose Pens can also be recycled at any participating retailer for a rebate. Perfect for both new smokers and experienced ones alike, a Dose Pen's precise 2.5 mg hit will allow you to safely smoke without getting too high. Additionally, Dosist THC pods are available in several formulas for a chosen effect.

We all have that one friend who loves their PAX a little too much. Feed their love for PAX by giving them a Raw Garden Refined Live Resin pod. Compatible with all PAX Era devices, these pods contain only 100% fresh frozen whole flower terpenes, cannabis oil and have no trim or additives. Of course, potency varies by each strain, but the impurities removed when creating live resin help contribute to these pods' entourage effect while smoking.
Other Amazing Cannabis Gifts

Arthritic medical marijuana patients know the wonders of cannabis and CBD-infused muscle relief balms for sore muscles and joints. Containing 250 mg each of THC and CBD, Humble Flower's Relief Balm is both hydrating and soothing to the skin. The balm's base of organic olive oil, shea butter and carnauba wax infused with a potent combination of arnica, lavender, clary sage and cannabis, and allows for deeply reparative and anti-inflammatory results to pain problems. Since topicals work directly with endocannabinoid receptors in the skin, they are a great non-psychoactive way to provide pain relief and soothing effects.

While this technically doesn't get you high, Baxter of California's Pacific Cannabis unisex fragrance reminds us of late nights by the beach. No matter if you inhale it or spray it on your skin, the product only contains the scent of cannabis. Luckily, that means you can ship it anywhere in the United States. This distinctive scent is perfect for anyone of your friends who is looking to upgrade their body spray.