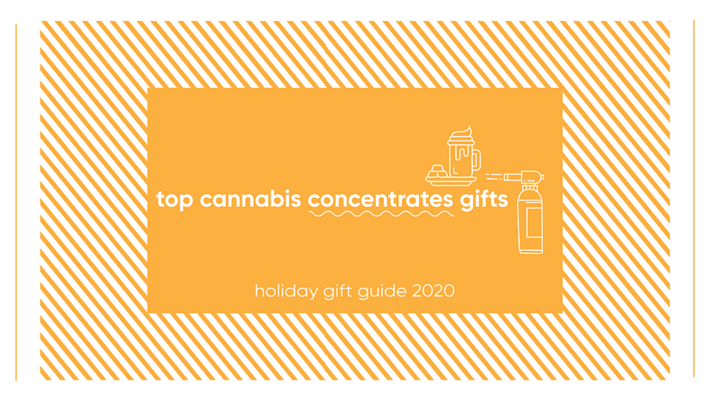 Holiday Gift Guide 2020: Top Cannabis Concentrates Gifts
Whether the cannabis users on your holiday shopping list are novices or longtime tokers, there has never been a better time to indulge in new dabbing gear. Not only are there more types of marijuana concentrates available than ever before, but there are also enough dab equipment, tools, and technology to make any weed smoker light up like a kid on Christmas morning. These are the best cannabis concentrate gifts for men, gifts for dad, and gifts for everyone else on your 2020 naughty and nice list.
Need more gift ideas? Check out our other gift guides:

Price: $5-$40
Custom dab tools are another set of thoughtful custom stoner gifts that will make any concentrate fan happy, but this one won't break the bank. From bejeweled metal mini swords to hand-blown glass scoops, Etsy is packed with tools that will turn any smoker's dab station into a work of art.

Price: $5-$50
As any extract fan will tell you, dabbing is a messy endeavor. To stop any live resin leaking onto your table, couch, or clothing, stuff some stocking with dab mats from Mood Mat. In addition to corralling sticky reclaim, dab mats will make sure your expensive glass rig isn't sliding around on your coffee table or crashing to the ground. Mood Mats are available in dozens of shapes, designs, and sizes, so there is a perfect mat for everyone on your list.

Price: $5-$60
Terp pearls, small beads that sit inside of a banger nail, are the kind of thing that concentrate users often overlook, but love once they finally use. Adding clean pearls to your nail before dropping your dab will combine with a directional carb cap to make sure you taste every last drop of your concentrate. Just like dab tools, terp pearls are available in all shapes, sizes, and price ranges on Etsy.

Price: $9.99
As we mentioned before, dabbing can be a sticky situation. Especially if the concentrate user in question has a number of dab tools covered in rosin residue, a dishwasher-safe dab station from Blazy Susan will keep things clean. Stereotypes may peg stoners as messy scatterbrains, but when it comes to dedicated dabbers, staying organized is standard.

Price: $29.99
Directional carb caps take any dab to the next level by keeping the nail at the preferred temperature for longer and pushing the concentrate so that the oil covers as much surface area as possible. The carb caps from Eternal Quartz are made to fit any banger nail perfectly, are perfectly affordable, and hand-blown in the USA...what's not to love?!

Price: $39.95
Traveling with a dab rig may seem like a recipe for disaster, but with a Pelican Case in tow, your glass art is safe. The air and water-tight cases have been used for carrying camera gear and other sensitive equipment for decades, but in recent years concentrate fans have adopted the top-shelf brand for moving pricey dab rigs without worry. Pelican cases come in tons of colors and sizes, making it easy to find the perfect piece for everyone on your gift ideas list.

Price: $44.99
A good banger nail is one of those things every stoner needs if they're going to be doing dabs. And from beginner to seasoned extract artist, you can never go wrong with a quartz banger for exquisite taste and clean rips.

Price: $57.59
A butane torch is a staple of every dab aficionados arsenal, and the Big Shot from Blazer is a favorite of rig users everywhere. The large handheld torch will keep anyone heating dabs all holiday long and can also help create delicious creme brulee in the kitchen once those munchies kick in.

Price: $399.99
The original PuffCo Peak turned the cannabis industry on its head in 2018 by preserving the full dab experience in a small, portable, torch-free electronic smart rig. 2020's Peak Pro is an equally revolutionary update, complete with a wireless charging station, a Bluetooth compatible app, and smart sensors in the large one-piece ceramic bowl. If you're looking for an all-in-one device to diffuse the intimidating parts of dabbing for your next Christmas gift idea, the Peak Pro is the best option.

Price: $200-$5,000
If you're shopping for a true concentrate die-hard this year and you're looking to splurge, heady dab rigs are the ultimate top-shelf 420 gifts. Unlike cheap glass, heady rigs are handcrafted by expert glass artists, offering a one-of-a-kind dabbing experience. Of course, for something that special you'll have to open your wallet wide, with some rigs selling for thousands of dollars.
Did we leave your favorite concentrate-themed gift off our list? Tell us about your favorite dabbing accessories in the comments below!